If you're looking to build an email list, I recommend AWeber. It's got a drag-and-drop email signup form builder, beautifully designed email templates, and it's inexpensive. Try AWeber today for $1 with my affiliate link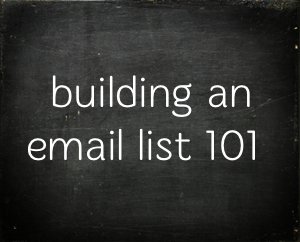 There's all this hype right now about Social Media Marketing.
And, why not?
Social Media can send you a ton of traffic.
But what do smart business owners do with that traffic?
They turn it into an email list.
Why List Building Is
Smart For Every Business Owner
Here's the deal:
If you're running an online business, brick-and-mortar small business, or ANY kind of business, you NEED a way to stay in touch with your prospects and customers.
And since every single person in the world has an email address, building an email list is one of the cheapest, most cost-effective solution for doing that.
When's the best time to get started?
Right now. Don't wait for a "bribe." Don't wait for things to look perfect. Start building your email list today.
Before You Read This Content, You Need An Email List
Today I'm going to walk you thorugh what you need to do to build an email list – and why you should do it.
I've even went so far as to saying "If you're not building an email list, you're an idiot."
For more, watch this video:
Then, if you don't have an email list provider yet, I highly recommend you check out AWeber.
It's my preferred provider. It's what I used when I started Social Triggers (and I still use it today).
(If you're wondering, yes that's an affiliate link, which means, when you sign up for AWeber's $1.00 free trial, I get 0.30 cents. I mainly use the affiliate link so I can track how many people start email lists because of this tutorial series. It's a number I hope to brag about someday ;-D).
So, go sign up for AWeber, and then check out this content.
Getting Started:
How to Build an Email List the Right Way
Is your website leaking subscribers? Here's 3 holes, and how you can plug them.
If you're running a blog, here's 7 places to add email sign-up forms to build your list. These are the best places to add the forms because they convert real well.
Looking to sell stuff to your newly built email list? Read this tutorial to discover how you can discover what people will buy.
And there's more to come…
…So make sure you enter your email address, and sign-up for Social Triggers updates.
To learn more about building your list, and other great tips, sign up for the exclusive Social Triggers newsletter.