This past week I stumbled on too many websites that have HORRIBLE navigation.
I couldn't find what I wanted, when I wanted, and what happened? I left the site, and I'll likely never go back.
Question is does your site suffer from the same mistakes as these websites?
If it does, don't worry… it's easy to fix.
How can you fix it? Keep reading.
What's the Most Popular Page On Your Site?
Before you fire up analytics, I'll tell you exactly what it is. Your most popular page isn't just one page. It's a bunch of them. What are they?
Your most popular pages are your content pages.
Yea, that's more than one page, but your content pages are one template, and people tend to interact with that template in a specific way.
Here's how it works:
Your content pages are destination pages. People find them through search results, links from social media and blogs, friends, and etc.
When people see your content, they make a split-second decision, often based solely on your web design. They then ask themselves, "is this page right for me?"
They can either answer yes or no, and right now I'll walk you through both scenarios.
If the answer is yes…
…they continue reading.
How do you get people to say yes?
As I said, it often depends on your web design, but here are three other factors that influence this decision:
1. The width of your content
2. Your headline
3. Your eye-catching image.
If the answer is no…
…they slam the back button or look for something else to click on.
In this scenario, you obviously want to keep people on your site. How do you do it?
In addition to optimizing your content for yes, you also need secondary actions you want people to take. You'll need a home page link, a clearly marked about page, and topical navigation.
The first two are self-explanatory, but here's some interesting data: When I fired up my analytics, I saw that 35% of the people who visited my content pages, clicked to see my about page or my home page next.
That's huge. That's why you've got to make sure your home page and your about page is geared for conversions (leads or sales, doesn't matter).
But now I'll go into topical navigation, and how that works.
How to Create Topical Navigation That Beckons Clicks
First, what do I mean by topical navigation?
Topical navigation is all about related content. Or, in other words, links to content or pages that relate to the overall theme of your website.
And while that seems simple, this is where most people get it wrong.
You see, people often include links to date-based archives, the useless WordPress calendar widget, non-descriptive category links (like how to), nonsensical social media badges, and worse, no links at all.
What should you link to then?
Let's look at an example:
Here's a screenshot of Ramit Sethi's site I Will Teach You To Be Rich. Take a look at this image closely, and then I'll walk you through it.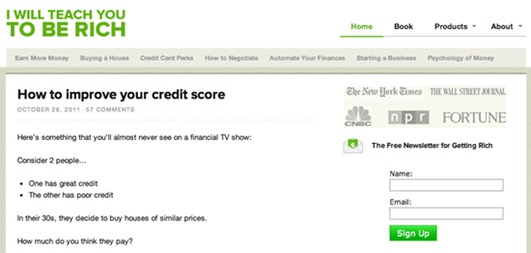 Do you see his two levels of navigation?
He's got his non-descriptive navigation in the upper right portion of his site, and then he's got another navigation bar. A topical navigation bar.
In that bar, he's got links to everything his site is all about. If you stumble on the site, and think the current post about credit score isn't for you, you can easily find what may interest you.
Let's say your site is relatively new, and you don't have enough content for a bar like that
What can you do?
You can borrow the same strategy I use at Social Triggers.
Instead of linking to a bunch of links in a bar, you can label a section of your sidebar "Resources" and include a few links there—I link to list building tips and increasing online sales tips. You can also label another section "Popular Articles" and link those.
Why does this work?
Two reasons: people love resources. Especially when they're complete resources. And secondly, people love Popular articles because it implies that the articles have value… they're popular after all.
But let's take this a step further…
What Pages Should You Link To In Your Topical Navigation?
You should link to what I call resource pages, or content buckets.
What are they?
Resource pages (or content buckets) are pages that you create around a specific topic. A page where you highlight all of your BEST stuff around that topic.
This is beneficial for two reasons:
As you know, blogs are great at highlighting your new content, but they're horrible at highlighting some of your best content that may be found in your archives.
When you create resource pages that highlight your best content, you're essentially making sure that your best stuff is no further than 2 clicks away from any page on your site.
Win.
Think about it…
When people visit your site, click on a resource page, and become overwhelmed with great content, why wouldn't they stick around and become loyal visitors?
You're spoon-feeding your visitors your best stuff, and the chances of finding your worst stuff is limited. Of course they'll become raving fans :-).
One warning: do not link to your category pages. If you do that, you're simply highlighting what's new, and not what's best.
Now What About You?
How do you direct visitors around your website?
Do you let them stumble around, or do you take them down a specific path that's geared for turning random visitors into loyal subscribers and fans?
Talk about it here in the comments.