I'll level with you. When you use images on your site, two things can happen:
Images can either help you achieve your business goals, or hurt.
Seems simple enough…
…But until you learn the subtle nuances of how images affect people, you're standing in front of a firing squad wearing a blind fold.
So let's remove that blind fold :-).
Why You Should Never Use Images For Decoration
You've heard the old adage: "a picture is worth a 1,000 words."
And that's absolutely true… when you have the right image.
But when you have the wrong image, people either ignore it or become confused.
Now you're wondering, "What makes an image right or wrong?"
Here's a litmus test:
If you pulled your image from Flickr or a popular stock photo website, you probably have the wrong image.
Yes, you might feel it grabs attention, but unless the picture is directly related to what you're talking about, your readers probably ignore it.
For example, T-Mobile used to prominently display Catherine Zeta-Jones on their website. She was beautiful-as-ever and holding a phone to her ear. Then, according to User-Interface Engineering,
"One older shopper, interested in buying a phone with easy-to-press large buttons, became frustrated when she couldn't discern the button size in any of the pictures. When she spotted Catherine Zeta Jones holding a phone she liked, she became exasperated. "She's a very pretty woman," the shopper told us, "I just wish I could see the buttons."
Why did this one shopper feel that way?
Catherine Zeta-Jones was for decorative purposes. Yes, she might grab attention, but did it help T-Mobile sell their phones? Nope. People wanted to see what the phone looked like… not someone famous holding the phone.
(Note, you'll notice I use some images here on Social Triggers. More on that later).
And this leads me to my next point…
When Using Images, Make Sure You Have a Reason For Doing So
Look:
There's plenty of real reasons for using an image on your site or in your blog posts.
So, when you're going to use an image, make sure you have one other than "it looks good."
What are the reasons for using images?
Here's three great examples:
Example #1: When Selling Products, Show the Product
You might think this is common sense, but have you ever browsed a real-estate website?
There's never enough photos of the houses being listed.
Why?
I have no idea.
And you know what's funny?
When I was buying my place a few years ago, it was hard to find pictures of property that I was interested in, but there was always a picture of the realtor.
It's like listen up buddy:
I want to see the kitchen, and unless you come with the house as my personal chef, I don't want to see you.
Before we continue, I have a word of warning:
When you use a product image, make sure you highlight the main features of the product. To illustrate this, let's take a look at this e-commerce example prepared by Jakob Nielsen:
On the Pottery barn website, there was a gallery of bookcases, and people spent a ton of time checking out the thumbnails of each book case. However, on Amazon.com, when people looked at a gallery of TVs, they often spent time reading the description of the TV while ignoring the image.
Why did this happen?
The pictures of bookcases helped people understand what they were buying. The pictures of the TVs all looked the same, which is why they were ignored.
Now let's say you're not running a large scale e-commerce website, and just have one product for sale.
Check out the original marketing for the MacBook Air: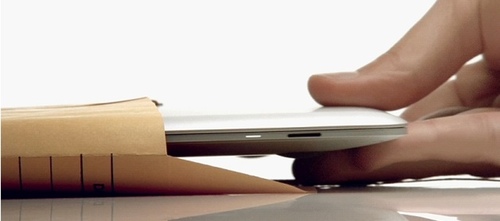 Do you know why this picture was genius?
The MacBook Air couldn't compete on speed… it competed on size.
And what better way to demonstrate their main feature other than pulling the product out of an envelope?
Yea, it has nothing to do with the product itself, but it shows off how small it is, and that's the reason why people were going to buy it.
So ask yourself:
When you're selling a product, what's the main reason why people will buy your stuff?
Once you know that answer, put that in an image… or a few images, and you'll notice you'll help convert visitors into sales.
Example #2: Use Images Early On to Shorten Line Lengths (or Why I Use Images on Social Triggers)
I've written about this before:
People prefer shorter line lengths because it's less overwhelming and it appears easier to read.
The truth is, people actually read longer lines (around 100 Characters Per Line) faster than shorter lines because there's less eye movement.
And that's why I use images on Social Triggers.
I begin each post with an image that's 200 pixels wide, to make my line lengths shorter so people begin reading my content.
Then once they build up some reading momentum (after about 3-5 sentences), my line lengths get longer.
I believe this keeps random visitors from fleeing my site, and why my articles often get read and shared.
To take advantage of this same tactic, figure out how you can shorten your line lengths to around 40-60 Characters Per Line, and use an image to take up the rest of the space.
It's worth it. If you're trying to convince people to buy your stuff or subscribe to your newsletter, you need to get them read your offer, and that's why I love this tactic.
Example #3: Use Images to Direct Visitors' Attention
As smart as we human beings are, we can't resist certain urges, and three of those urges are as follows:
1. People can't resist following the gaze of other people
2. People can't resist seeing where an arrow points
3. People can't resist following the "line of sight" of objects
Now let me break this down for you:
People are innately curious creatures, and that's why we can't resist these urges.
If one person is looking at something, we have to look at it to find out why. If an arrow points somewhere, we want to know why. And finally, objects often have a "line of sight" and can act like arrows, which is why we follow them too.
As an example, take a look at this landing page from Chemistry.com (they've used this for a while now):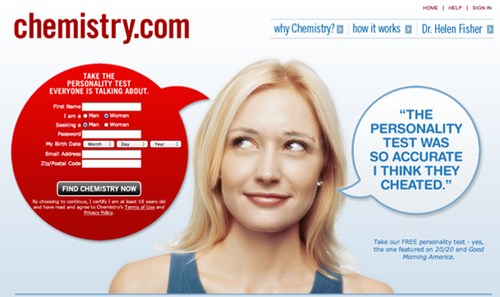 Where do you think people look when they see this landing page?
If you guessed right at the form, you're absolutely right.
As another example, there was a test conducted by Usable World and they saw similar results: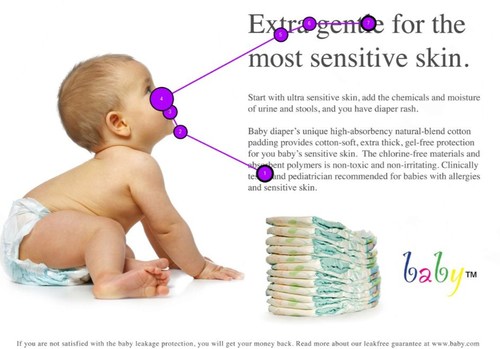 Pretty cool stuff right? See how people look where the baby looks? And then they also look at the bottom paragraph, because the baby's chin acts like an arrow pointing to the second paragraph.
(Note, check out their site because they have some more great examples of baby images that direct attention).
Now I would demonstrate how an arrow works, but I'm pretty sure that's self-explanatory. If you place an arrow on your page, and have it point to a specific point on your page, people will often look there.
As a fair warning, only aggressive internet marketers use arrows, so you're better off using more subtle arrows like "line of sight."
How does this help with conversion rates?
Well, I often see bloggers using pictures of people, and then they have those people look away from their page.
That's just silly.
If you have an image of person, have that person look right where you want them to look. If you have them look elsewhere, you risk sending your visitors eyes right off of their computer screen.
And there's also an added benefit:
You might think you don't need to direct people where you want them to look because "it's obvious."
But let me tell you this:
People browse the internet reflexively. They often scan the pages they're looking at, and it's very easy for them to miss something vitally important to your business goals.
You want to use every tool in your arsenal to ensure they see what you want them to see.
Why You Should Use Pictures Of Real People (not Stock Images or Cartoons)
If you're still with me, congratulations. You're most likely smarter than 99% of people who run websites as a business, or for a business :-D.
But now I have one final tip:
When you're running a website, whether you're a corporation, a small business, a freelancer, or any kind of business…
You should almost ALWAYS include a picture of yourself and your team.
Here's the deal:
People like to connect with people… not faceless corporations and businesses.
Most recently I've ran some eye-tracking tests on Social Triggers.com and I've found that people spend an inordinate amount of time on my footer.
Why?
Yes, they're looking for what they can do next (which is why footers are a great place for opt-in forms), but I also have a picture of myself, and a biography down there too.
And there's one more benefit for using a real photo on your site:
People want to do business with people they know, like and trust. In the words of Jakob Nielsen again, if you don't show your photo, people often think the reason why is a bad one, and they assume you're untrustworthy.
Look at it like this:
Would you ever buy something from somenone wearing a mask?
I wouldn't.
So use your real photo to build your credibility, thus increasing your conversion rates.
The Bottom Line
You spend hours crafting your sales pitches and writing blog posts, so spend some extra time choosing the perfect image. When you find it, you'll be able to increase your conversion rates for both leads and sales.
Now what do you think?
How do you use images on your site?
If you loved this article, share it on Twitter by clicking here.