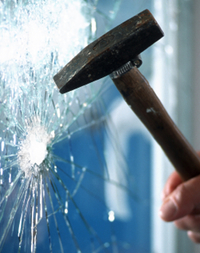 It's time I bust this thing wiiiiiiide open.
"Content is King" is HORRIBLE advice.
Question is why?
Content is how you get traffic.
Content is also how you keep loyal readers and customers happy.
So, what's the problem?
The "Real King" Unmasked
Online, you only have a second to grab someone's attention.
And during that second, people make snap judgments about you, your business, and your website.
Before. They. Read. Your. Content.
Not convinced?
How Web Design Torpedos Trust
Elizabeth Sillence, and her team, conducted a study where they asked a bunch of people to find websites about hypertension.
Then she asked people to record whether they trusted or distrusted the websites they found, and why.
And guess what?
When she reviewed the reasons why people distrusted a website, 94% cited DESIGN problems.
Yes, you read that right.
Your design can TRIGGER immediate DISTRUST.

The funny thing is, people didn't just cite aesthetic problems like "that site is ugly."
The culprits are much more tangible. They are the "red flags" of web design, and there are 10.
The 10 "Red Flags" of Web Design
1. Clever site names
(clever is confusing)
2. Cluttered, busy layouts
(Less options, higher conversions)
3. Navigation Problems
(See the header removal test)
4. Boring web design
(Yes, this one is aesthetic)
5. Pop-up ads
(Don't mistake subscription boxes for ads)
6. Slow load times
7. Small fonts
(Size 14 is the new size 12, after all)
8. Too much text
(Take this with a grain of salt. Big blocks of text is probably what they meant)
9. Corporate Look and Feel
(Another aesthetic comment. Corporations have it tough, eh?)
10. Poor search functions.
(Again, if people can't find your content, your site failed)
Now I'm passing it to you.
Do you have any "red flags" on your site?
P.S. If you have a second, sharing this article with your twitter followers would be a huge help.
I know, I'm shamelessly asking you to tweet my article, but it's easy. Thank you 🙂
Want to read the study? It's called "Trust and Mistrust of Online Health Sites."