Whether you're looking to do something you love, trying to build a business, or just sharing your message (and expertise) with the world, it's no secret that I believe you NEED a blog…
…And you should begin building it (or growing it) TODAY.
I'll share why in a second. First:
The other day I received an email that was a little disconcerting. They wrote:
"I just subscribed to your blog. I have a blog, and I want a $1 million content business by the end of the year. I'm at $0 currently with 60 subscribers."
What's wrong with this picture?
Well, I got this email in the second week of January, and 2 weeks in, and it's not looking good.
But aside from that, the BIG problem with this email is this:
He was a Delusional Dreamer.
You see, I'm not going to say doing something like that is impossible…
(Back when I started Social Triggers, I soared to the top of the market. I went from being a nobody to being the guy who got written up on FastCompany.com. I went from speaking into a mirror to speaking to audiences of 1,000. The fact that I built a highly profitable business was the bonus).
…but it's going to be TOUGH.
My dirty little secret is that I've done this before. Several times in several industries. I had the systems, skills, and experience to make it all work.

And check it:
I didn't even have a $1 million content business in the first 12 months.
I also never even thought I'd build something that large in the first 12 months because I wasn't a delusional dreamer.
Instead, I fancied myself a Reasonable Realist.
Now, take a look at this revenue growth for Social Triggers over the last few years: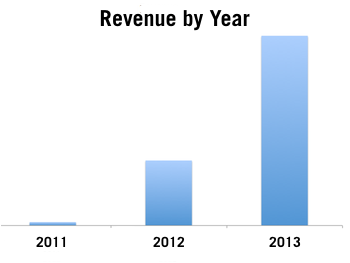 What do you see here?
Things are going well, obviously. But look a little deeper into this graph for a second.
Zoom in closer to 2011. I had almost NO revenue for Social Triggers. Then in 2012 and 2013 things spiked up drastically.
What's the big lesson?
I couldn't reap the rewards of 2012 and 2013 without first burying myself in the mud in 2011.
I couldn't create videos like this: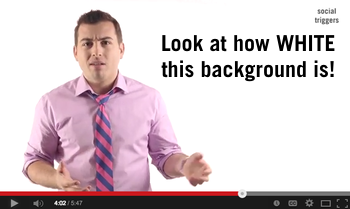 Without first creating videos like this: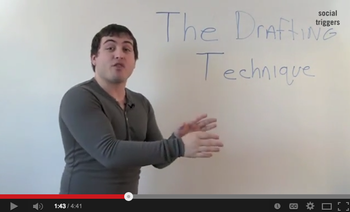 And that's the BIG PROBLEM with people who are looking to start (or grow) their businesses today.
Like the delusional dreamer who emailed me, they want their first year to be BIG.
I get it. Who wouldn't LOVE to have a great first year?
But since they focus on their big first year, they refrain from ever starting.
They keep their head in the clouds and never experience a year like my 2011. And that leaves them mired in mediocrity.
They say things like:
"I don't have the time for it right now…"
"I'm not sure what I should do first…"
"I'll do it later…"
But no one who ever achieved anything ever said any of these things. Especially when it comes to building a blog.
As a matter of fact, if you look around at some of the most successful people, you'll find that almost no one goes from 0 to a million in their first year. It's usually years of slow growth first before they "pop."
This is because they approached their businesses as Reasonable Realists. Instead of dreaming about "hitting the lottery," they focused on the MOST IMPORTANT THING:
THEY STARTED.
Now the question is, can you bypass those years of struggle?
I believe you can, with the right education and training.
You see, most people sit back and try and figure it out, which is why they struggle for 1, 2, 3, or 5 years before they get anywhere.
And that's why one of my favorite quotes comes from John Maxwell:
"Smart leaders learn from their own mistakes. Smarter ones learn from others' mistakes–and successes."
AINT THAT THE TRUTH!
Now let's circle this back to blogging:
There are some people who think talking about blogging in 2014 is like "beating a dead horse."
But that's spoken like a true FOOL. And in the words of MR. T, "I PITY THE FOOL."
I know there are people out there who either:
a) have not started their blog yet (and know they should)
Or…
b) have a blog that hasn't yet started to yield a return.

Here's the deal:
I believe everyone needs a blog, whether it's for their business or for themselves. And I believe everyone should build their blog the right way in 2014.
If you're one of the people who haven't started a blog yet, do yourself a favor and start a blog today. Set one up for the first time by following this tutorial.
(Even if it's just yourname.com).
If you're one of those people who have a blog (but you're unhappy with the growth), then start growing it.
(And if you know someone who can benefit, send them a link to this blog post and tell them to get on the email list).
Next week I'm going to share more about how you can start building your blog THIS YEAR. I'm also going to open enrollment for Blog that Converts, the step-by-step system for building a blog that fuels your business.
So, if you're not on the email list, HOP ON IT. If you subscribe today, I'll give you access to a free ebook where I walk you through "How to Get Your First 5,000 Subscribers."
You could delay doing all of this, and that's fine aside from one key point: The further you push out your start date, the further away you are from your "good years."
So, let's get started TODAY.
We've all got a little "Delusional Dreamer" in us, and that's okay. But let's try to all be "Reasonable Realists" from this point forward. Especially when it comes to OUR businesses.
P.S. In the mean time, if you're wondering "Why should I build a blog?" Read this article right here. It's an older one, but it's more applicable today than ever before.