Let's say you're looking to use the web to sell some stuff.
(It doesn't matter what you're doing specifically—whether you teach fitness, take pictures, make art, sell real-estate, give marketing advice, design websites, sell trinkets, or whatever, that's neither here nor there).
How do you build a blog that works for—not against—you in your quest to become self-employed, build a business, or use the web to generate leads and make sales?
Some people believe, "it's impossible. All of the good topics are taken!"
But how do you explain how every year a new blog emerges as the "go to" resource in an industry?
Some people believe, "as long as you're doing good work, that's what matters!"
But how many people do you know that do great work… and STILL struggle?
Some people believe, "it takes an endless supply of content, and they'll NEVER have the time to do it."
But how did I build Social Triggers from scratch to more than 70,000 subscribers in 21 months… with less than 3 posts per month?
More on that in a minute…
First, let me share an interesting personal story…
A story that demonstrates why building a blog is GREAT for building your business.
A story that shows you that, in addition to building your business, a blog comes with many sideline benefits you could have never imagined.
*Prepare yourself for gratuitous ego-stroking*
Okay, let's talk about me (my favorite topic, ha)
As you know, I launched my blog, Social Triggers, officially in March 2011.
And as you also know, I started my blog in the overcrowded "I give advice about online marketing" space.
It's so crowded, in fact, Adage reports that there are 181,000 people who call themselves social media experts, mavens, ninjas, and gurus on Twitter1.
(That doesn't even include people who talk about copywriting, conversion rate optimization, blogging, and more).
Yet, my blog TOOK OFF… as if I had slapped a jetpack on my subscriber count.
In addition to attracting more than 70,000 subscribers, I launched a top marketing podcast on iTunes, and released a web tv show that amasses around 10,000 viewers per episode.
The revenue ramped up fast, and Social Triggers was able to evolve from a one-man show to a real company… with a virtual team… and everything.
(And I'm not talking about virtual assistants outsourced at a dollar an hour. I've got a real team of people—a videographer, an assistant, part-time developer, and various other professional contractors).
But what I'm most proud of is this:
Social Triggers releases some of the BEST content for people looking to use the web to build their business.
(Or in other words, I do good work).
But don't take my word on that though. Just recently, I asked my fans on Facebook "If you stumbled on someone who doesn't read Social Triggers, what would you tell them to persuade them to start reading it RIGHT NOW?"
Here's what they said:



To see the full list, look at the conversation on Facebook right here.
Unfortunately, I can tell you this:
The fact that I did good work isn't why my blog took off.
The REAL reason why my blog took off is because I was able to get my good work into the hands as many people as possible.
Because, "If you build it, people DON'T come." Doing good work is the price of entry. Once in, you've got to recruit people with master-level promotion skills.
And that's why people who do good work often struggle. They've paid the entry fee, but they don't know what to do once they get into the fray.
Luckily, that can be taught, but more on that later.
Now here's the best part:
Yes, I launched a blog in an overcrowded space.
Yes, I created good work… and promoted the heck out of it.
But I also didn't SLAVE over my keyboard creating content day-in and day-out.
If you look at the facts, I averaged less than 3 blog posts per months over the course of 21 months to build my blog.
That means, if you've ever thought, "there's no way I could write content daily," the short answer is "you don't have to!"
That said, there have also been many other sideline benefits of my blog as well.
#1: How Building a Popular Blog Makes Getting Book Deals A Cinch
Seven years ago, if you asked me "Would you ever write a book?" I would have probably said "I'd never be able to land a book deal."
It turns out, after talking with some book industry insiders, they said I could land a book deal in a few weeks. (And that's something I'll pursue for the right offer).
#2: How Building a Popular Blog Makes It Easy-As-Heck To Land Speaking Engagements
Two years ago, to land speaking engagements, I had to HUSTLE. I had to apply to speak at industry conferences, make session pitches, and BUST MY BASS to land a speaking gig.
(Yes, I just said BUST MY BASS. Gotta keep this G-rated so I can't say the word ass. Whoops…).
I landed some gigs, and didn't land others. All I knew was this: "If I have to keep this up, I'm going to smash my head into the wall."
But then Social Triggers took off, and people began inviting me to speak through my contact form. Some of the conferences were weird—one was about server hardware, another was about sports, another was a large company that wanted me to speak to their marketing executives, and etc.
And before I knew it, even though I wanted to speak once per month, I had enough engagements to speak like once a week. The demand was so high, that now, if you want me to speak at your conference, it runs $10,000 for a 1 hour keynote.
Oh, and if you're curious, that's me doing my thing at Marie Forleo's conference. There were a few hundred women in the audience.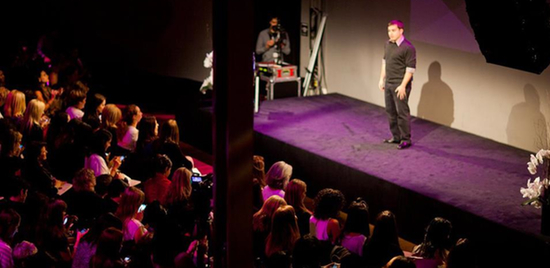 #3: How Building a Popular Blog Empowers You To Meet Like-Minded People Whenever You Want
Last year, I had the bright idea that I wanted to meet people just like me (people who were using the web).
Previously, I would have to travel to a conference to do something like that.
Now? Send one email to my list, and I could have hundreds of people show up at a live event in NYC.
Or have people show up to a meetup anywhere for that matter (I've held them in Seattle, NYC, Austin, and etc).
#4: How Building a Popular Blog Makes Selling Extremely Easy
Back in 2005, I believed it was impossible to sell anything online. I was so defeated, that I stopped trying. I instead slapped a bunch of ads on my first-ever blog because it didn't matter if the ad sold or not. I got paid either way.
Now? It's a completely different story. When I want to sell a premium training product, a consulting contract, or anything, it's sometimes as easy as just letting people know I have it for sale.
You might have been on one of my webinars where I give great training… and then follow it with a pitch. You might have also seen that I promote premium training products (very occasionally) from people that I respect.
Guess what? That's how Social Triggers earns revenue. A lot of it. And yet, there are people who read my site, and ask me "Derek, do you ever sell anything?"
The answer is "Yes," i just don't do it often. I take the "poker playing" approach to selling online. I don't play many hands, but when I do, I'm aggressive. And when it comes to selling, I don't sell often, but when I do, I sell hard.
I'm still amazed…
My blog is the reason why I was able to build a highly profitable business, with an amazing virtual team, and now I can be an author, a speaker, or a highly paid consultant.
The big question is how do you build a blog that works for—not against—you in YOUR QUEST to teach fitness, make art, sell real-estate, take pictures, become self-employed, or use the web to generate leads and make sales?
That's why I'm proud to announce a new series that I'll be running on Social Triggers over the next couple of weeks.
(This is where you'll get the insanely practical tips you can implement into your blog growth strategy right now).
I'm going to take you behind the scenes of how I do what I do.
I'm going to bust common blogging myths wide open.
I'm going to reveal some specific strategies YOU can use to start growing YOUR blog today.
And much more.
All-in-all, by the end of this series, I hope to empower tens of thousands of people to begin building a blog that helps them do what they want to do… no matter what it is.
So, if you're not on the email list, make sure you HOP ON IT to ensure you don't miss out.
And if you LOVE what this series stands for, take a second and share this with a friend. Gotta reach tens of thousands of people, and with your help, we can do it!
In the mean time, I want you to leave a comment and answer this one simple question:
Do you believe a blog can help you build your business?
If yes, what type of business are you in? Describe it in detail, and explain how you think a blog can help you build your business.
If no, tell me more. What type of business are you in? Why don't you think a blog can help you build your business?
Also, know this:
I'm still putting this content together right now. So, if you've got any specific questions about blogging, leave a comment asking your question, and I may be able to work it into this series.