Today I'm going to share the 2 things you should NEVER say in an email to someone you don't know.
(Especially if you want that person to respond to you)
And then I'll walk you through a word-for-word script that I personally used to get influential people I didn't know to respond to my email…
…and promote my work to their readers.
Sound good?
How to Ensure Your Email To A Blogger, Journalist, Or Investor Never Gets Ignored
Bonus Ebook: Download this free ebook that will give you the exact scripts you can use to contact important people – and get responses FAST
Now before you download your free PDF "email writing cheat sheet," I want you to do 2 things:
1. Leave a comment to let me know the dumbest emails you've ever received from someone looking to get something out of you.
2. Do you have a friend who needs to get in touch with someone they don't know? Show them this video so they can increase their chances of getting a response.
That said, here's the free download: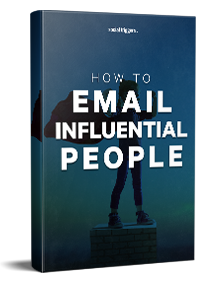 Want to Know How to Email Influential People (And Actually Get a Response)?
Download this free eBook to get the word-for-word scripts you can use to do exactly that.
Yes, send me the free ebook
In this document, I share two word-for-word scripts I've used to email people I don't know with hopes of getting them to share my content (or join me on my podcast).
Plus, I break down these scripts—LINE BY LINE—to show you why I say the things I said. This will make it MUCH easier for you to replicate.
Get at it!
And of course, if you're new here, make sure you hop on the newsletter to get more of the good stuff.