If you think it's up to your designer, you're wrong.
You see, there are designers who focus on how your website looks…
…but you're running a business. You want a font that looks great and PERFORMS AMAZING. Don't leave it to chance!
So, what's the perfect font?
Why Is The Font On Your Site So Vitally Important?
Answer this question:
"What's the main goal of a font?"
Yes, a font communicates your brand to your readers and customers, but what's the REAL goal?
A font's main purpose is to be read, and that's it!
People shouldn't need to TRY to read your text, it should just happen.
So, what's the perfect font?
Quite simply, a font that's EXTREMELY easy to read.
If you or your designer attempt to use a "cutesy" font because you think it looks nice, you're doing it wrong. Really wrong.
And now that we've got that out of the way…
What's the Best Font For Your Site?
You've seen how the width of your content can either turn people on or off to your content.
Well, your font choice can have the same effect. Your font can either entice or repel your readers and customers.
So, what's the right font?
There isn't one right font, but there is a RIGHT group of fonts, and luckily, there are only two groups of fonts…
…Simple fonts and Fancy fonts.
Which one do you use where?
To understand that, you must understand the psychology behind each of them.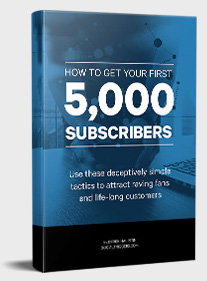 Do you want to grow your blog?
Use simple tactics found in this free ebook to attract your first 5,000 subscribers
Yes, send me the free ebook
The Psychology of Simple Fonts
Two researchers, Hyunjin Song and Norbet Schwartz, discovered an unusual trend during an experiment.
There were two groups of people. One group received directions in an simple font, and the other group received directions in a fancy font.
What happened?
The results were astounding.
The people who received the simple font estimated that it would take 8.2 minutes to complete the directions whereas the people who received the complex font estimated that it would take 15.1 minutes to complete.
Insane, right?
A simple font change, and people estimated that directions would take around 86% longer.
What's that mean to you?
When you're giving people directions, a simple font can make them assume the task is easier than it really may be.
Additionally, when people see simple fonts, it's more unassuming, and it looks easier to read.
(I told you web design was important :-D)
Now what about fancy fonts?
The Psychology of Fancy Fonts
The same two researchers, Hyunjin Song and Norbet Schwartz, made another discovery…
Again, there were two groups of people. One group of people received a menu printed in a simple font, and the other received it in a fancy font.
And what happened?
The results were remarkable!
The people who received the fancy font menu assumed that the chef preparing the meal had more skill.
A simple font tweak, and bam! An iron chef must be in the kitchen!
What's this mean to you?
When you're selling products, clever use of a fancy font can help you convey to your readers that more effort went into creating them.
Now that you understand the psychology, I'll make this insanely practical for you.
(You're likely wondering where you can use a fancy font on the web. You can use them on sidebar headings, taglines, or something small, as long as you don't over do it).
Simple and Fancy Fonts Aside, What's The Best Font?
No matter which font you choose, the size of your font is VITALLY important.
As I've written about before, when people visit a website, one of the main reasons why they distrust the site is font size.
It's strange, I know, but it makes sense.
There are too many people who use a size 12 font for their content, and that's a HUGE mistake. Small fonts hurt conversion rates AND usability.
I'm in my 20s and I can barely see size 12 without doing that Mac zoom thing…
…And that's why I've been telling people that size 14 is the NEW size 12. (Tweet Me)
But if you want to go bigger, I'd say size 16 is the NEW size 12. (Tweet Me)
So, right now, look at your site. What's your font size? Are you scaring people away with a small font?
But Derek What's the BEST Font?
Once you know the psychology behind fonts (simple and fancy fonts), there is no best font per se…
However, I believe that your MAIN font should be a simple font, always.
Then, you'll also want to create contrast between your fonts. You'll want a font for your headlines, another font for your body copy, and potentially an accent font.
As an example, here on Social Triggers, I use Helvetica Neue for my headlines, Georgia for my body copy, and I accent my sidebar headings and logo with another special font.
(If you look at the site, you'll see it looks cohesive because I'm using that simple font selection formula).
As a rule of thumb, refrain from using more than 2 or 3 different font types on your site. It becomes confusing and your design goes from distinguished to disgusting :-P.
There's One More Thing…
Once you know what font you want to use, you want to make sure your typography settings are perfect.
In Thesis, the theme framework I use (aff), the typography is amazing. There's perfect spacing between lines, paragraphs, h3 tags, and more.
But most importantly, Thesis comes equipped with more than 30 different font options. Not only do you gain access to the typical web-safe fonts, but Thesis is also compatible with the Google Web Font library (that gives you more font options than many other WordPress themes).
If you're not using Thesis, Chris Pearson created a tool that tells you the BEST way to set your typography by using the golden ratio. Check that tool out here.
Now I pass it to you… What's your favorite simple font? What's your favorite fancy font? Talk in the comments.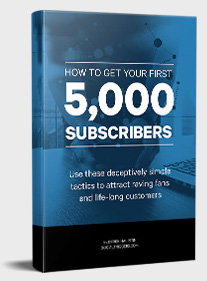 Do you want to grow your blog?
Use simple tactics found in this free ebook to attract your first 5,000 subscribers
Yes, send me the free ebook