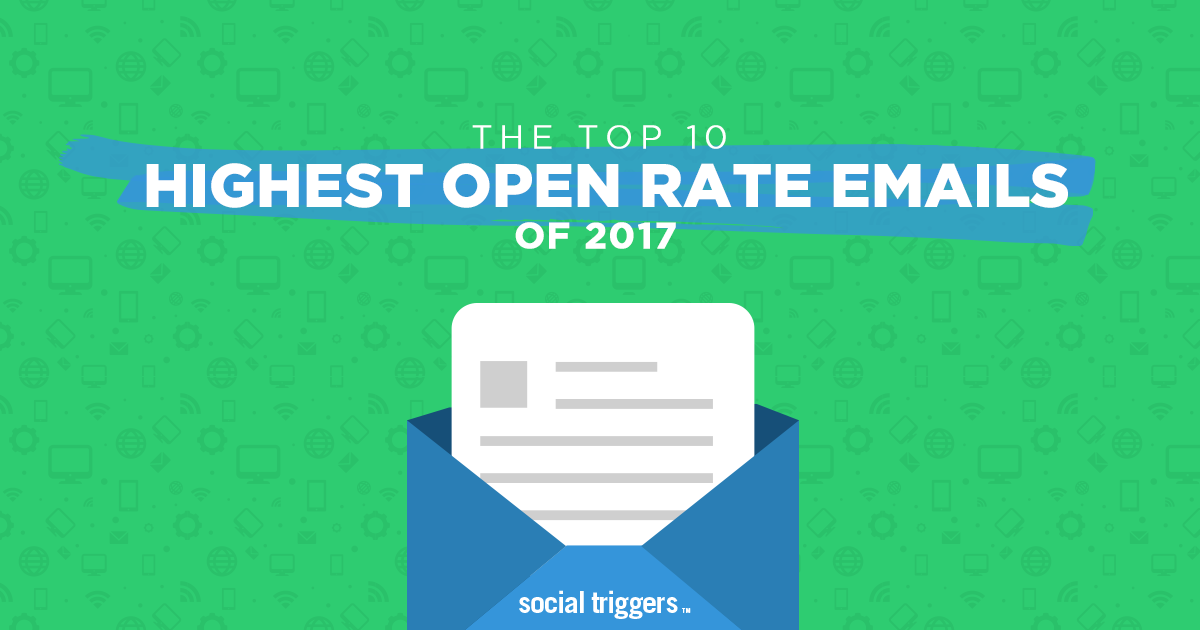 The headline says it all.
With inboxes getting more and more crowded, it's crucial your emails stand out – now more than ever.
So let me share what worked for me this year… and why.
Ready?
Let's jump right in…
Here Are The Top 10 Highest Open Rate Emails of 2017
Hi, I'm Derek Halpern, the founder of Social Triggers. Over the last few years I built my email subscribers from scratch to more than 250,000 subscribers and built a multi-million dollar online business as a result of it (we sell courses, software, and even have a health company, too).
So, needless to say, I may know a thing or two about good email subject lines. As you go through this list, I want to make one thing clear: these emails worked for me at Social Triggers.
And while you may fixate on the subject line and think about copying it for your own list… I recommend you read what I share below each subject line.
The psychology behind why these email subject line worked is much more important than the subject line themselves.
This is something I've shared countless times before, but it's worth mentioning again.
Now, here's the first email…
10. "How to make people like you in 5 seconds (or less)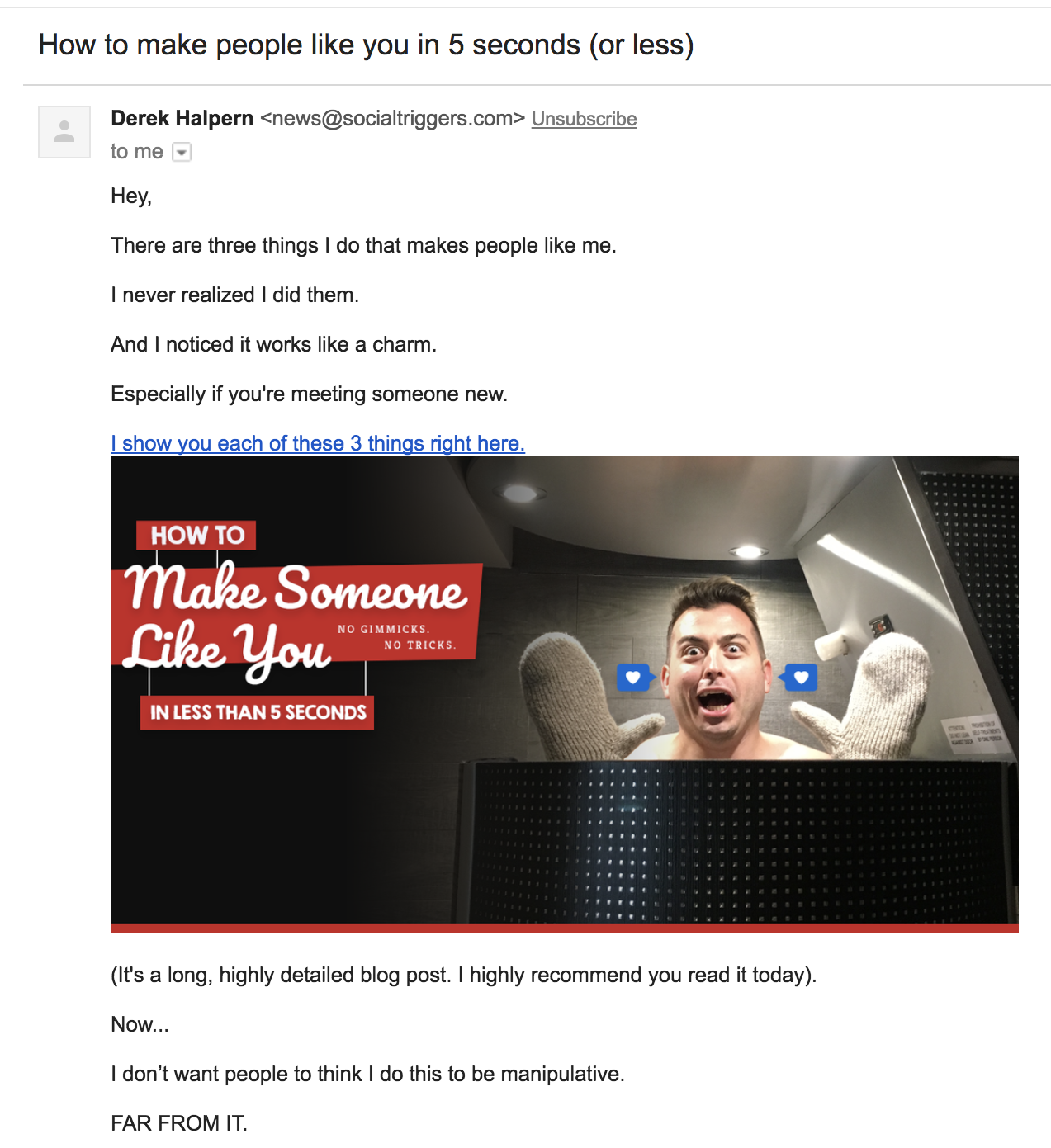 Open rate: 34.98%
This is just a good ol' promise headline. EVERYONE wants to be liked. It's also specific because of the time constraint "in 5 seconds (or less)"… and it almost sounds too good to be true.
In 5 seconds? Really, dude?
But I had no problem making this promise, because the technique I shared to make people like you actually does only take 5 seconds.
The takeaway?
Make the right promise and make it specific. And if you can back it up, make it big and bold.
Note: Want to learn more about writing better sales copy? Here's a link to a 4 minute video: Write better sales copy with this one single tip.
9. "They asked for tough love. I gave it. It's on video."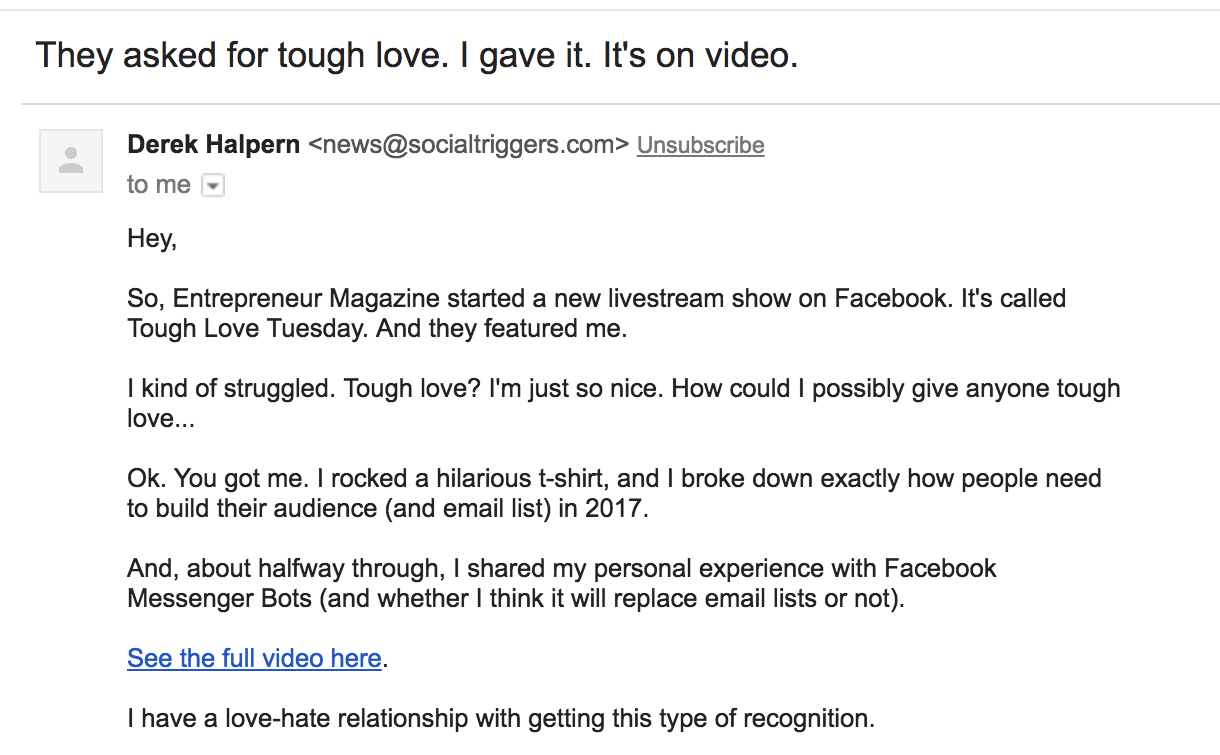 Open rate: 35.87%
People clicked on this for the same reason they watch "Intervention."
Tough love is also what I'm know for since I started Social Triggers…
I tell it like it is.
So, on the one hand people probably wanted to see me put someone else in their place. On the other hand, when you read this headline, you're inevitably wondering, "Do I need to hear this?"
This email was about an interview I did with Entrepreneur Magazine. The show is called Tough Love Tuesday and you can see my vlog about it right here.
8. "FREEDOM!"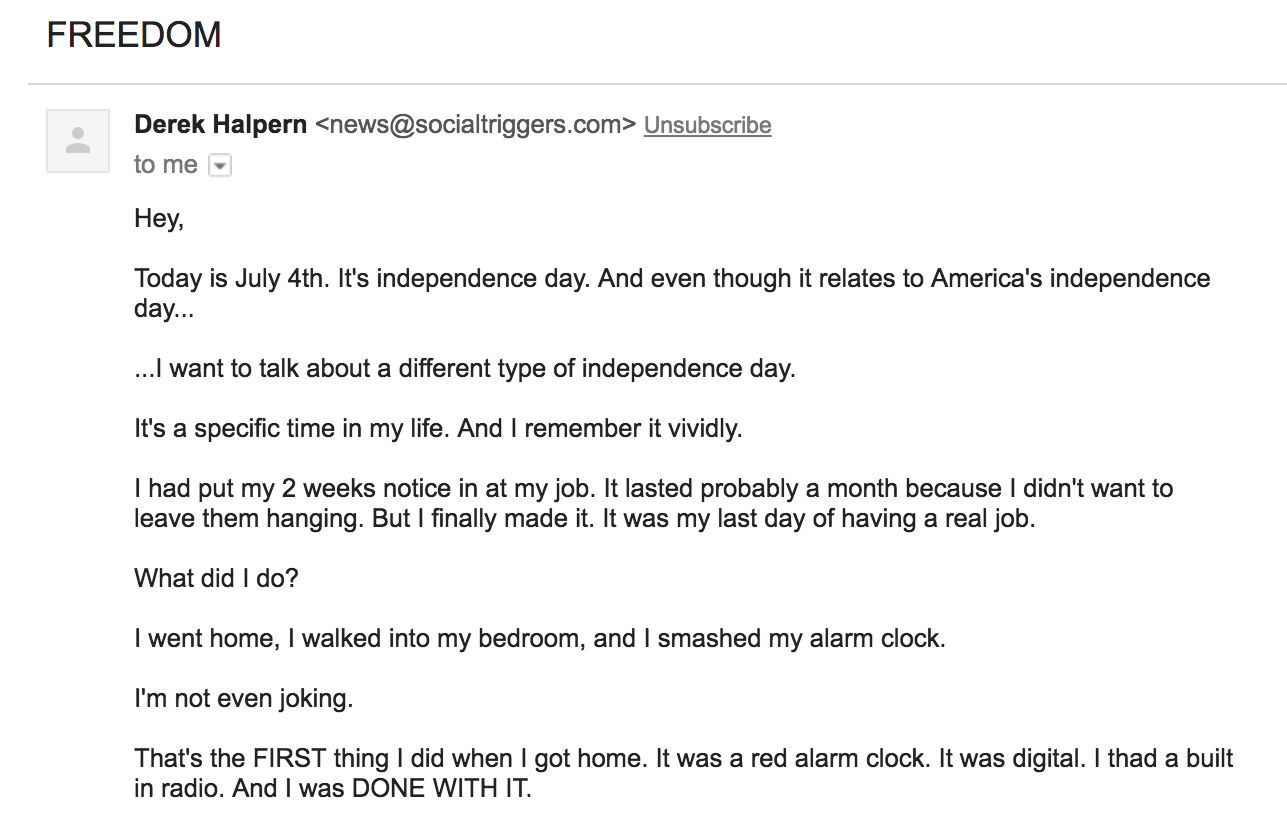 Open rate: 36.93%
This was my 4th of July email – Independence Day.
But instead of talking about America's independence…
I told a story about my personal "independence day:"
The day I quit my job.
FREEDOM!
It's a proclamation. It's a big promise. It's what I believe everyone with an entrepreneurial spirit strives for.
Not the freedom to be lazy and do nothing… but the freedom to do what I want, when I want, and how I want.
The peak moment was when I SMASHED my alarm clock. I was no longer going to live on anyone else's schedule but mine.
This email didn't even include a link…
But it was relatable.
It also stood out. Most people mentioned July 4th or indepedence day in their headlines. I went with all capslock as a way to stand out from other emails sent that day.
And that's the key.
When you send an email, it's not just about what subject line you use. It's about the subject line you believe your competitors are using and then thinking of a way to "stand out" in the inbox.
I've filmed a video about this before… where I essentially said this… "what blends in gets ignored… what stands out gets remembered…" Even though I was talking about colors on a website, it also applies to the inbox. If your subject line stands out it will get opened.
7. So, this was a weird conversation…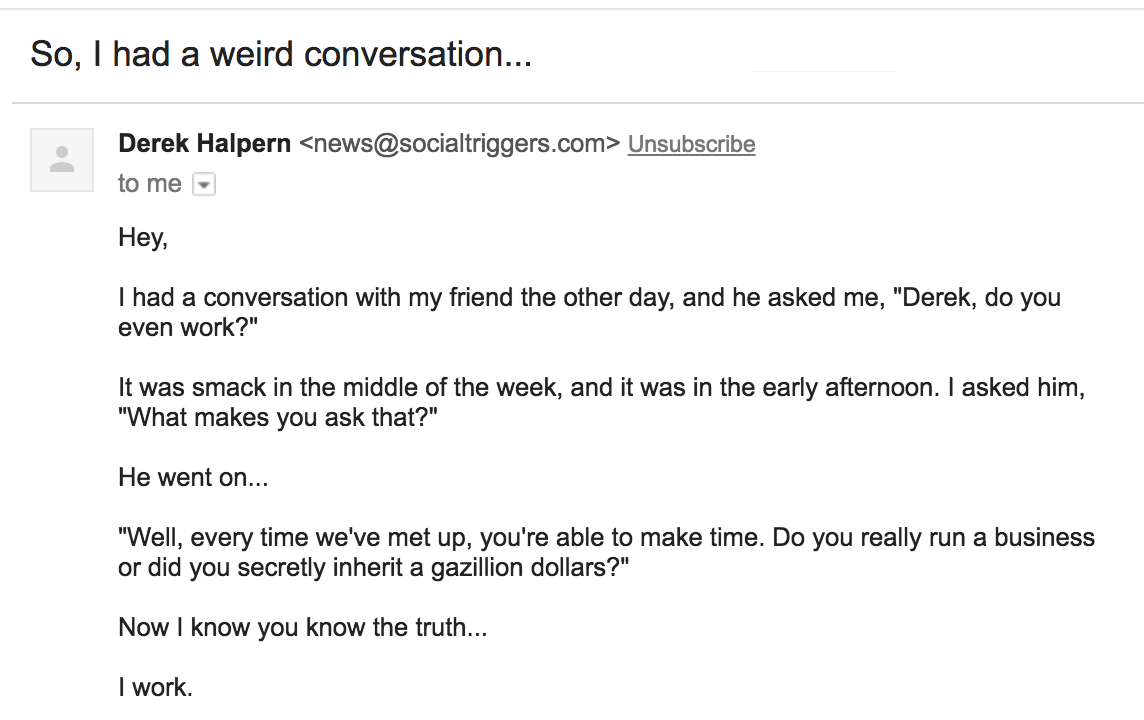 Open rate: 37.23%
Interestingly enough, this next email was a personal story, too.
And it was also about being an entrepreneur.
They key word in the subject line is "weird."
Just think of those spammy "1 weird trick…" ads. They work because people can't help but click…
But why?
Because curiosity!
We've all had uncomfortable or awkward conversations. And we know weird means "not normal." So naturally, we want to know what happened.
Always remember:
What stand out gets our attention. What blends in gets ignored.
That's why calling something "weird" immediately gets attention, and that's why it's such a powerful word.
6. "Watch her rewrite her sales page – it comes out great"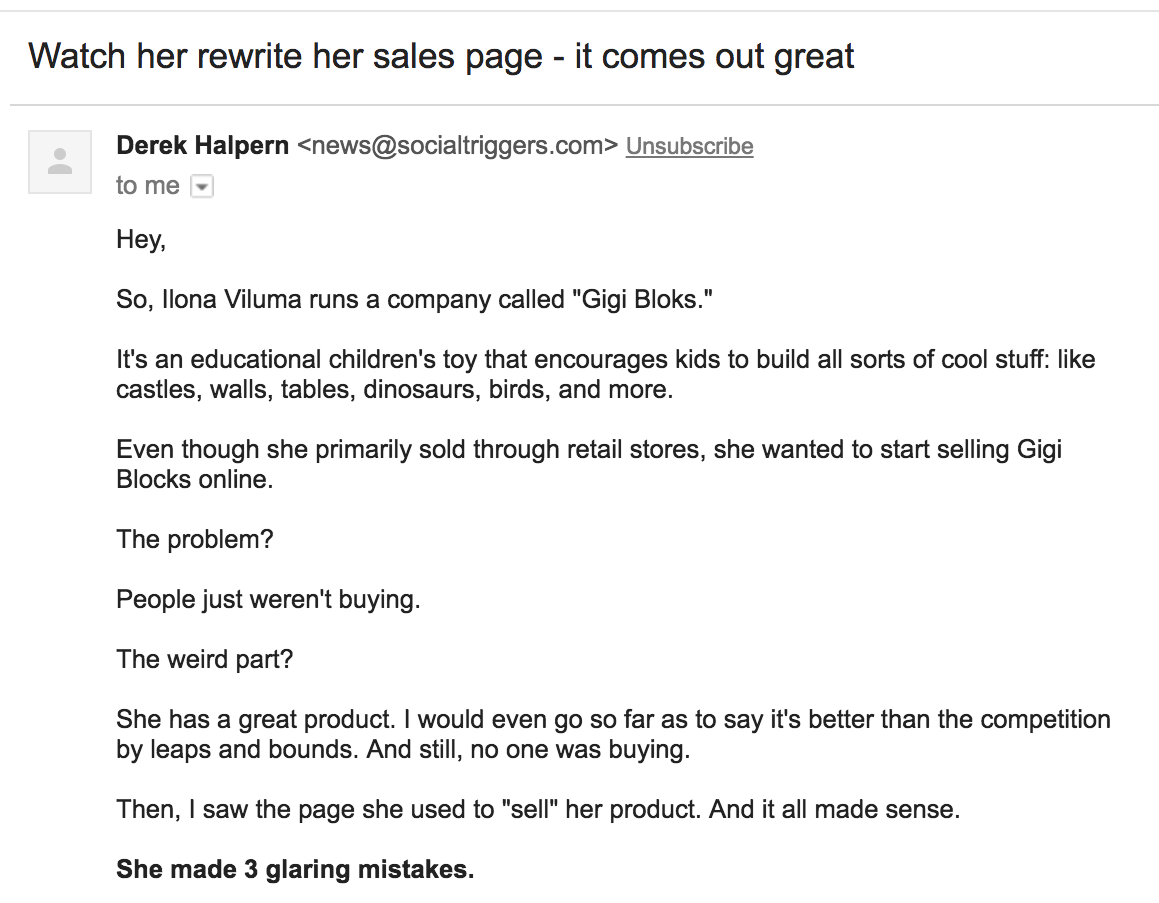 Open rate: 37.37%
I didn't like this subject line when I wrote it…
I was surprised it did so well.
This email was about a case study on writing an e-commerce sales page.
Why did people want to read this?
Case studies are popular because we want to see what worked for someone else… and if it can work for us.
So, think in terms of "before and after."
Or "problem-solution."
She rewrote her sales page. So… What did the sales page look like before? What did it look like after?
It's also something people actively think about in my market. They want to see "before and after" pictures of sales pages… so I gave them exactly what they wanted.
5. This is unlike anything I ever wrote (it's about fitness)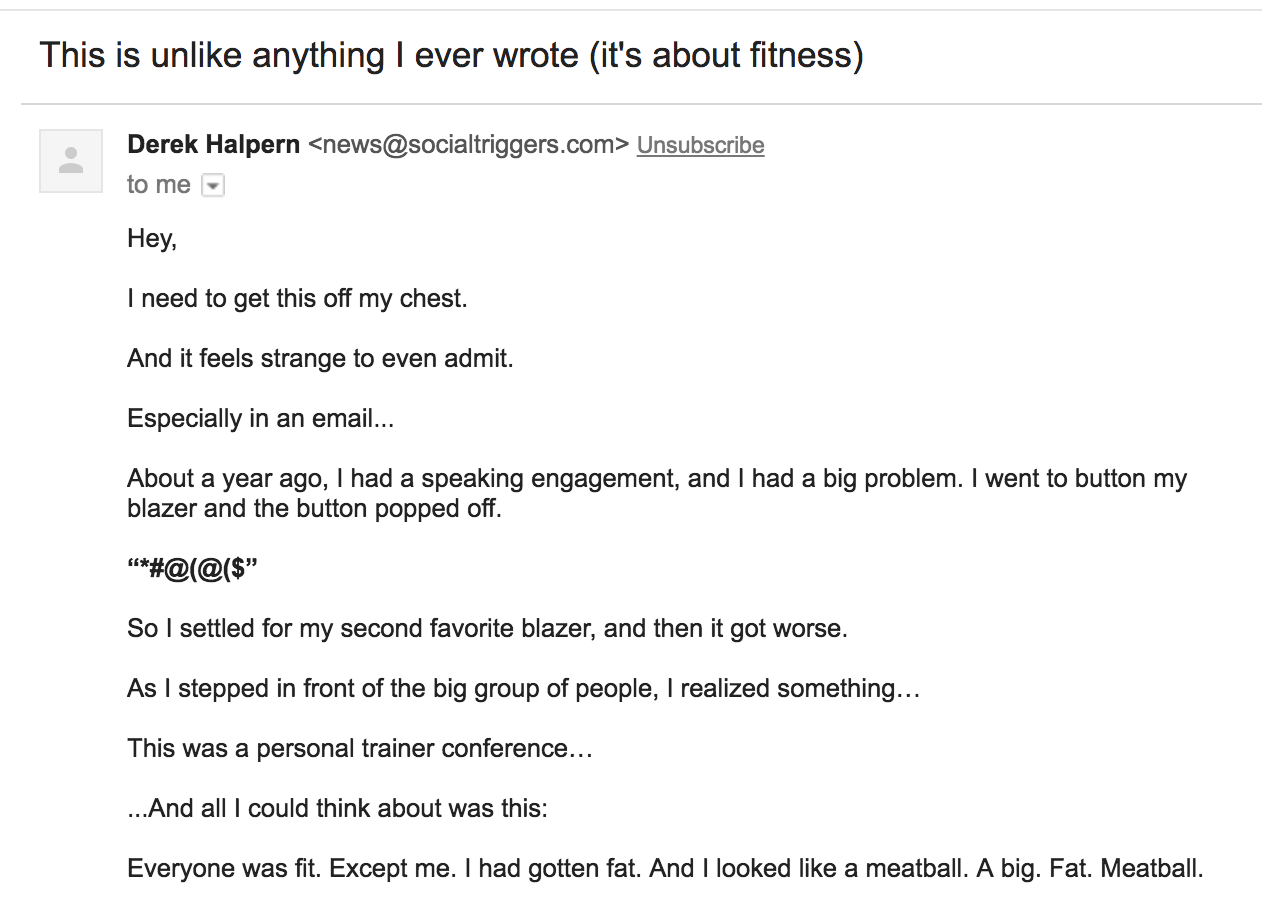 Open rate: 37.95%
This was the email I sent when I launched a fitness coaching group with my trainer Chris earlier this year.
Anything that's weird or unusual is going to get attention (see email 7 above).
I usually write about marketing and sales. The novelty of me writing about fitness is what made people curious here.
Warning: Don't overdo this.
I was able to say "unlike anything I ever wrote" because it was true: I never wrote about my fitness journey before.
I suggest you only call something "extraordinary" if it really IS outside of the ordinary!
4. Stop being cheap. Seriously. (not you. everyone else)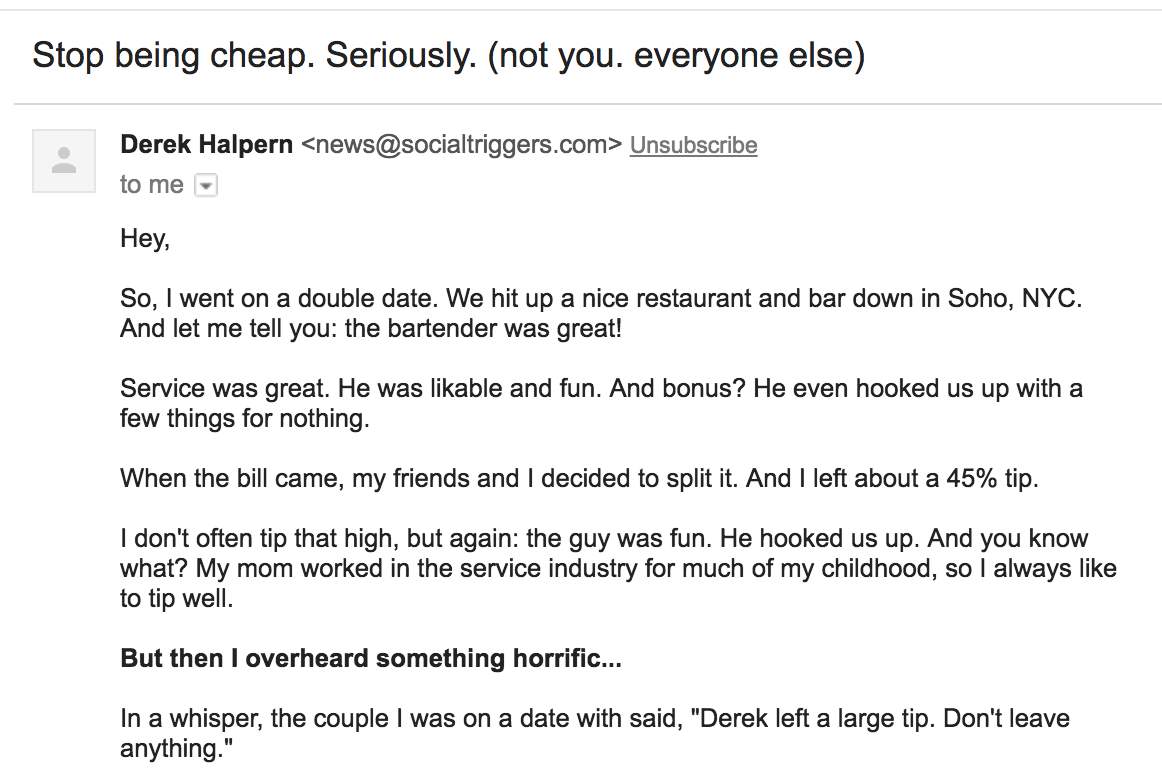 Open rate: 40.21%
This is what you call a proclamation headline.
It's a big, bold statement. An assertion… a proclamation!
It's also slightly offensive. That's why it grabbed attention instantly. BUT…
Who likes to be called cheap? Most people don't… And insulting your readers is generally a bad idea.
Why? Because when you insult someone, their immediate reaction will be to get defensive.
They won't even listen to what you say next. Now they're in "I'm right, you're wrong" mode. So they'll dismiss whatever you say.
But when you're in the business of helping people improve their business and life, like me, that's NOT what you want…
That's why I made sure to clarify. I'm not talking about YOU specifically. I'm talking about "everyone else."
Now THAT got people interested!
I mean…
Look at the video on YouTube. Look how many comments. People truly resonated with this.
3. This is why some people can charge $1000 (or more) per hour.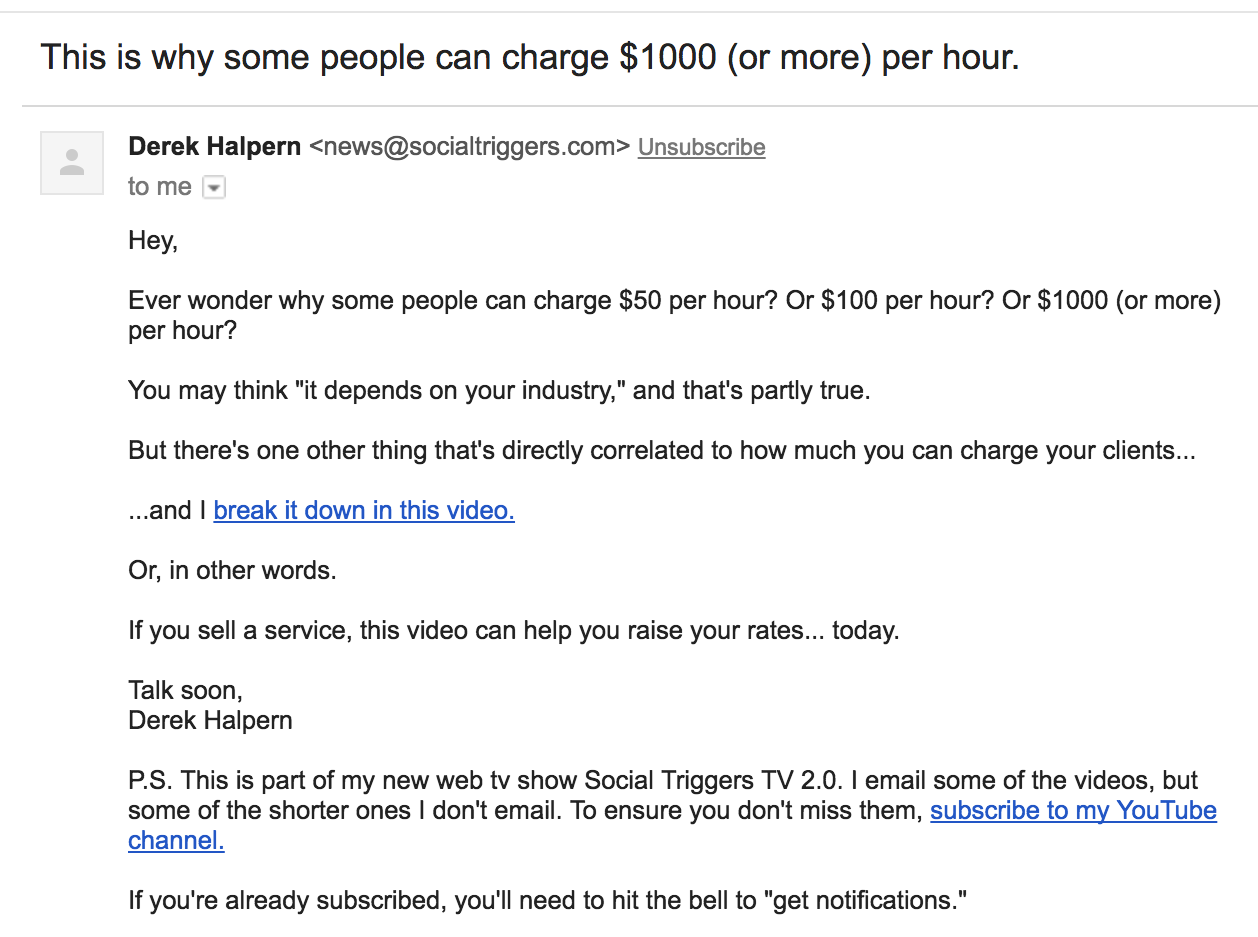 Open Rate: 41.49%
Who wouldn't like to charge $1,000 (or more) per hour?
EVERYBODY wants to make more. And the subject line taps into this universal desire with a simple promise: I'll explain why some people can charge more.
Of course, the implication is… If there are *some* people that can charge a lot more, there are *others* that can't and don't know why!
What everybody then wants to know is:
"How can I become one of those people who can charge more?"
So, in the video I reveal #1 secret to charging more.
Now…
You can use the "some… while others…" formula, too. With the right promise, the formula creates a slight feeling of envy. Enough to make people want to read on.
This is also good reminder not to overcomplicate things when it comes to subject lines. Don't try to be too clever…
With the right promise and a little bit of intrigue, people will open and read your messages.
One note: Another reason why this did so well is because people often find themselves comparing themselves to other people… and that's baked right into the headline. I suggest you read the comments on this YouTube video too.
2. I got into a fight with my video guy over honesty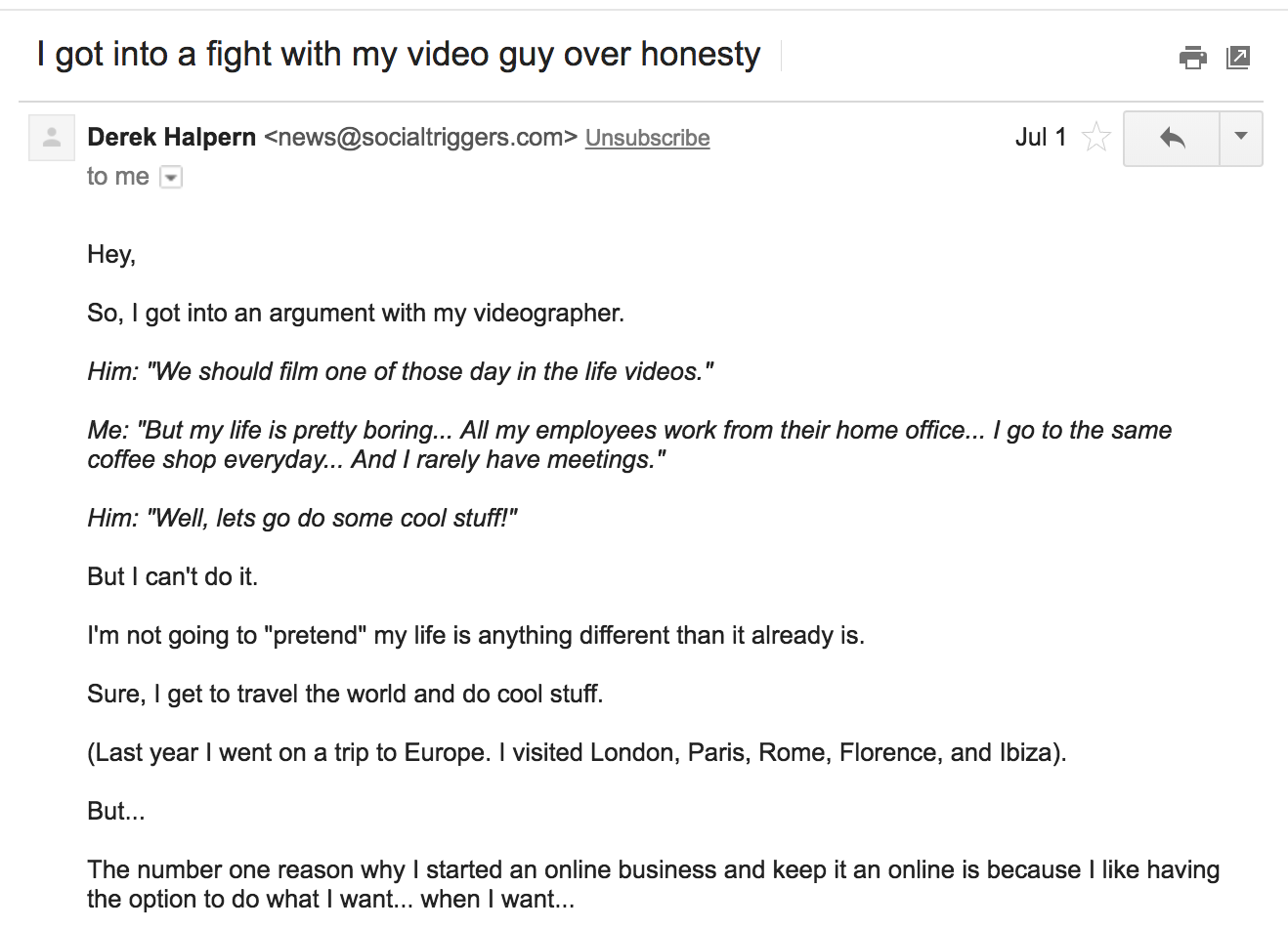 Open rate: 41.49%
Be honest:
When you see couple argue on the street, what do you do?
You stop and look.
That's the power of controversy.
As another example…
Why do I read pages of YouTube comments of people arguing about dumb sh*t? Again, that's the power of controversy. We get to pick a side. As long as nobody gets hurt, it's entertaining.
This is probably the main reason people wanted to read this email… "I got into a fight with my video guy"… because they got to pick a side.
1. "The most valuable page on my entire website…"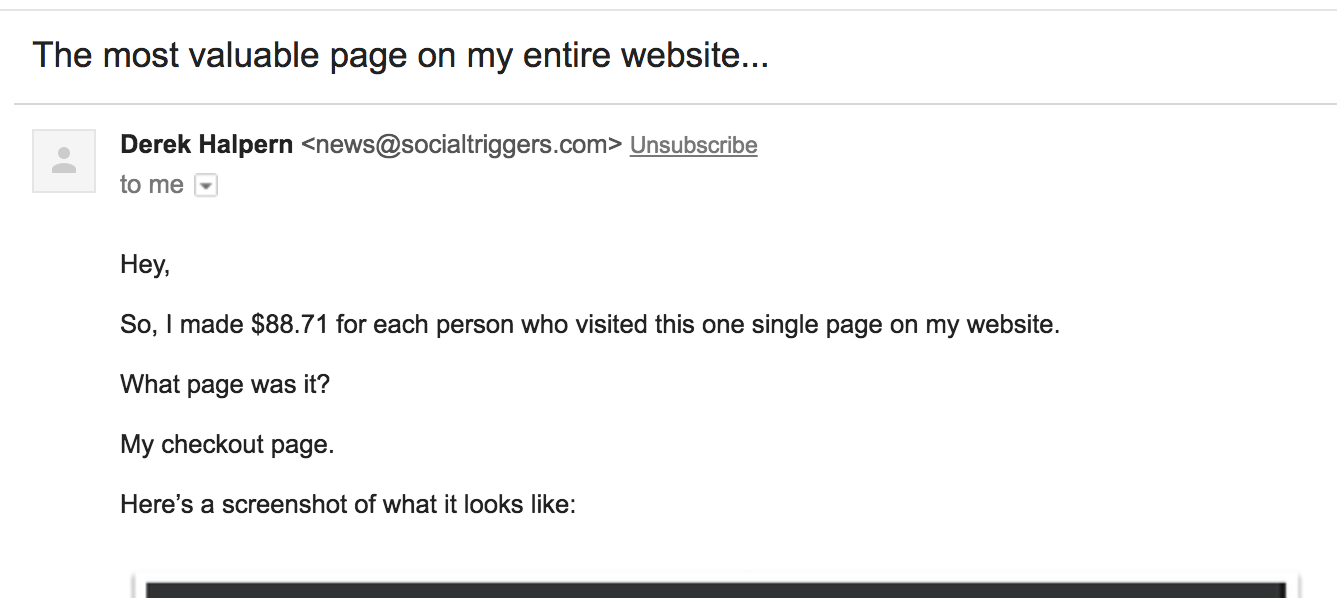 Open rate: 41.59%
All good subject lines open an Information Gap. But this one shows it perfectly…
An Information Gap is when there's a gap between what we know and what we WANT to know. This is the driving force behind all curiosity driven headlines.
So what's the gap here? Most of my readers run online businesses. OF COURSE they want to know which page on my website is the most valuable!
Combined with the "rule of 1," this email performed extraordinarily well.
The #1 thing…
The most valuable…
The most surprising…
The most annoying…
The least known…
If I had to put it in a formula…
Desirable promise + Information gap = people will open your emails.
There you have it…
I rarely share behind the scenes stuff like this on the blog. Hopefully you find it useful. Let me know if you want to see more post like this.
If you liked this article, do me a favor and share it with a friend or colleague.
And, one more thing…
Right now, I'm looking to do two things over at Social Triggers.
#1. We are revitalizing the Social Triggers YouTube channel. If you haven't had a chance to check it out, I highly suggest you subscribe today.
We are sharing more behind the scenes content of running an online business and I think you'll dig it.
#2. We are going to be doing some cool stuff on Instagram. Yes, we'll share helpful content, but we'll mix some humor in as well.