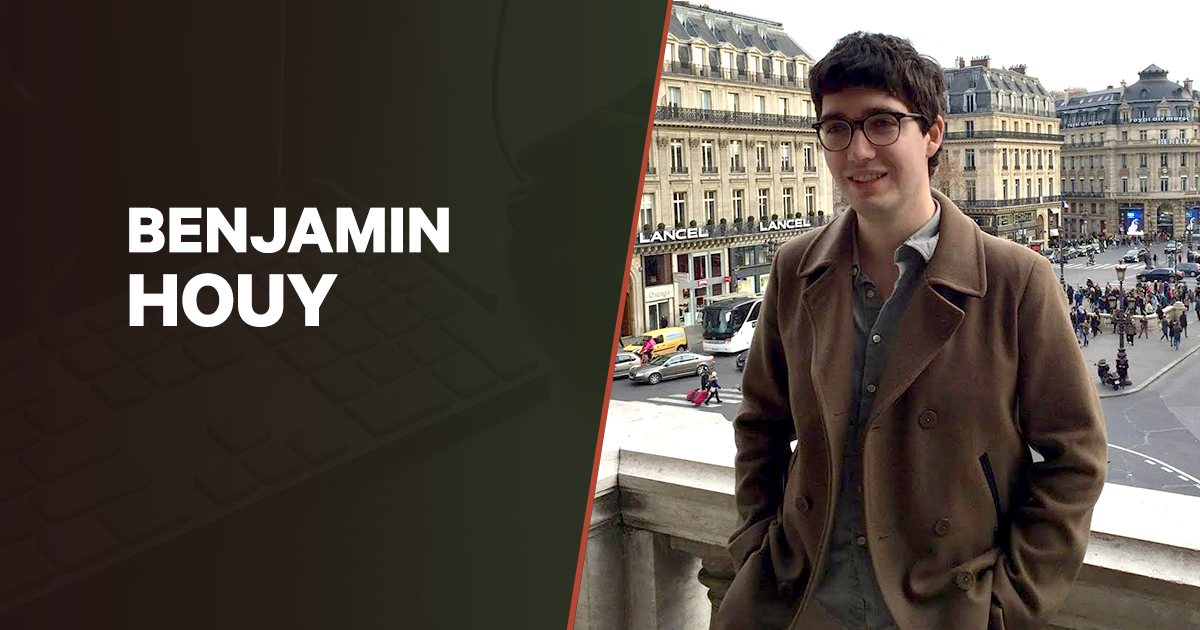 The language-learning industry is fierce. It's dominated by multi-million dollar corporations. These are companies with huge advertising budgets. They have books and software on every e-commerce platform and in every bookstore on the planet.
It's the sort of market that seems IMPOSSIBLE to penetrate.
Benjamin sells an online course that teaches people how to speak French. He doesn't have a lot of money to spend on advertising. He doesn't have a dedicated, full-time marketing team. He runs a one-man operation.
How could he possibly compete?
He has dreams of creating more products and growing his business. But his sales had hit a plateau. He has a great product that really helps people. But his sales page just wasn't converting well enough to take his business to the next level.
And that's when he enrolled in my online course, Sales Page that Converts.
"I had been following Social Triggers for a few years already … I really thought Sales Page that Converts would be ideal to improve my sales page and learn about marketing in general."
And what happened?
Benjamin created a sales page that increased his revenue from his online course by 21%.
The best part?
Benjamin no longer has to stress about where the money is coming from. He now has peace of mind knowing that his sales page is running on autopilot to make him sales everyday. This frees up his time to create more products and grow his business.
Here's how he did it…
"I Didn't Know Why People Were Buying My Courses"
The biggest mistake Benjamin made in creating his first sales page occurred before he even wrote one word of copy.
"When I did the sales page for the first time, I basically wrote everything in five hours without researching anything."
Benjamin skipped the most important step in creating a sales page that converts: the customer research.
This is a mistake that so many people make. And it drives me CRAZY.
People are so eager to start making sales that they slap a sales page together and hope for the best. Then, when they make no sales, they're left scrambling to figure out why.
But before you create your sales page, you must deeply understand who your customers are and what they're struggling with.
That's why I show you how to do customer research the right way in Module 1 of Sales Page that Converts. I show you how to uncover hidden insights about your customers. Then, I show you how to use those insights to write sales copy that makes your ideal customers think, "It's like they're reading my mind!"
Benjamin THOUGHT he knew his customers. But in reality, he only knew the surface-level stuff.
He knew his customers wanted to learn French before a trip to France. But he didn't know what was really driving them to want to speak French.
"Before [Sales Page that Converts], I thought that people want to learn French because it sounds nice. I realized, actually, that most people who buy the course are people who went to France already and had a bad experience because they couldn't really communicate and they were frustrated."
This was a huge ah-ha moment for Benjamin.
He learned that his customers don't want to learn French just because it sounds nice. They want to learn French because they suffered through a previous humiliating and frustrating experience. And they wanted to ensure they never had to live through that experience ever again.
Benjamin also learned that his ideal customers weren't clear on exactly what he was selling. And they weren't buying because of it.
"Before [Sales Page that Converts], I was always saying to people that my course and my website are about helping you learn French grammar naturally. When I interviewed customers, I realized that nobody really cared about that so much … Not a single person talked about that."
He was selling people something that they didn't actually care about. His course teaches people how to speak French based on real-life conversations. Yet, he was telling people that he would teach them French grammar. And it was hurting his conversions.
"I moved away from saying 'learn grammar naturally.' And instead, I say, 'learn real-life conversations' because almost every customer I interviewed told me it was the reason they chose to buy the course."
And as you can see below, his copy is much stronger because of it.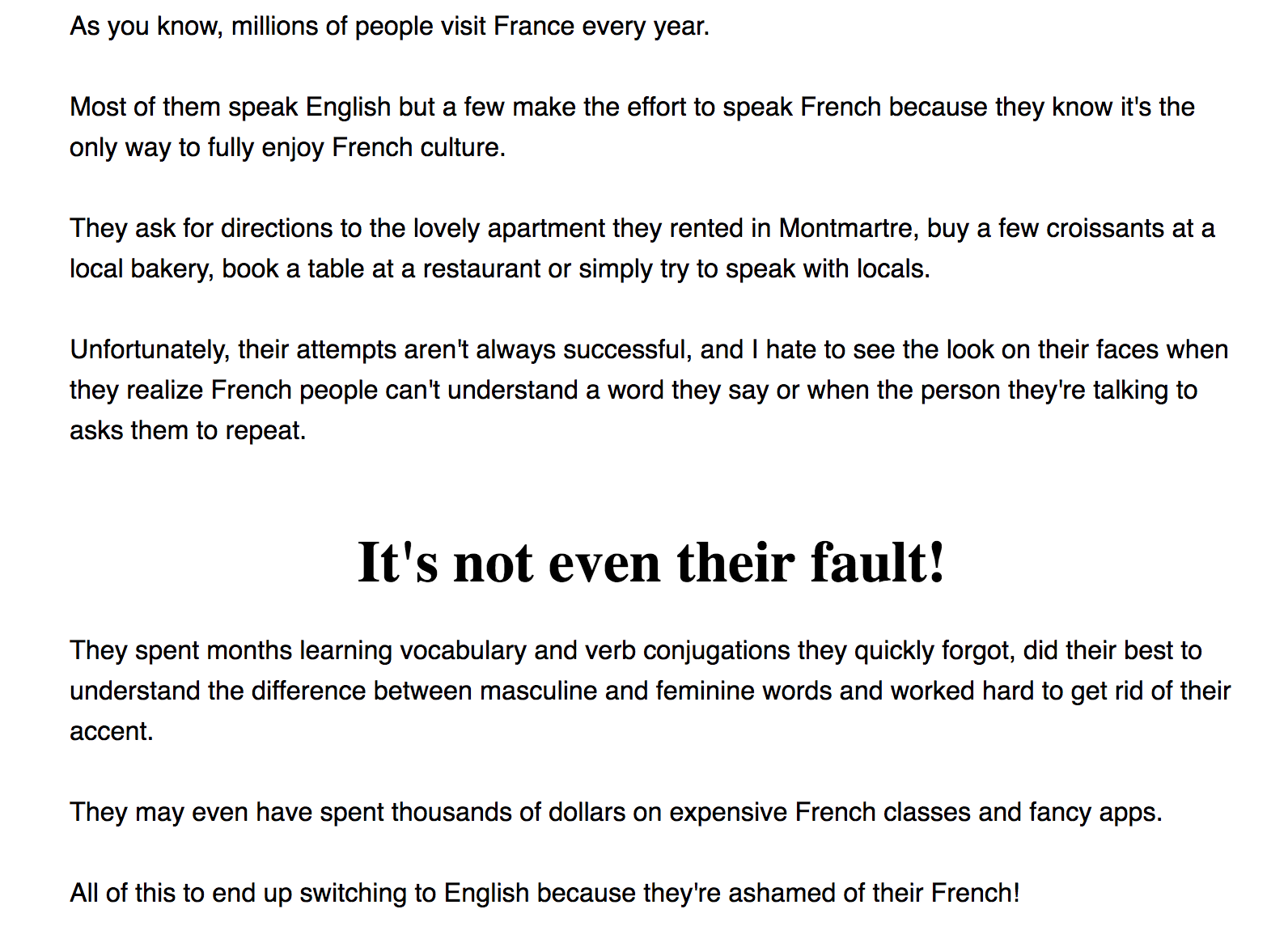 He writes:
"They spent months learning vocabulary and verb conjugations they quickly forgot, did their best to understand the difference between masculine and feminine words, and worked hard to get rid of their accent.

They may even have spent thousands of dollars on expensive French classes and fancy apps.

All of this to end up switching to English because they're ashamed of their French!"
This speaks directly to his customers' frustration. They've wasted time and money learning French vocabulary and grammar that proved useless in real-life situations. They've felt embarrassed and ashamed trying to speak French and failing.
So, when they read this, they know Benjamin really understands their struggle. And they believe that he can help them solve it.
Insights like this can be the difference between a sales page that bombs and a sales page that converts over and over again. And I teach you how to do it in Sales Page that Converts.
Assembling Your Sales Page Is Easy With This Foolproof Framework
One of the biggest problems Benjamin faced when he created his first sale page was that he didn't know what he should include and where to put it.
He had previously purchased a copywriting ebook to help. But it didn't make the whole sales page process any clearer.
"There were a lot of examples in the book. So, I just kind of copied what I saw and tried to adapt it for my products. I just put everything together, but it didn't really explain the reasons for why you needed to do things."
He had a lot of tips and tactics. But he didn't understand how they all tied together to form a cohesive, persuasive sales page.
The end result was a sales page that just didn't feel right and didn't convert as well as he knew it should.
"I thought that the whole thing was a bit needy … I felt the copy on the page wasn't really flowing and that something was missing."
That's why Sales Page that Converts gives you a foolproof framework for creating a sales page. I give you all the building blocks you need to include on the sales page. And I walk you through how to create and assemble them step by step so you don't miss anything.
This was huge for Benjamin.
"A lot of courses aren't very clear. You watch a lot of videos, but you don't really know what to do. With this course, it was much more structured. So, I knew I just had to follow all the steps and, at the end, I would have my page ready … I would just have to follow the plan and it would work."
Having this proven framework meant that Benjamin didn't have to figure out what works by trial and error. He didn't have to second-guess his decisions. He just had to follow the framework, and he could create a sales page that converts.
During this process, Benjamin was able to revamp the sections of his sales page he already had. And he added some key components to his sales page that he was missing.
First, he realized that his customers had no clue what they were actually buying from him.
"People weren't really clear about what I was actually selling. They didn't know if I was selling a DVD, or a CD, or if I would send them something, or if it was digital."
This is a huge problem. If people don't know what they're actually buying, they're simply not going to buy.
Now, thanks to Sales Page that Converts, he has a revamped "How It Works" section that includes all the nitty-gritty details about his course. So, his customers are never left wondering what they can expect to receive if they enroll.
Benjamin also added clear, benefit-driven bullet points in his course description.
"I didn't have bullet points on the previous page because I didn't know how to make them sound interesting. Sales Page that Converts helped me write bullet points to create curiosity and get people excited to explore my course."
In Sales Page that Converts, Benjamin learned how to write benefit-driven bullet points that make his prospects' ears perk up.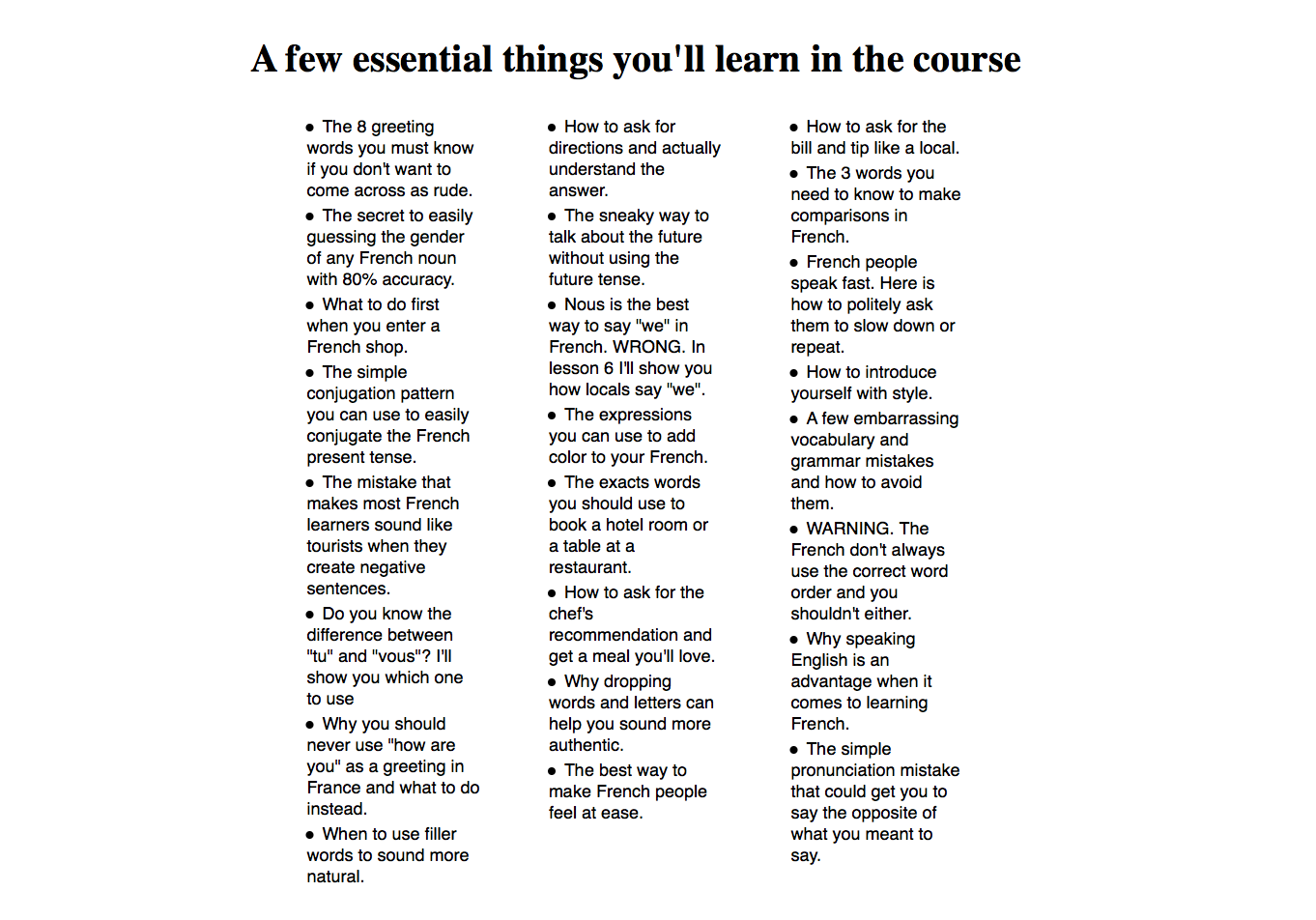 As you can see, even with a simple design, these benefit-driven bullet points speak directly to his ideal customers. They create curiosity so that his prospects just need to know more.
And finally, Benjamin added what I like to call "The Wake Up Call."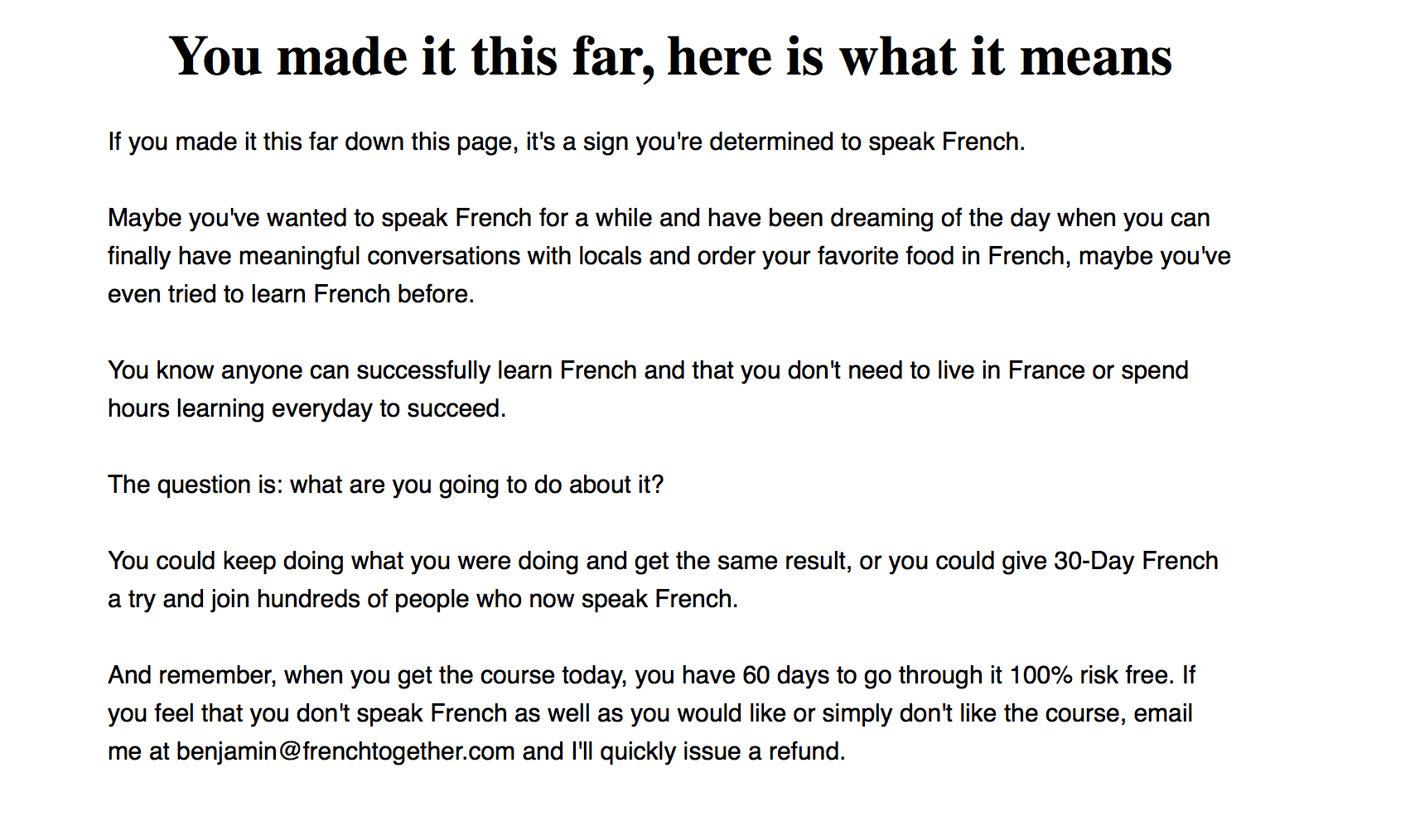 "The Wake Up Call" is a simple strategy you can use on your sales page to create a sense of urgency for your prospects to buy. And I show you exactly how to create this section and where to put it inside the course.
After Benjamin created all the "Building Blocks" of his sales page, the rest was smooth sailing because he had a template for assembling his Building Blocks in a strategic way, piece by piece.
You see, your sales page is really just a conversation between you and your ideal customers. And you want that conversation to logically and seamlessly convince your ideal customers that your product or service is the right fit for them.
With the Sales Page that Converts framework, this really is as easy as plugging each Building Block into the template. This way, you don't have to worry about what goes where and why. I give you the structure to ensure that your sales page is designed to convert browsers into buyers.
Plus, I also include html sales page templates so you can get your sales page up and running as quickly as possible.
Benjamin was able to revamp and release his new sales page quickly and seamlessly. And the results have been amazing!
A 21% Increase In Revenue With Sales Page That Converts
Benjamin launched his course with his old sales page for the last time in January 2017. He earned $1,668 in revenue from that launch.
Then, in February 2017, Benjamin launched his course again using his NEW sales page that he created with Sales Page that Converts.
And guess what happened?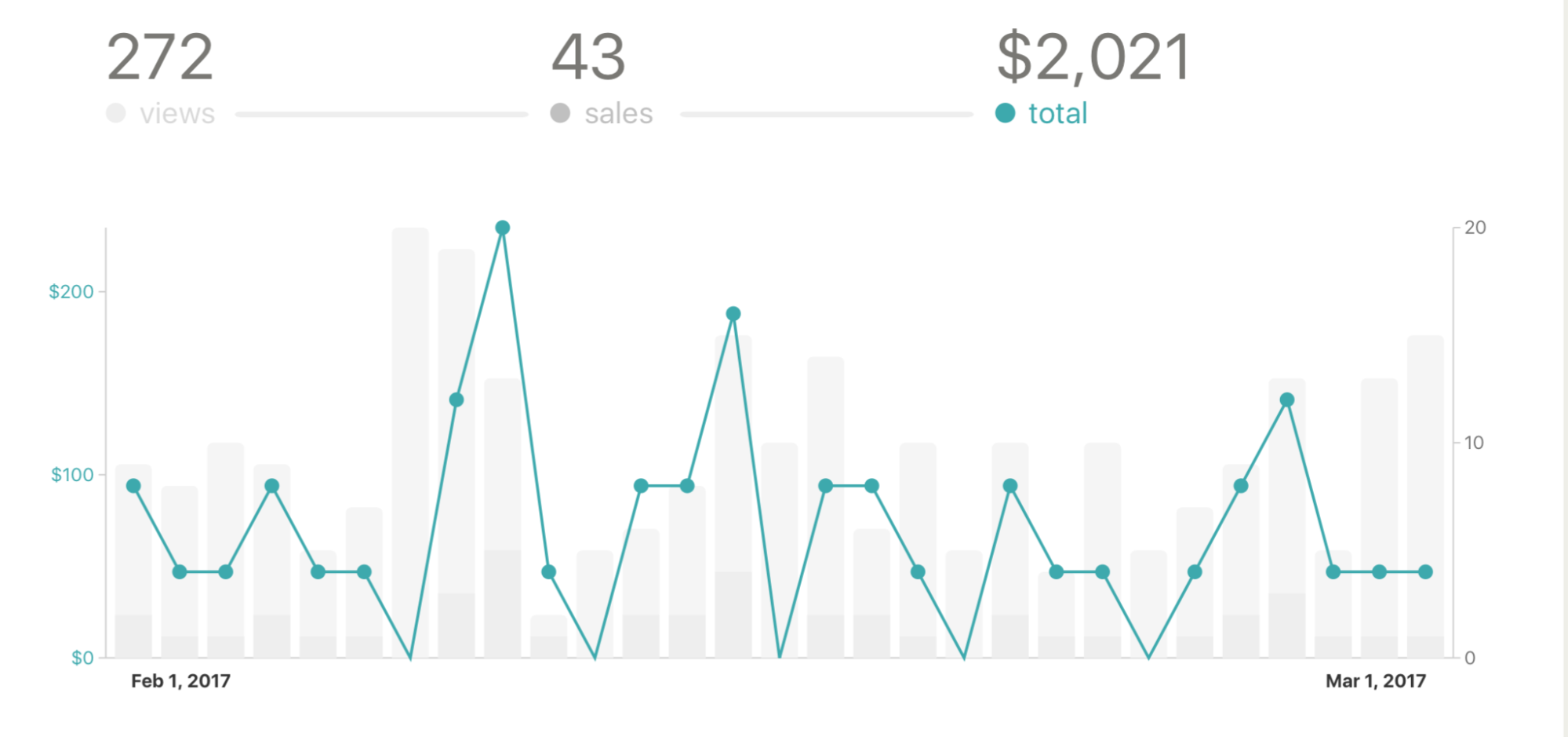 His revenue increased from $1,688 in January to $2,021 in February.
The best part? His website traffic was down in February compared to January.
So, he increased his revenue by 21% with LESS traffic!
Now that he has a sales page that's converting well, it basically runs on autopilot. This means that he can use this sales page to generate sales over and over again.
This is a HUGE change for someone who previously spent too much time tinkering with his sales pages, grasping at straws to increase his conversions.
"Sometimes I would wake up and change half of the sales page and see how it went, which was pretty much always a terrible idea."
Now that he has a sales page that sends a consistent, powerful message that resonates with his customers, he barely has to lift a finger.
"Now, I will just change a small amount on the page. And sometimes, I touch nothing on the page for two weeks."
This enables him to generate passive income, giving him peace of mind and freeing him up to grow his business.
"I Can Focus On Other Business Knowing The Sales
Page Will Always Be There To Sell"
So, what's next for Benjamin?
With his sales page in order, Benjamin has put all his energy into product development and growth for his business…
"I'm entirely focused on link-building, writing articles, and creating products. Now that I know the sales pitch is covered, I can just relax without having to worry that I won't have enough sales this month."
Now that Benjamin has a high-converting sales page in place, he doesn't have to stress out about where the money is coming from. He knows his sales page is going to keep converting browsers into buyers. This frees him up to create new products and grow his business.
Benjamin's story is a testament to the power of a high-converting sales page.
With a sales page that converts, you don't have to worry about where your next paycheck is coming from. You'll know that you have a system in place designed to automatically convert browsers into buyers. You'll have more free time that you can spend with your family and friends or take a vacation. And you'll have more time and more money to invest back into your business.
Are you ready to transform your business and your life?
You'll need a sales page.
And I can show you how to make one in my new course Sales Page that Converts.


Learn About Sales Page that Converts Now
What Did Other Students Say About Sales Page That Converts?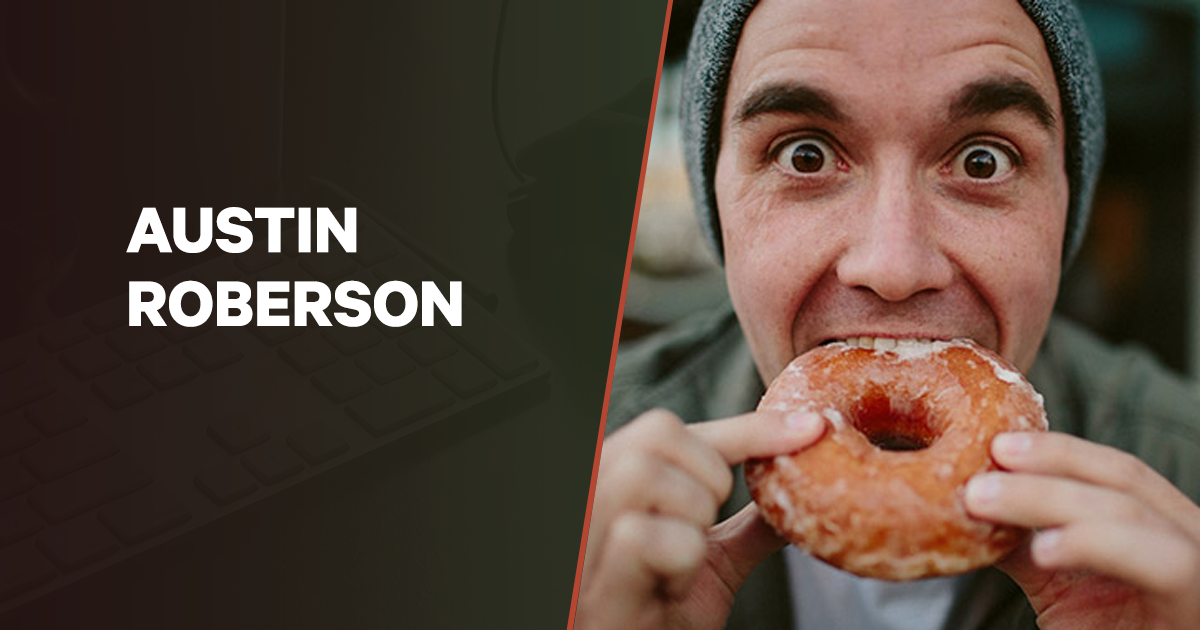 Austin Roberson Landed 25 new clients who pay $299 per month (for a total of $7500 of recurring revenue). See the full case study.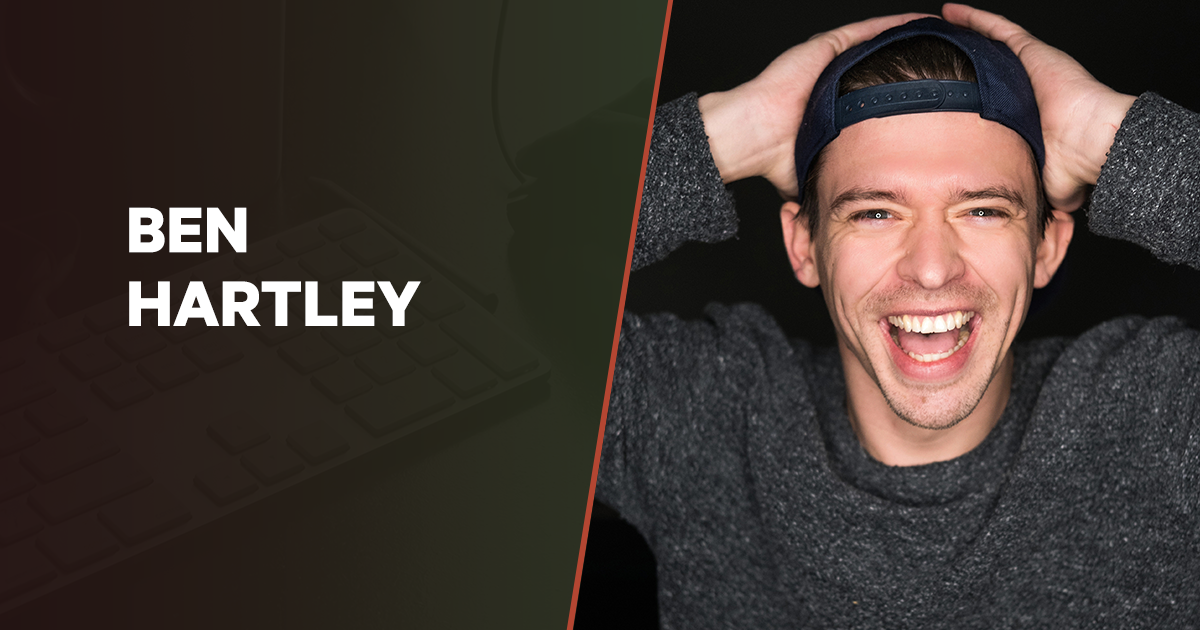 Ben and Cole earned $49,316 with their first online photography course. And each sale was generated with their sales page. Read the full case study here.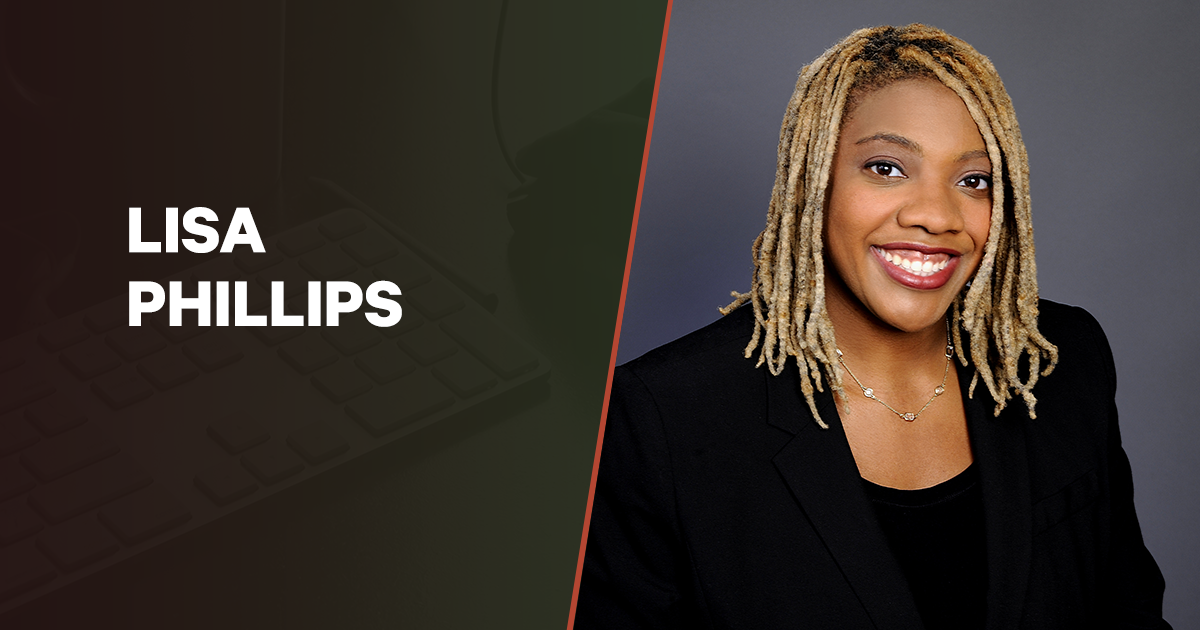 Lisa wrote a sales page that earned $21,861 in 4 months. The best part? She did it while she was 9 months pregnant. Here's the full case study.
Just Know This…
To learn about this brand-new online course, I put together a page that describes everything that it can do for you and how it can help.


Learn About Sales Page that Converts Now
And if you're curious about why other people enrolled…
Here are direct quotes from people who JUST enrolled:
"You are the only one to discuss the 3 types of buyers, and that concept makes a lot of sense. I am hoping to learn the words that appeal to those types and how to do it without sounding salesy." – Jeannette

"I want to learn how to understand the buyers (of whatever) to either sell something useful for them that I already have or to know how to come up with a solution to their needs And of course, to create a sales page that leaves them knowing everything they need to so they follow the CTA" – Cynthia

"I want to build a skin care business that focuses on skin ailments more specifically eczema. Just to top this off I will be learning organic formulations starting sept. I want to have everything in place and build my audience while doing my training. Upon completion of my masters I would have built an audience and then I get to sell them something." – Geneva

"I want to understand how to craft clear messages and present them in a persuasive manner to whatever audience I choose for affiliate marketing, online courses and other products or services." – Dennis

"I like Derek's style of teaching Want to really dig into the anatomy of a sales page Want to understand some of Derek's principles around selling" – Kylie

"I've enrolled in Sales Pages that Converts to hopefully learn the method to writing my own sales pages. I'm a proficient writer at an academic / white paper level, but I need to learn to capture the voice of my target market." – Connie


Learn About Sales Page that Converts Now