The bank manager told me, "When you get older, you will be an entrepreneur."
I was in second grade. And earlier that day, I marched into the bank with about hundred bucks and tried to open a savings account. But the bank denied me. They asked me to sign on the dotted line, and I didn't know how to write in cursive.
"How did you get all this money anyway," the bank teller said. I told her about my newly started iced tea stand at the post office.
And I'll never forget her response: "You should start one here at the bank corner too!"
Then, it was official. I had two iced tea stands. One at the post office, one at the bank, and I was rolling in the dough!
This might seem like a silly story about my childhood but I'm sharing it with you today for one reason:
When you're a kid, people encourage you to pursue different things like iced tea stands… they encourage you to Be The Exception…
…But when you're an adult, they'll talk you out of it.
I started my first business in college. And even though I graduated from college in 2006, and the business just pulled in five figures in a month (IN A MONTH), many people told me to "get a real job."
I ignored them. I knew I was doing the right thing because I saw my bank accounts. And I proceeded to live an exceptional life: I bought a place on Long Island, visited 40 states over the course of a summer, and continued crushing it with my business.
But the nagging never ceased. "What you're doing won't last forever. You need a real job," they said.
Graduate high school, go to college, go to law school, and become a lawyer was the path my family wanted me to take. It's what my one aunt did and she was making a lot of money. The entrepreneur thing made people uncomfortable. And instead of providing support, they wanted me to quit.
My desire to Be The Exception hit a brick wall.
What's strange is, even when I worked in corporate america, and I'd tell my boss, "I plan on becoming a CEO of a large company," she'd fire back, "There's more to life than work you know."
Again. The brick wall.
And even though I've always seen this with my career aspirations, maybe you're looking to "Be The Exception" in another area of your life.
Maybe you're looking to get fit this year and you're eating healthy. I'm sure you're going to have a friend or two saying, "Why are you eating like that? Don't you want to LIVE a little?"
Or maybe you'll do something crazy like spend $310 on a haircut, feel great about it, and people will barrage you with "That haircut doesn't look worth it" type comments.
The question is WHY?
Why do people take a figurative piss all over your plans to Be The Exception?
I don't believe people do it maliciously. Instead, I believe they're projecting how they feel about your desire to beat the odds on you.
Not how you should feel, but how THEY feel.
Maybe they already gave up. Maybe they have different priorities. Maybe they have the same goal and don't want the competition. Whatever the reason, people will try to talk you out of what you believe you should do…
…and it's up to you to listen, nod them to death, and do what you want to do anyway. Especially if you believe it's worth it.
But I have a word of warning:
There's an even BIGGER enemy that tries to prevent you from pursuing your desire to "Be The Exception."
It's not other people, it's not technology, it's not lack of time, it's not lack of funds, it's not any of those things.
The enemy is you.
If there was a Most Wanted List for people who will try and stop you from pursuing your dream to Be The Exception, YOU are public enemy #1.
I started Social Triggers in March of 2011, a little more than three years ago. I knew the market needed what I planned to create, and I've since built this company from scratch to more than 7 figures in revenue.
But here's what you don't know: I had the idea to create Social Triggers, and registered the domain for the first time, back in 2009, a few years earlier.
Why did I wait so long to pull the trigger?
Yes, I'm doing real well right now. Social Triggers has launched 4 successful products. I also splurge on vacations, expensive suits, and dinners at fancy restaurants.
Also, just recently, I moved into an apartment overlooking Central Park in NYC. It's real expensive, but hey, I work for it.
However, I can't stop thinking, if I had started earlier, I could be doing MUCH better than I'm doing right now. MUCH BETTER.
(Isn't that true for most of us? If we start doing something sooner rather than later we'd be better off, right?)
But I didn't.
I waited. And waited. And waited.
WHY?
At the time, I told myself I had other priorities. I was in the international division of a Fortune 100 company and I didn't have any time.
Plus, even though I was ready to quit this job, had already registered SocialTriggers.com as a domain, and wrote 2 unpublished articles, I told myself:
"How would I make enough to live?"
"What if this idea is a complete failiure?"
"I have a mortgage! I NEED this job."
"There's NO WAY this will work."
"Am I just running away from a good thing?"
And other EXCUSES.
I regret it, but now I know I righted the ship and feel GREAT.
I tell myself that I'll never be the person that talks myself out of doing something again…
…but I know that's a lie. Just last year I told myself I was going to take fitness seriously. And while I did go to the gym about 100 more times than the previous year, I didn't hit my goal to go 3 times per week because I lied to myself and said, "I just don't have the time."
NO MORE.
The other day I challenged you to "Be The Exception."
And many of you accepted.
I appreciate that. Seriously. A few years ago, I made a conscious decision to surround myself with people who inspire me – and nothing inspires me more than people who strive to be the exception.
Even if you're not there yet, it's the hunger that makes me feel alive. Just take a look at the BIG PLANS some of your peers shared: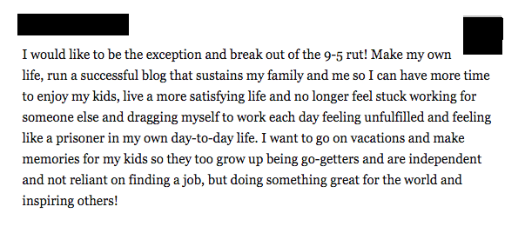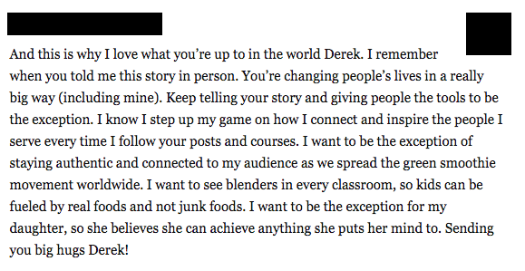 Now look closely at each comment.
Whether you're trying to write a book, put blenders in every classroom, or quit the 9-5, it's clear that financial success can make things MUCH easier.
That doesn't mean you need Forbes money. In some cases, like with my mom, financial success meant getting off welfare and supporting her family on a middle class wage.
And whatever your number is, I can be sure it will be a lot easier if you start – and grow – your business.
I believe running a successful business is one of the secrets to happiness in life.
Especially when you're running a business that you're passionate about, a business that gives you the freedom to do what you want when you want, a business that you love.
Now since you subscribe to Social Triggers, you likely already have a business – or have a business idea.
And in my next email/post, I'll share the #1 reason why people make less than they deserve. (If you're new here, make sure you sign up for the newsletter. If you don't you'll miss it).
But for now, here's what I want from you:
I know you want to Be The Exception. However, I'd love to hear what's holding you back…
Is it lack of support? Is it yourself? Whatever it is, I'd love for you to share the specifics in the comments.
And, then, I want you to say it with me: "Yes, this was holding me back, but NO MORE!"
So leave a comment now.
And also: if you know anyone else who wants to Be The Exception this year, do them a favor and pass this on.