What's the secret to successful viral marketing?
An Ivy League professor, Jonah Berger, released a new book this week called Contagious: Why Things Catch On< And in this book, he reveals a simple framework that you can use to make your content and products go viral. (That means you'll be able to entice your readers and customers to talk about your stuff!) After appearing on Good Morning America and NPR, he's now a guest on the Social Triggers podcast (an obvious next step, right? :-D) Listen to the podcast here:
Contagious: Why Things Catch On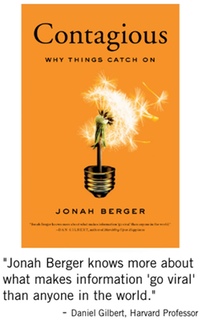 A couple of years ago, I stumbled on some of Jonah Berger's work while scouring through the academic journal databases.
And I even featured him on Social Triggers (I shared his research behind creating viral content and how bad press helps sales).
But today, on this episode of Social Triggers Insider, I asked him to reveal some of his new and BEST ideas about generating word of mouth for your business.
Audio clip: Adobe Flash Player (version 9 or above) is required to play this audio clip. Download the latest version here. You also need to have JavaScript enabled in your browser.
The one thing I want you to pay close attention to is the framework he developed for what he calls "Social Currency." It's a 3-step framework, and he covers it in complete detail on this podcast.
And if you dig it, help Jonah Berger out by sharing this article on Facebook and Twitter. You may even find that your friends and colleagues will thank you for introducing them to this podcast!
Listen to this podcast where Ivy League professor reveals the secret to great viral marketing – Click to tweet
Did you know Social Triggers Insider is now on iTunes? If you enjoy this series, please take a few seconds and leave an honest review. It would be a huge help.
Right click this link to save the audio as a MP3 file to your computer
The transcript for this podcast is not available… yet. Please check back.
What next?
Now I'd like you to do two things:
If you think what you learned will help you get more people to your business, leave a comment letting me know how. The one thing I LOVE about research like this is that it's insanely practical. And I love to hear how entrepreneurs like you plan to use it.
If you'd like to learn more about Jonah Berger's book, pick up a copy of it on Amazon (aff). No hard sell here because the book truly sells itself.
(If you're curious, there are 6 main things that you must learn to make your products and content go viral. We covered Social Currency and Practical value on the podcast. But in his book, he goes over the 4 other things: Triggers, Emotion, Public, and Stories).
Also, if you want to say Hello to Jonah Berger, you can hit him up on Twitter right here. Or visit his website right here.