I've got three things for you today: A rant, a lesson about selling that will serve you well, and a quick request.
Let's start with the fun stuff, the rant…
Look At These Two People – Don't Do What They Do
This week, on Facebook, I posted about a new piece of software I developed (with a partner). It's called Zippy Courses (it's a WordPress plugin for online course creators) and I'm sharing it with the world on August 1st.
I didn't make a big deal about it, mainly because I'm not looking to sell that many copies of the plugin… yet. We're only doing a soft launch this week.
A few people were excited. The NYT Best-selling author Chris Brogan said, "Dude. I totally need this. Wow!" Another reader, Pamela, said "I was just thinking about how I needed something like this. Perfect timing!"
I was happy. Until someone forwarded me this: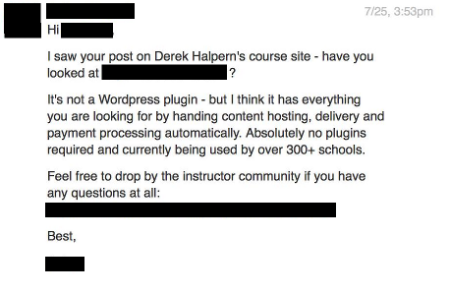 Yep, you're reading this right.
People are excited about the new software I created… and a competitor messaged some of the people as a way to turn my potential client into theirs.
What's funny was this: THIS WASN'T THE ONLY PERSON WHO DID IT. Someone else forwarded me this email: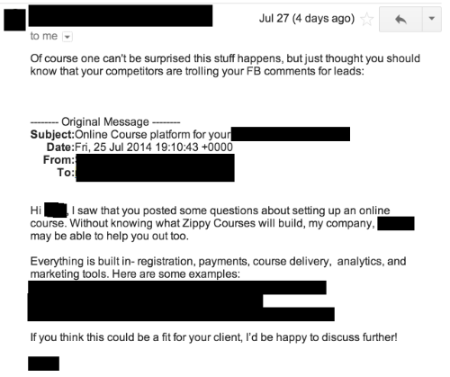 Me being me, what do you think I did?
I called one of them on the phone. I messaged the other on Facebook. We've since worked out our problem together, but they left me scratching my head.
Why?
They both said "This happens all the time."
And I believe them. Recently I started using a new piece of software to power my popup on Social Triggers. It's called BounceExchange. And every week, like clockwork, I'll get an email from a competitor that says, "I see you're using Bounce Exchange, you should use us instead…"
Strange.
That's when I realized: If there was a riot in San Francisco, tech people would loot anything and everything… just because other people were doing it.
Sigh.
What CRACKS ME UP is this:
I asked them how they'd feel if I went down their client list, and messaged each of them. Both of them said they wouldn't like it. Naturally.
Oh tech people.
They notoriously HATE marketing and selling. And they'll slam people who try to grow their business…
…but then we look at their actions. Behind closed doors, when nobody is looking, they're marketing and selling in the worst way possible.
I'm me. I LOVE competition. I grew up playing chess, had a stint as a professional gamer, and nothing makes me happier than beating someone who's trying to beat me.
But this has got to stop.
Not because it's slimy. Not because it's border-line unethical. It has to stop because this is a HORRIBLE way to win business.
And that brings me to the lesson…
When you're looking to sell people on something, you can either look for a new customer…
…or you can attempt to persuade someone to switch from your competitor to you.
On the surface, you'd think the switch is easier. After all, they're already using a product like yours.
But in reality, convincing someone to switch from one product to another is one of the hardest things to do. Especially if they're not showing any public display of frustration or annoyance.
And while they didn't start using my product yet, approaching someone who's clearly excited about one thing, and trying to push that excitement on to your product is just as hard.
That's why, when you're selling, you shouldn't focus on the switch. Instead, you should focus on growing the market by finding new customers. It will be much easier to convince them to buy.
I'll explain.
Let's use my popup by BounceExchange as an example. If you see I'm using it, you could try to convince me to abandon my company and use you…
…or you can find blogs like mine that don't use BounceExchange. And say something as simple as, "it looks like you're not using a popup like your competitor, Social Triggers. We offer a product similar to what they're using if you're interested in learning more."
And guess what..
That would work much better. I'd probably be mad that you're name dropping me in your sales email, but this is completely above board in my book.
And you wouldn't be crossing a grey line during your business development attempts.
Now I have a request…
What I realize about this whole debacle is this:
People aren't bad people. They just don't know how to market and sell their products and services the right way.
Either: they never learn, or they never had the right experience.
That's why I'm putting together all new material on selling. And I'd like to hear more about what you'd like to learn about.
So, if you could take a second and fill out this short questionnaire, I'd be eternally grateful.
Thank you!