Using big words makes you look stupid.
Seriously…
Even if you use them the right way, people will think you aren't as smart as someone who uses smaller words.
And new research from Princeton confirms it.
I go over it in this new video.
Be Careful Using Big Words – Here's Why
Why should you care about something so trivial?
If you're looking to convert browsers into buyers, you've got to build trust and credibility. Now imagine how hard that would be if people think you're an idiot…
As Mark Twain once said, "The difference between the almost right word and the right word is really a large matter – it's the difference between the lightning bug and the lightning."
Well, according to this new research, it would seem that the RIGHT word is the smaller word.
To get the full story, watch the video.
The Big Problem With Big Words
I fancy myself a wordsmith. That's why you'll never see me use words like utilize, synergy, feckless, or any other pompous word.
I've always railed against people who use big words for the sake of using big words. But now, I've finally got research that allows me to tell these people:
Listen up you big dumb idiot: Using big words HURTS you. And I've got research from Princeton that proves it.
Speaking of which, I'm Derek Halpern, the founder of Social Triggers. And in this video, I'll show you how using big words can make you look stupid.
Let's get all scientific.
Princeton researchers ran three experiments:
In the first experiment, they wrote admissions essays. The first was an original essay. The second, a moderate-complexity essay. And the third, a high-complexity essay.
How were these essays rated?
The simple essays were given higher ratings than the moderately complex ones, and the moderately complex ones were given higher rating than the highly complex ones. Or in other words…
Using big words can KILL your chance at attending college.
Use big words and you'll suffer the consequences.
In the second experiment, they wanted to control for content. So, they found foreign texts. In one scenario, they created a simple translation. In another, they created a complex translation.
What happened?
Once again, the more complicated vocabulary negatively influenced raters' assessment of the text. And this was found regardless of prior expectations of the author's intelligence.
Or again, in other words: using big words makes people hate you.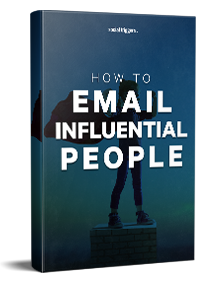 Want to Know How to Email Influential People (And Actually Get a Response)?
Download this free eBook to get the word-for-word scripts you can use to do exactly that.
Yes, send me the free ebook
And finally, in the third, most telling experiment, here's what happened:
Researchers got together some research. And they took the first 144 words of that research. In one case, they left it intact. In another case, they replaced all words with nine or more letters with its second shortest entry in the Microsoft Word Thesaurus. They then had people rate the excerpt.
What happened?
When people read the less complicated version, the people reading it assumed the author was more intelligent than when reading the more complicated version.
The data is clear.
Using big words makes people think you're stupid.
Stop using them.
Now, here's what's great about this video:
Even though I focused in on how using big words makes people think you're stupid, it's also a proven WALLET CLOSER.
When you're in business, you might be tempted to over describe what you do with complex language to make it sound like you're a badass. But people don't buy what they don't understand.
So, using big words makes you look stupid. And it also takes money you rightfully deserve right out of your business.
So, don't use them.
Now I have a question for you:
What big words do you see people use that they should eliminate from their language? What would you replace them with?
I'll start…
When I went to the vet to get my dog neutered (I had to because of a condition he had), the vet made a mistake that made me think she was stupid. I did a video about it here.
So, leave a comment below this video.
Also, if you liked this video, make sure you subscribe to my channel, and then hop on over to SocialTriggers.com and get on the email list.
I send out videos just like this each week and you won't want to miss them.