When I asked people if they were interested in creating and selling an online course, 96.73% of people said yes.
And who could blame them?
I believe creating and selling online courses is one of the smartest ways to start – and grow – an online business.
The problem?
People go about it the wrong way.
I'll explain…
Most people learn by watching what other people do. So when you watch someone like me create and sell an online course, here's what you see:
1. You see that I create bigger courses that last between 4 and 8 weeks.
2. You see that I use multimedia, including: videos, screencasts, worksheets, and more.
3. You see that I do big product launches that include webinars, sales pages, and more.
So, naturally, you think, "I need to do all that too!"
And that can be overwhelming.
A huge 8 week long course? VIDEOS? SCREENCASTS? WORKSHEETS?
Uhh…
I DONT HAVE THE TIME FOR THIS!
Some people will judge you for saying this. They'll say, "REALLY? YOU DONT HAVE THE TIME? YOU MUST HATE YOURSELF!"
But let's get real.
Anyone who tells you to "hustle your face off with no sleep" is living in a dream world. You need rest. And the truth is, you're already spending your time on something else.
Maybe you're looking to start your first online business, and you want to sell courses. That means you likely have a fulltime job already.
Maybe you sell some kind of service, but you also want to sell online courses too. That means you spend your time… doing the servie you sell… not creating a course.
Maybe you're an author. A speaker. A software maker. A coach. A real estate agent. Anything.
The bottom line is this:
Yes, you want to create and sell an online course. But you can't drop everything you're doing right now to start doing it.
So…
What can you do?
The answer is simple.
THINK SMALL.
Take my first online course.
It was a short course.
It contained maybe 3 videos and a worksheet.
When I look back, It probably took me a few weeks to put together from scratch.
I recorded the videos in front of a whiteboard.
And as you can see first hand.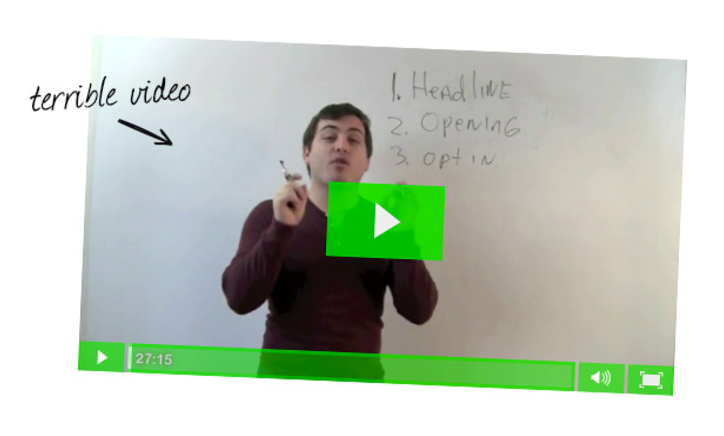 THESE VIDEOS AREN'T THAT NICE.
And my hair?
*FACE PALM*
Also, what you can't see in the picture: I attached the whiteboard to the wall with patches of velcro.
LOL.
But here's the thing…
It was good enough to get started.
The content was good.
The videos were okay.
And I sold it for around a hundred bucks.
That's how Social Triggers got started.
I didn't start with multi-week courses. I didn't start with professional videos. I didn't start with huge product launches. I started with a small online course… and the rest… as they say… is history.
And that's exactly how you need to start selling courses, too.
START SMALL.
Now of course there's a lot that goes into this. And over the next few weeks, I'm going to deliver more content to you that helps you start small.
But for now…
Here's what I want to hear from you:
What kind of SMALL online course can you create? Do you have any ideas percolating? Leave a comment right here.