Earlier today, I received a HORRIBLE EMAIL from someone who's looking to build their business: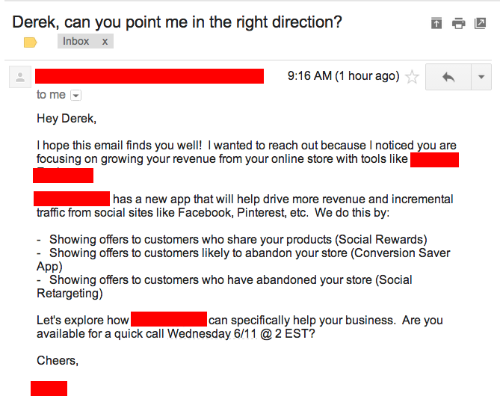 This email is so bad, and so prevalent nowadays that I skipped the Social Triggers TV video this week to share it with you.
…Because I don't want you to unknowingly make the same mistake. I don't want you to burn bridges before you begin building them.
It's also why I'm hosting this webinar all about "how to promote your business the right way."
(Seating is limited. Go reserve your spot right now. It goes down June 10th, and sats are filling up fast).
More details on that in a minute. First…
When you're just getting started, cold emails (to prospects, to bloggers, to journalists, and etc) are a great way to move the needle.
And when done right, you can propel your business (or blog) from obscurity into the mainstream.
But this guy did it wrong. REAL wrong.
Here's why:
First, do you see the subject line?
He wrote, "Can you point me in the right direction?"
When I get an email with that subject line, I'm expecting to point someone in the right direction.
To a person. Or a website. To anything.
But the content of his email has nothing to do with being pointed anywhere. Instead he's asking for a sales call.
SIGH.
Tip #1: Misleading subject lines might get people to open the email, but they won't get people to respond positively. Use descriptive and honest subject lines.
Second, do you see where he wrote "I noticed you use tools like…"
And he's right. I do use that tool which I censored for the purpose of this email.
Here's the thing though… I just started using that tool YESTERDAY. How did he know?
Maybe he's on my email list?
Nope.
Maybe we're connected on social media?
Nope.
Maybe we've emailed back and forth before?
Nope.
How did he know?
Who knows…
…But I wouldn't be surprised if he had a Google Alerts set up for competitor companies and prospects their new customers as soon as they get them.
I'm not saying that's what he did, but it certainly feels like that's what happened.
But I won't fault him for being a cut-throat salesman. It's not my style, but hey. To-mato. To-ma-to.
The real problem is that he said: "I noticed you are focusing on growing your revenue from your online store."
ONLINE STORE?
I don't run an online store.
Tip #2: If you email someone, don't make it abundantly obvious that you have no idea who you're talking to. Do 5 minutes of research.
Finally, do you notice the content of his first email?
When you're looking to get in touch with someone you don't know, there is one thing you should NEVER ask for on the first email.
What is it?
You should NEVER ask for their time.
You're busy. I'm busy. We're all busy. We've got deadlines. We've got families. We've got personal engagements.
And the last thing we need in our lives is a time thief.
I know that sounds harsh, but it's true. If you want to get in touch with someone you don't know, your first email shouldn't request their time. In any capacity.
Instead, you should provide a helpful tip, or a link to an article (not necessarily one that you wrote) that you think they'll find valuable.
Tip #3: When contacting someone you don't know, don't ask them for their time. Give them something instead.
Now let's talk about this webinar.
Next week, on June 10th, I'm hosting a webinar all about learning how to promote your business.
More specifically, you'll see:
How to use this simple, yet powerful 3-step strategy for promoting your blog and business.
Combine that strategy with these proven conversion principles so those fans become lifelong customers.
And finally, use these proven principles once, twice, or as many times as you want to attract 100 (or even 10,000) prospects with a blog.
There are limited spots. So sign up for one right now and I'll see oyu next week.
(You'll notice I have two times available. One at 12:00PM Eastern and one at 9:00PM Eastern. No matter where you are in the world, one of these times is convenient for you. ;-D)