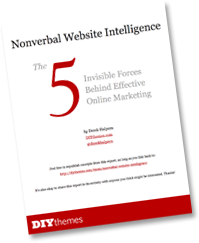 Most people tell you to create lots of content to communicate with your audience online. This is more-or-less equivalent to verbal communication.
But there's another effective way to communicate online. And as you probably guessed, it's nonverbal communication, the "body language of the web."
If you ignore this type of communication, you risk losing out on visitors, subscribers, and sales.
However, if you know how to harness the power of these nonverbal cues, you'll be able to turn random website visitors into loyal subscribers and customers.
Don't worry, I've got you covered! In this free 33-page report, you'll discover:
How "Line of Sight" Increases Conversion Rates
The Best Way to Optimize Images to Grab Reader Attention
How "Active Commands" Influence People to Take Some Form of Action
The "One Page, One Goal" Method to Streamlining Your Website
How the CIA "Face in the Crowd" Tactic Applies Online
The Perfect, Most Persuasive Font for Any Situation
And much, much more!