…YES.
If you want to create – and sell – online courses, you NEED an email list.
And for the last decade, building an email list usually went something like this…
You would send people to an optin page. Maybe you'd offer them an ebook, or a free download, or something like that.
And it worked.
But there may be a NEW way to build an email list…
Is This The NEW Way To Build An Email List?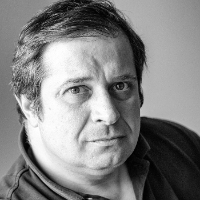 Meet Guillermo Ziegler.
He runs an online course business where he helps people with immigration issues. In Spanish.
He used ZippyCourses to offer FREE online courses as a way to build his email list.
And in his words: "the courses allowed me to add more than 1700 new subscribers" to my lists since I opened them.
Think about it…
While most people offer ebooks, webinars, training series, you could offer an online course, with a private membership area, and can instantly stand out from your competition.
It gets better, too…
With the new premium ZippyCourses theme, you get a new landing page template that makes this a cinch.
(And remember: this new premium ZippyCourses theme comes with the deluxe package of ZippyCourses.).
Take a look at the page right here: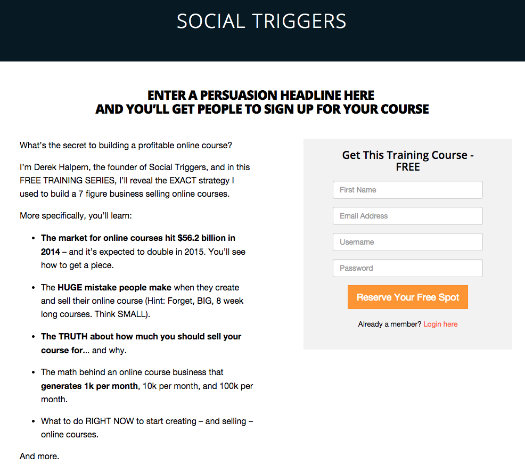 You can change the colors, the logo, the headline, and everything. So don't worry about any of that. This is just an example of a clean landing page that's pre-built into the new Zippy Courses premium Social Triggers theme.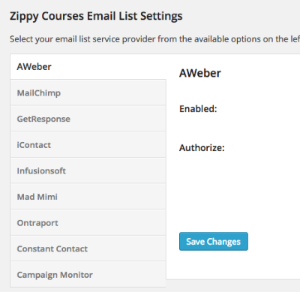 The best part?
You can create this page JUST LIKE creating a regular wordpress page.
Because when you hook ZippyCourses into your email service provider – we're compatible with several of them – you can give away an online course for free, successfully building your email list and student base.
Plus, Use These New Subscribers To Sell Premium Courses…
When Guillermo went on to release a PAID course, here's a direct quote:
"I released my first paid course and was able to make around 2500 dollars in one week."
Now of course these are STELLAR results.
And they're most definitely not typical.
When you're building an online course business, you OF COURSE, need to promote these courses. ZippyCourses is just a WordPress plugin.
However, with this plugin, you can give away free online courses to build your email list. You could also then sell premium courses to people who grab your free online courses.
Going forward, I plan on testing this new model for building an email list.
And I'm happy that I learned it from one of the ZippyCourses users.
Want to learn more about Zippy Courses?
You can see everything you need to know right here…
And remember:
You can get the Social Triggers PREMIUM theme for ZippyCourses FOR FREE until Friday, March 27th.
I should also mention ONE MORE THING:
When you use the new Social Triggers theme, there's something known as a "course directory." This is where your students can see your existing online courses.
So, they can see the free online course they just signed up for…
…and they can also see the courses you have for sale too.
Here's an example of what it could look like: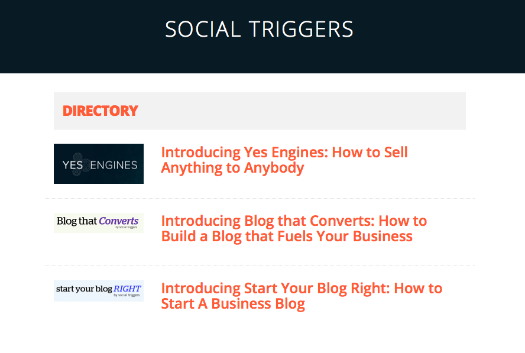 Pretty cool, right? 🙂
Now I have a question…
I know I plan on testing this in the near future.
How about you?
Do you think this is the new way to build an email list?
Share your thoughts.