Last week, GMail quietly rolled out some MASSIVE changes to their email inbox.
…And if you run an email newsletter, you're probably PISSED (or scared) about what these changes mean to you and your business.
Here's what people on Facebook had to say:



But I've got your back.
Here's what happened:
New GMail Category Tabs — A Legitimate Business Nightmare
GMail rolled out these automatic category tabs. By default, the categories are "Primary / Social / Promotions." See the picture right here:

Here's why this matters to you. In a lot of cases, GMail labels content-filled emails as "Promotions."
That means, if you send content to your list (like I do), your content will be featured alongside spammy Promotional emails.
Not only does this negatively affect your brand, but it also puts people are at risk of NOT getting your emails. The emails they signed up for. The emails they WANT.
This is RIDICULOUS.
People who opted in to your mailing list — and double confirmed their email — may not get your emails because Google decided to erect this artificial wall between you and your customers.
You know what's funny about this? When you create a barrier like this between companies and their users, one of the only ways to get back in touch with the people who want to hear from you is to buy advertising.
Heck, I was buying Facebook ads just to get this message about GMail out to all of you.
Kind of convenient for a company that relies on advertising revenue, no? 🙂
Here's How To Ensure You Don't Miss Email Updates From Me (And Users Don't Miss Email Updates From You)
Now I know you like the updates I share to Social Triggers — which is why you're on the list. You also know that my main goal has always been to provide some of the BEST content on the web.
(That's why I have a podcast where I feature NYT best-selling authors. That's why I spend nearly $1,000 to produce one Social Triggers TV video).
And I'm sure you don't want to miss out on emails JUST LIKE THIS letting you know something that can either make – or break – your business.
So, I have a suggestion for you. I'm going to show you what to do so you don't miss out on emails from me. I also suggest you share this with your readers so they don't miss out on emails from you.
You have two options.
Option #1
First, if you're like me, and you want to be in control of what real email gets sent to you (as opposed to trusting some shifty algorithm), you can disable the new categories by doing this:
Click the little X at the top right of your inbox — next to the tabs. See the screenshot right here:

Then, when that pops up, uncheck the "Social and Promotions" box, and click save. Then you'll revert to the traditional, much BETTER GMail inbox.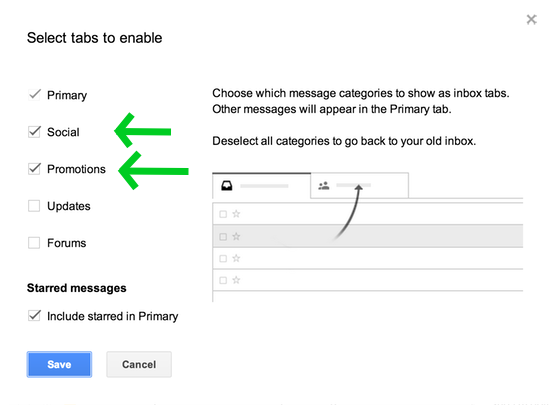 Option #2
If you want to keep these silly little tabs because you think they'll be valuable, but you're worried about missing out on valuable emails that impact your business (like this one), do this:
Step 1: Go to the Promotions Tab (like this)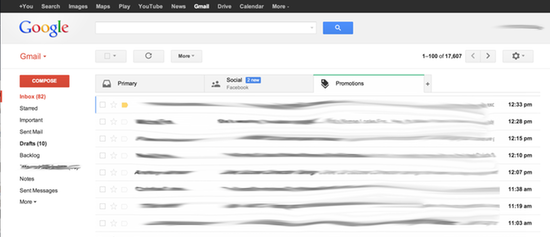 Step 2: Find an Email from "Derek Halpern" in your inbox. You can do control find, to make scanning your inbox faster and easier.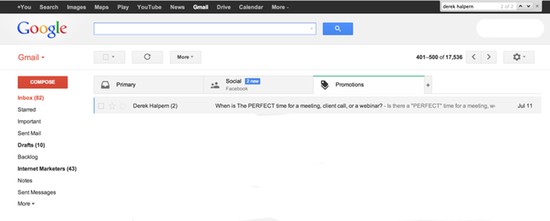 Step 3: Drag that email into your Primary Inbox.

When you find an email from me, drag and drop the email into your "Primary" inbox.
Then, you'll get an alert saying, "This conversation has been moved to "Primary." Do this for future messages from news(@)socialtriggers.com?" And click "YES!"

And you should be all set.
Now I have a question for you.
What do you think of these new GMail filters? Do you think it's okay for a company to roll out a change where they take control over your inbox?
Leave a comment here.
Also, if you run an email newsletter, (or know someone that runs an email newsletter), share this with them. The only way to maintain control over OUR inboxes is to vote with our actions.