I couldn't believe it. When I launched my first online product, I pulled in $46,398 in 10 days.
It felt strange. Social Triggers was just a blog. When a friend asked me less than a year earlier, "What do you have planned for your blog," I had responded, "Not sure. All I'm focusing on right now is building my audience. I'll sell stuff later."
And there I was. Selling stuff. And it was WORKING.
I didn't stop there though. I kept going. I launched my product again. And again. And in no time flat I was running a multiple six figure business.
I don't share this to brag. My results are not typical, and I'd never insult your intelligence by claiming that you could have the same revenue results – or any results.
But the other day, I shared a new 17 minute video where I showed you what I believe is the PERFECT formula for starting – and growing – an online business.
Step 1: Build An Audience
Step 2: Sell Them Stuff
If you didn't watch the video yet, I suggest you make time to watch it today. I know you want to build your business – that's why you're reading this – and I don't want you to fall behind since a new video will get released later this week.
WATCH THE VIDEO NOW (IT'S FREE).
Plus, I practice what I preach. Take a look at this timeline of events: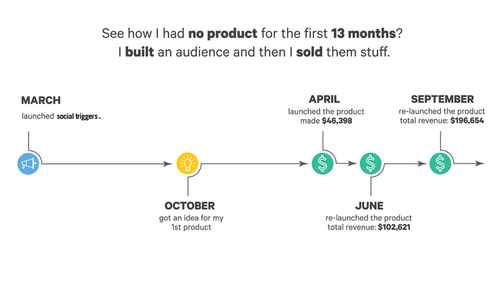 From the outside looking in, it feels as if Social Triggers was an overnight success. After all, once I started selling something, I quickly became a multiple six figure business…
…But as you can see from the picture above, it's far from the truth. I spent 13 months building an audience – AND THEN I SOLD STUFF.
It wasn't all work either. Once I realized how well I was doing, I immediately celebrated with a trip to Hawaii – and I spent a week "working" by the pool.
And that's why I'm sharing this with you.
You see, I know so many people who want to start – and grow – a business, and they struggle with things like:
"I know what I'm passionate about, but I'm confused as to how my passion can actually help other people. And I have no idea how to turn that passion into profit."
I get it. You're at a crossroads, and you feel like saying, "Which way did he go, George?" If you knew the path, you'd TAKE IT.
And then there are people who are a little further along in their business journey, and they think:
"I have this great product [or service]. But I'm not generating enough sales to take this thing fulltime."
You know you do good work, and you know people LOVE working with you, the problem is, you just don't have ENOUGH people. And I get that too.
Finally, there are people who are doing well. People who are happy with their current level of success and impact, but they're looking to take things to the next level. If only they could bust through this one little block:
"I feel like I hit a plateau. My business is doing well, but it's not growing. What can I do to take it to the next level?"
Three different people. Three different problems. And I believe the solution is simple:
Step 1: Build an audience.
Step 2: Sell them stuff.
That's why I want you to watch this 17 minute video. Yes, this simple strategy helped me start – and grow – my business. And yes, I built it to six figures – and then seven figures.
The secret? I focused on building my audience, and even TO THIS DAY, I STILL focus on the SAME thing I focused on when I first got started. And I show you how I got started in this first video.
WATCH THE VIDEO NOW (IT'S FREE).
Then, in the NEXT video, which I'll release in a few days, I'll share one technique that you can use to create a landslide of traffic. As matter of fact, the technique I'm going to share is how I got 26,778 subscribers in those first 13 months.
So make sure you go watch the first video today. And most important, after you watch the video, right below the video is a worksheet that will show you how to gain clarity around your business – and the growth you want to achieve this year.
WATCH THE VIDEO NOW (IT'S FREE).
Then, when you're done, leave a comment below the video introducing yourself. More than 295 comments have been posted – and I'd like to put a face to the name.
Talk soon,
Derek Halpern
P.S. Didn't read this long email? Shame on you ;-). The other day I shared a new 17 minute video where I walked you through how I built Social Triggers from scratch to the business that it is today. Watch the video today – and look for a new video from me in a few days.