I was in the hospital. And I was surrounded.
To my left, the nurse wrapped a tourniquet around my arm, and stuck me with an IV. The anesthesiologist peppered me with questions, another nurse covered my body in little electrodes to monitor my heart, and another nurse drew little "Xs" on my feet to monitor my pulse.
Why?
A doctor was about to enter my heart and burn something out of it with microwaves.
What happened? And why am I sharing this?
Let's start at the beginning…
I'm Derek Halpern, and I'm the founder of the software and education company Social Triggers. We help people get ahead in business and life through a free weekly web tv show, podcasts, online courses, and software. And to date, we've reached more than 2.5 million people around the world
The month was September, and to say things were going well would be an understatement. My life – and company – was amazing.
I had just passed my full year revenue from the year before. I had just launched my first software product into private beta. And I was smack in the middle of launching the new training course about selling (It's called Yes Engines, and after investing hundreds of thousands of dollars and 1000+ man-hours creating it, it was about time).
But things were about to take a turn for the worse.
Halfway through my new product launch, I had an appointment with a cardiologist, and I got bad news. Really bad news. I had a heart condition. A condition that's widely known as a "sudden arrhythmia death syndrome" (or SADS for short).
My first reaction was to ask "What did I do wrong?" And I remember the cardiologist almost smiling and saying, "It's nothing you did. You were born with it."
I never felt so dejected. I'm 29. Wasn't I supposed to be invincible? Yet, the more I read about what I had, the more I felt like I was going to clutch my chest and die.
As the SADS foundation says, "Sudden Arrhythmia Death Syndromes are genetic heart conditions that can cause sudden death in young, apparently healthy, people."
How?
When you have one of these conditions, the electrical system of your heart does not work properly and your heart beats with abnormal rhythms.
And I had an abnormal rhythm.
I read that 1 in 200 people with my condition die. And I was scared. Would you get on a plane of 200 people knowing 1 of you were going to die in flight? I think not.
I asked the doctor, "What can I do about it?"
"You should live a heart-healthy life. And there's a procedure you can get done that could potentially cure the problem."
I quipped, "A procedure? What are the risks?"
"Well, this is relatively routine, but there are some very small risks. You have a very small risk of ending up with a pacemaker. You also have the risk of having a stroke, blood clots, and…"
My mind wandered. Just a week ago I thought I was a young healthy man who's achieving all of his life's dreams, and today I have a heart condition that might kill me.
I called my primary care doctor. I always liked him because he was the type of guy who prescribes both holistic medicine and traditional medicine when warranted. I told him the news, and he fired back "Don't do anything yet. Get a second opinion. And send me over your medical records."
Was this a glimmer of hope?
Not so fast.
I scheduled a second opinion, sent my doctor the records, and 2 hours later I got called back. "Never mind. Cancel the second opinion. Your EKG is clear, and if you were my son, I'd tell you to get the procedure too."
"I have stuff to do! I'm in the middle of a product launch! Why me?! I can't call this launch off! I have a business to run! I have money to make! I have customers to make happy! People will be disappointed!"
And then I began thinking, if I died today, how would people remember me? Did I really make a lasting impact on people and change their lives for the better through my articles, videos, courses, and software?
I knew the answer was yes, but I also knew that in 10 years, no one would remember any of it. And that's why I sat down to write this.
In a few short days, I will get the procedure where they snake a catheter through a vein in my groin, enter my heart, and proceed to use microwaves to burn out the pathways that create my abnormal heart rhythm.
On the very small chance it goes wrong, I began scribbling down lessons about life and business into a one of my notebooks. There's a lot of them, and it's enough to fill a book.
But today, I'd like to share 5 of them. I'd also like to share an update about what happened after the medical procedure.
Lesson #1: On Bad News
In the 1930s, when the Nazis occupied Paris, the luxury leather goods store Hermès remained open with a sign in the window that read, "Nothing for sale." They lacked the motivation to sell to Nazis, but they also lacked the necessary materials to create and package their products1.
But where some saw bad news, Hermès saw an opportunity.
As one journalist wrote, "Paper, cardboard, and other sorts of packaging were scarce as well; the only color available was vibrant orange. Hermès used it for boxes and bags. Almost overnight, it became the house's signature color2.
They could have thrown in the towel, and waited for materials. Or they could make a necessary adjustment to their strategy and take advantage of the surplus of orange cardboard.
I could imagine the CEO saying, "We've only got orange? Screw it! That's our color now. Start shipping more products!." Okay, maybe he didn't say it exactly like that. He was French.
Interwoven in this silly story about the origin of the Hermès orange box, is an important lesson about life and business.
And this is it:
The main characteristic between those who succeed and those who fail is the willingness to turn bad news into good opportunities.
This isn't some platitude that people say to make you feel better about bad things. You know, things like "it's good luck when a bird poops on you." I was sitting in Madison Square park eating Shake Shack when that happened, and let me tell you: there was nothing lucky about it.
This is the truth. Bad news can become your biggest and best opportunity for growth and success. I saw it over the last few months, but I've also researched hundreds of entrepreneurs and one of the defining characteristics that separates those who succeed and those who fail is the willingness to turn bad news into big opportunities.
As an example, if you've been a reader of Social Triggers, you may have noticed that things barely skipped a beat.
The new product launch for "Yes Engines" was a huge success. We followed it up with a launch of my other training course "Blog that Converts," and I even opened "Zippy Courses" (our software product) to the public.
Even though I had seen multiple doctors, underwent several tests, and battled with the thought that I may die, I channeled my energy into my work.
Was I upset? Yes. Was I scared? Absolutely.
When life hits you with bad news, make necessary adjustments, and hit back.
Lesson #2: The Power of Your Name
The seventieth-century Dutch artist Jan Vermeer is widely known for his depictions of middle class life. And his paintings fetch a fortune.
Back in 2004, one of his paintings sold for $30 million at auction 3. That's the power of Jan Vermeer's name when it's attached to a painting.
But what I find most interesting about art has nothing to do with any individual painter or art sale. Instead, it has everything to do with the power of a name.
In the art world, the quality of the work is seemingly inconsequential when compared to the name attached to the work. And nothing illustrates this better than Vermeer's newly discovered painting "Christ at Emmaeus."
Here's the story…
Back in 1937, when art historian Abraham Bredium saw the painting, he exclaimed, "We have here a — I am inclined to say — the masterpiece of Johannes Vermeer of Delft… In no other picture by the great Master of Delft do we find such sentiment, such a profound understanding of the Bible story — a sentiment so nobly human expressed through the medium of the highest art." And the painting went on to sell for about $3.4 million in 2014 dollars 4.
But there was a problem.
About a decade later, shortly after the Second World War, an art dealer named Han Van Meegeren was arrested. His charge? He got caught selling a Vermeer painting – a Dutch national art treasure – to the enemy. This was a serious criminal offense and could lead to a lengthy prison sentence.
What could he do? He decided to fess up. As written in the Encyclepedia of Hoaxes, "In order to save himself from serving a long sentence for collaboration with the Nazis, he pleaded guilty to the lesser crime of forgery. At first his claim to have forged not only Emmaeus and The Adultress, but also four other "authentic" Vermeers, was met with disbelief. A scientific commission was set up, however, and van Meegeren himself proposed that he paint a new Vermeer while in jail awaiting trial. The resulting painting, The Young Christ Teaching in the Temple, was clearly by the same hand as all the other fakes."
And there we have it. The masterpiece, "Christ at Emmaeus," was a fake. And in the master forger Han Van Meegeren's words, "Yesterday, this picture was worth millions of guilders and experts and art lovers would come from all over the world and pay money to see it. Today, it's worth nothing, and nobody would cross the street to see it for free. But the picture has not changed. What has? 5"
I'll tell you what changed. The name of the person who painted it.
As you go through life, doors will open – and close – on the strength of your name. The stronger it is, the easier it is to earn job promotions, start businesses, raise capital, and more.
Even when I look at my business, I see the power of name and brand. When people buy one of my courses or software products, we often send a quick "New Client Survey," where we ask people several questions including, "What made you invest in this course?"
Of course, when we review this, we see the typical things like: "it solves a problem I have," but the number one reason why people buy is: "It's because I trust Derek and his work."
Seriously. For one of my entry-level products, "Start Your Blog Right," the new client survey has been filled out about 1,000 times. When we analyze the reasons why people bought, the #1 reason why is something similar to "I love Derek's content" or "Derek has provided a ton of value. So I know this will be worth it too."
That's why, no matter what you're doing, you need to actively build your name and brand.
Lesson 3: The Importance of Saying No
Back in mid 2013, I started to get overwhelmed. In addition to running Social Triggers, a weekly web tv show, a podcast, and more, I was also traveling around the world speaking at conferences.
That's when I made a tough decision, and said, "In 2014, I will not speak at any conferences." And I quit speaking.
I remember some friends and colleagues looking at me like I was nuts. "But, what if…" tended to be their line of questioning.
I also felt crazy. I LOVED speaking. Nothing lit a fire under me like getting on stage, giving a great presentation, and having people tell me they loved it.
But I knew I had to quit. There's only so much time in the day, and I knew I had to free up some of this time if I wanted to take my business to the next level.
And that's exactly what I did.
In 2014, I quit speaking. I also turned Social Triggers – with the help of my team – from a 1 product company into a 4 product company. If I was traveling every week to speak at conferences, I would have NEVER been able to do that.
And that's the importance of saying no to things you love to focus on things you must.
It's not easy, it's uncomfortable, but deep down, we often know what we must stop doing so that we can start doing something else. And we have to do it.
That's why, in 2015, assuming things go well with my procedure, I'm going to continue on my "saying no" yearly tradition. And this coming year, I'm going to enact what I call a "no new connection diet."
What is that? I'm saying no to meeting new people unless there's a specific reason that applies to my current goals (not my future goals). Why would I do this? That's because I feel as if I have plenty of friends who I don't speak to enough, and I'd like to make time to speak with them. Instead of continuing to go far and wide, my goal is to focus on quality.
Lesson 4: Get It Done Now. Perfect It Later
When people get started on new projects, they tend to strive for perfection. "This is our new thing," they tell themselves, "and it has to be perfect."
I understand too. If you're starting something new, whether it's a job or a business, you want to put your best foot forward to ensure your chance of success.
Now do you know what's funny?
The same thing happens to experienced people too. They tell themselves, "I have a reputation to protect, and this new thing has to be perfect!"
But what's really going on here?
This is the embodiment of the fear of failure – and it happens to all of us. Including me.
As an example, I wanted to run an autowebinar for SocialTriggers for years. If you're unfamiliar with autowebinars, it's a webinar that runs automatically each day of the week.
But I kept getting in my own way. I told myself, "I can't run it unless I have this other technology in place. I can't run it unless I have a perfect design. I can't run it unless…"
And over the course of about 10 months, I spent tens of thousands of dollars trying to perfect the autowebinar process… before I even released the autowebinar.
This made no sense. Especially since I had a friend who ran a very "duct tape and nails" approach to their autowebinar. They started small, and built it up; over time, and it was hugely successful.
But I wanted MY webinar to be perfect. And what happened was this: the project never got finished, and I wasted 10 full months.
Ridiculous.
That's why get it done now, perfect it later is so important. I used to have this mentality when I first got started, but as things grew, I made things supremely more complicated, and things took much longer to get into the world.
This is a huge problem, especially when your strategies and visions might change in 3 or 6 months. And that's what happened with me. I thought the autowebinar was important a year ago, but now, I realize it's not that important at all. And I should be focusing on other things.
Lesson 5: You Are In Charge Of What People Remember (Or Forget) About You
Back in 2005, when I started my first business, no one knew who I was and I had no connections. This meant doors got slammed in my face before I even got the chance to say, "Hey, I'm De—".
And I hated it.
Fast forward to today, and it still happens. I found myself at dinner, and I was surrounded by a lot of startup entrepreneurs. You know, the silicon valley types that talk about VC investments, raising money, and etc. When I was asked to introduce myself, I said what I did: "I'm the founder of Social Triggers, a software and education company, that reaches about a half a million people each month, and we help business owners grow their businesses."
And nobody cared.
In some circles reaching that many people would surprise and impress people. In this circle, nobody cared.
That's why I tweaked how I introduce myself to people like that. Instead of saying what I said, I say something like, "Hey, I'm Derek Halpern, I'm the founder of Social Triggers, and I also make a handful of strategic angel investments each year that can range from $10,000 to $100,000."
And EVERYBODY cared.
Why?
Because they all ran startups and they were looking for investors.
Now here's what I want you to notice:
Not at any point am I being manipulative. I'm simply leading with the one thing I think the people who I'm talking to will care about the most. And I'm ONLY sharing that one thing.
This is important.
If you say something like, "Hey, I'm Derek. I run social triggers, and we reached 500,000 entrepreneurs each month. And we help them grow their business with online education and software products. The products are ZippyCourses, Yes Engines, Blog that Converts, Start your Blog Right, and we have ore courses coming soon. We also do paid speaking engagements, and…"
Did I lose you?
Probably.
When you tell people EVERYTHING you do they tend to remember NOTHING. That's why, you need to lead with the one thing you think they'll care about—and commit to it.
You are in charge of what people remember (or forget) about you, and the best way to ensure you're remembered for the right reasons is by sharing the one thing you think they'll care about most.
Now What Happened With The Medical Procedure?
As I said, I was surrounded. And I was about to get rolled in to the operating room.
I had made a long list of lessons about business and life that I wanted to share with the world. There were about a lot of them, and I gave strict orders to my family to make sure all them got published in the event something went wrong.
I looked around the operating room and felt myself getting nervous. So I decided to lighten the situation by trying to say something funny: "Hey, let me just apologize in advance if I wet myself while I'm knocked out. Not sure which of you is responsible to clean it up, but my thoughts are with you."
I suppose my nervousness was clear because the anesthesiologist mentioned it and put a mask on me with light sedation to make me feel better.
And everything went black.
Four hours later I woke up in the recovery room. And after making sure my tongue still worked…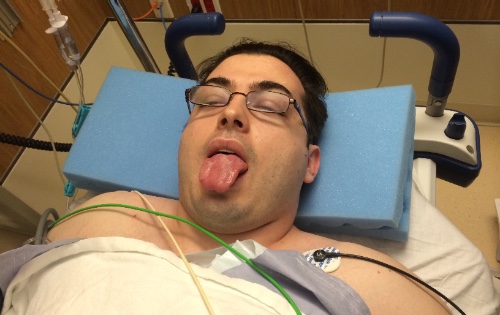 …a nurse told me the procedure was a huge success.
They supposedly cured my abnormal heart rhythm, and I no longer have a heart condition.
HOORAY.
Yes, there are more life and business lessons I plan on sharing, but I'm only sharing 5 right now. I'll share more at some further point in time.
For now, I hope you enjoyed this post, and I hope you have a great 2015. I know I will. I'm alive.
If you found this helpful, I'd greatly appreciate you sharing this.
And if you're new here, and you want more just like this, I suggest you sign up for the newsletter.
You see, even though things look great from afar, you never know what's happening behind the scenes of even the most successful people.
We all experience personal hardships, and it's up to us to make the best of them. I'm lucky that what I had wasn't worse, and I'm thankful for it.
But know this: the next time you stumble upon a roadblock in your life, I can promise you there's someone else who had something much worse happen to them and they got through it. And I know you can too.
Here's to 2015.
P.S. Yesterday was my 30th birthday. And here's what I want you to do. I'd love for you to leave a comment sharing which of these lessons you plan on taking advantage of in 2015.
Now go!
The Sources:
1 Thomas, Dana (2007-08-16). Deluxe: How Luxury Lost Its Luster (p. 183). Penguin Group US. Kindle Edition.
2Thomas, Dana (2007-08-16). Deluxe: How Luxury Lost Its Luster (p. 183). Penguin Group US. Kindle Edition.
3http://www.nytimes.com/2004/07/08/arts/long-suspect-a-vermeer-is-vindicated-by-30-million-sale.html
4 http://denisdutton.com/van_meegeren.htm
5 Salisbury, Laney; Sujo, Aly (2009-07-09). Provenance: How a Con Man and a Forger Rewrote the History of Modern Art (pp. 236-239). Penguin Group US.