Back when I started creating content, I had an identity crisis.
When you met me in "real life," I'd be a loud, quirky, arrogant, and sometimes even border-line obnoxious, and larger than life personality.
I'd say funny things like, "it's not FREE today?" to random clerks. I'd walk into a restaurant and bellow, "What's up!" to the hostess.
And apparently I'm so quirky that the other week when I had a Social Triggers team meeting in NYC, my assistant ordered my usual cappuccino , sparkling water, and a cup of ice at my favorite coffee shop, and the clerk said, "Wait, is this for Derek?"
(This coffee shop gets bombarded with probably 1,000+ customers a day. But they remember my order, heh).
But back when I started creating content, I showed NONE of this. I smashed my personality into a little box and threw that box out the window. I was scared that people would judge me because apparently being judged online was scary to me.
I told myself, "Well, I can't show the real me. It would turn people off, and I don't want to do that. I'm looking to help everyone!"
Sound familiar?
Finding your voice, and owning it, is tough. Especially when you're first getting started. I know this becaue I was in your shoes.
But…
Fast forward a few years, it's clear that I'm unapologetically me…
…And my worst fears came true.
I receive messages like: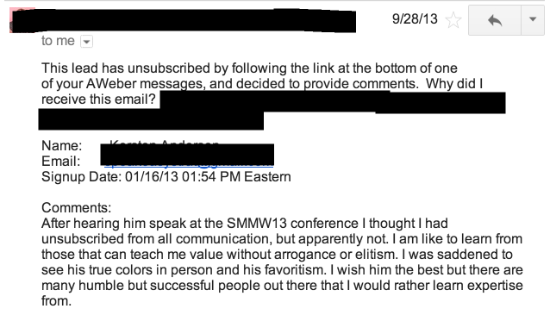 I was turning people off… and losing them forever.
Should I panic?
NOPE.
I know how to deal with haters, but here's why I shouldn't panic:
For every one of those people who hated me, there were a slew of other people who loved me.
Like this one lady who tweeted this: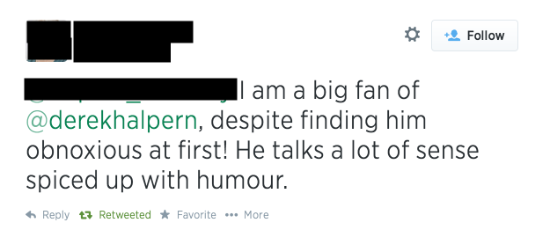 At first, she disliked me. Then she came around, liked my content, and eventually bought one of my online training courses.
Now why am I sharing this with you?
When you're looking to start a blog, build a business, or GROW a business, you're going to want to conform to the people around you.
You're going to want to blend in with everyone else because of your innate fear of being judged by other people.
And yes – even if you have unshakeable confidence in yourself – that fear is there. It was there for me, and I believe I lack the ability to feel embarrassed (did you see some of the shirts I wore in my videos?!?).
But don't do it.
What blends in gets forgotten. What stands out gets remembered.
And being remembered is vital when you're competing in the overcrowded online space.
Take a second and look around at the most successful personalities and companies.
Some of them are the world's best at what they do. But others just have an innate ability to stand out and be remembered.
Steve Jobs. Jim Cramer. Rush Limbaugh. Howard Stern. Joe Rogan. Joel Osteen. Tony Robbins.
Whatever personality you identify with, you know there's something about them that makes them uniquely themselves. It turns out, there's something about you that makes you uniquely yourself too… and it's your job to ensure you're not hiding it from the public.
You need to find your voice… and own it.
What if you have trouble finding your voice?
I'd check out Sally Hogshead's new book "How the World Sees You
I was reading it the other day, and that's what prompted me to want to write this today.
(Note that's an affiliate link. Meaning if you get it, I get compensated. It's negligible though. I just do it to see how many of you actually take my book recommendations ;-P).
You might know Sally Hogshead because I featured her on the Social Triggers Insider podcast.
(It's one of the hottest podcasts I've ever released. You can listen to it here).
We're all worried about how the world sees us… and we conform. Or, as Sally puts it, we learn how to be boring.
Even though being boring isn't our default state. It's something we learn how to do as we get older.
So I'll leave you with this:
You need to find your voice and own it. You likely know what you need to do. You likely have written something, and thought, "Oh no, I can't say that…"
Well, maybe you shouldn't… or maybe you should.
And that's it for today.
I want to leave you with a question:
Have you struggled with finding your voice and owning it? Would love to hear your personal experience in the comments below.