When Wilbur heard about Otto Lilienthal's death, he became obsessed. And he passed that obsession on to his brother Orville. Here's what happened:
Lilienthal, better known as "Flying Man," worked tirelessly on gliders that would allow men to fly, but on August 9th, 1896, he crashed, fell fifty feet from the sky, and broke his spine.
Scary. I know. But Wilbur and Orville caught the bug. They wanted to build a flying machine too…
…And even though, as David McCullough writes in his new book "The Wright Brothers", "they had no college education, no formal technical training, no experience working with anyone other than themselves, no friends in high places, no financial backers, no government subsidies, and little money of their own. Or the entirely real possibility that at some point, like Otto Lilienthal, they could be killed," they could not be deterred.
What happened? And more important, what does this have to do with you?
As you know, the Wright brothers went on to create the world's first flying machine…
…And the reason why they succeeded can help you in your pursuit of starting – and growing – a profitable and successful business. As a matter of fact: the most important thing you can learn about business comes from these two crazy brothers who wanted to build a flying machine.
Here's why:
After the Wright brothers analyzed Lilienthal's work, they found the problem. For flying, as David writes, the Wright brothers realized "the chief need was skill rather than machinery," and "In the five years Lilienthal had devoted to gliders and gliding, he spent a total of only five hours in actual flight."
How could Lilienthal develop the necessary skill of flying with only 5 hours of practice?
He didn't. He died. And that's why the Wright brothers planned to do things MUCH differently.
Lilienthal thought about it. The Wright brothers practiced it.
Lilienthal made calculations on paper. The Wright brothers made adjustments to their glider.
Lilienthal flew fifty feet in the air. The Wright brothers stayed as close to the ground as possible.
Lilienthal stayed in his head. The Wright brothers stayed in the air.
And that was the secret.
You see, when you're looking to start – or grow – a business it's easy to make the same mistake Lilienthal made.
You can lock yourself up in the room and plan something perfectly, and then swing for the fences. If you fail, it hurts. And it hurts bad.
Or you could do the same thing the Wright brothers did.
Get something out into the world as fast as possible and make adjustments along the way.
The latter is the Wright way to do it. And beginning next week, I'll show you HOW.
You see, what most people don't know about my story is this: I registered Social Triggers as a domain name back in 2009. I knew I wanted to build a business, but I wasn't sure what that business was…
…And I made the same mistake Lilienthal made. I kept planning, and planning, and planning, and I wasted the full year of 2009. And then I did the same thing in 2010. I wanted to build a business, but I couldn't get out of my head. And I made NO PROGRESS.
That's when I finally said screw it. I launched Social Triggers in March 2011, and the rest was history. Fast forward to today, and you'll see that Social Triggers is now a multi-million dollar business.
When I launched, did I know how I was going to make money?
Nope.
Did I realize that Social Triggers would have an org chart like this?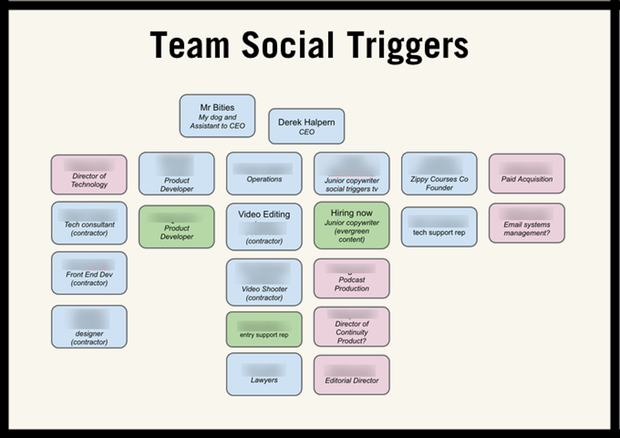 Nope.
And yet, here I am.
How did I do it?
Well, beginning next week, I'm going to release an all new series of training material. There will be videos, worksheets, webinars, and more.
Much of it, at first, will be no charge. And then, towards the end of the series, I'll announce a new online training course.
You will get a ton of value.
So, look for an email from me next week.
For right now, answer this question:
What in your business have you been putting off for "someday?" Share that in the comments and tell me why you're putting it off. Is there a big problem you're facing? Is there a question you need answered?
The more specific you are the better!
Additionally, if you know someone else who will benefit from this, please pass this on!