I had a conversation with a friend. It went like this:
Friend: "I'm tired of my job. I need to make some moves."

Me: "What do you have planned?"

Friend: "Well, I have a few side hustles… I do some consulting. I'm also working on an iphone app. And when I can, I'm actively looking for a new job. Oh, I'm also doing some investing!"
What's really going on?
People have the main thing they do to earn a living.
And they have these other things they do on the side that they hope will pan out.
The media calls this Sidepreneurism…
…and when you plot it out on a simple graph, their life looks a little like this: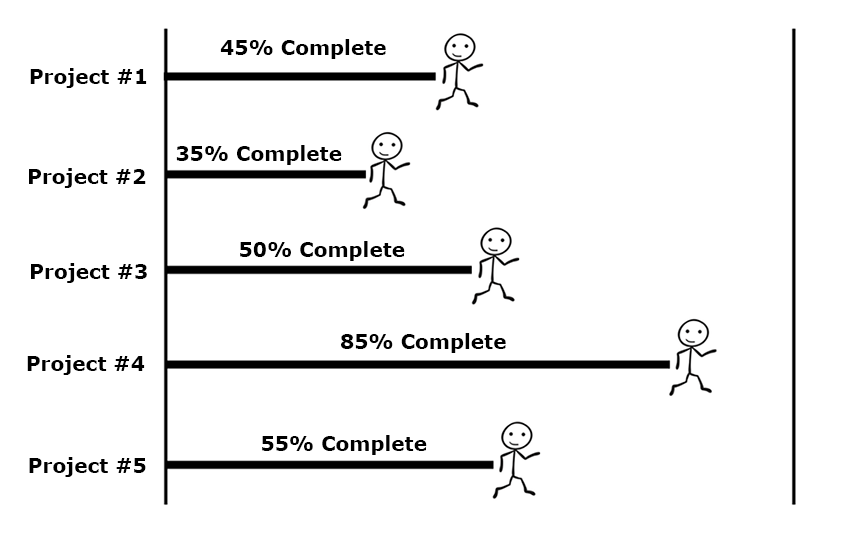 5 different projects. All in various stages of completion.
One project might be some volunteer work for a charity. Another project might be a new business idea. Another project might be a side income. And another project might be their fulltime job.
In some cases, people want the thing they do on the side to become their new main thing. In other cases, people are multi-passionate, and they want to work on all of these projects.
Sound familiar?
I'm betting it does.
I mean, it sounds familiar to me too.
Back when I was just getting started, I had the main thing that I did, which at the time, was school. I also actively worked on a night life website, an college humor website, and a celebrity gossip website.
Plus, I also played poker because I wanted to become a professional poker player. I also played competitively in other collectible card games (not sure what they are? Think Magic The Gathering).
Oh, and I also landed an internship at a financial company.
Needless to say, I had a lot of stuff on my plate. And I was making progress on EVERYTHING.
It felt good.
The question is, how can you FINISH these projects?
How can you finally release one of these projects into the world and see the change you've always hoped for?
I'll share more about that in my next email.
For now, here's what I want you to do…
Leave a comment…
Here's what I want you to write:
#1. My main thing is this:
#2. My side project is this:
#3. My other side project is this:
And share all the details.
It doesn't matter what types of projects you're working on. And it doesn't matter whether you're close to launching it or not. What matters is this: I want to see what you're currently working on (or plan on working on) this year.
Why?
So I can show you how to make progress on each of these things this year.
And again, in my next email, I'll show you a simple technique you can use to make more progress FASTER. If you're not on the email list, sign up for it right now. If you are, don't worry, you don't need to do anything right now.