The other day I asked you to tell me about the projects you have planned for this year…
…and as I expected, one of the BIG things people want to focus on this year is starting – and growing – their online online business.
But as I kept reading response after response, I noticed something interesting…
PEOPLE HAVE A LOT ON THEIR PLATE.
Some people had three projects. Other people had as many as EIGHT projects.
No wonder people always feel overwhelmed, busy, and stressed out all the time.
The problem?
Well, I actually hinted at it in my last email. But the PROBLEM is this: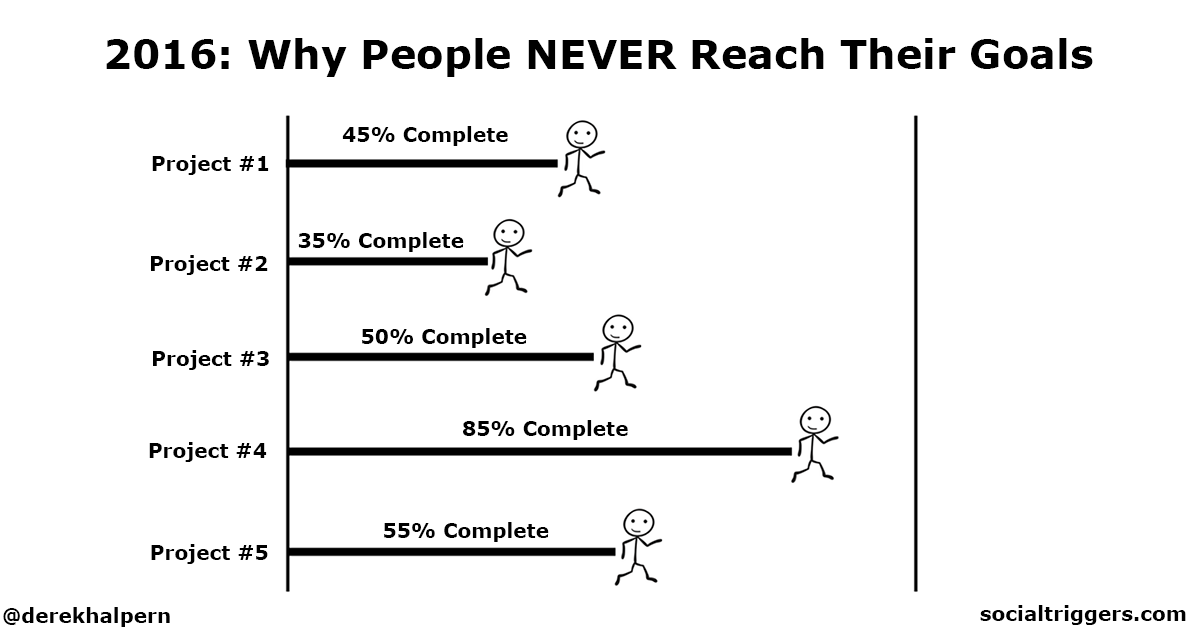 It should be clear.
When you work on 3, 4, or 8 new things at once, you NEVER finish anything.
And if you NEVER finish anything, you start feeling like you're not working hard enough. And then you start to feel overwhelmed about how little time you have. And then you start getting stressed out.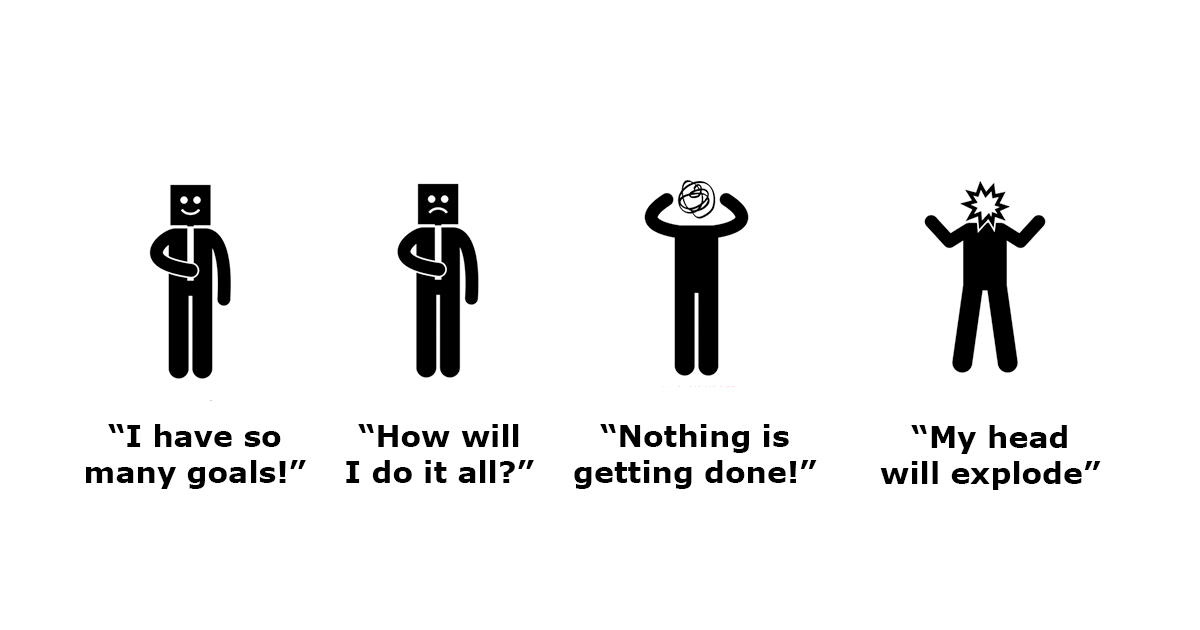 Can you relate?
What's the solution?
Well…
I used to play poker. No limit Texas Holdem to be exact. And my favorite thing about that game was going All In.
Now, if you're unfamiliar with "going all in," it's when you push all of your chips into the center and show the entire table: "I'm willing to risk everything on this hand. You can either match my bet, or you can fold and let me win the pot."
It's a little dramatic, I know. But I always loved it because right after I pushed my chips in, I always felt a sense of freedom.
Why?
Because I made a decision. And there was no turning back.
And when I look at my life, I've always had a lot of things on my plate. In 2015 alone, I wanted to launch 3 new products, relaunch my podcast, and more. But when I look at what I actually accomplished each year, I realized something…
I often push all my chips in on one new project – I go all in on one project. And I table everything else for a future date.
See for yourself…
Here's a rough breakdown of my last few years:
2011: I focused on starting my business (Social Triggers).
2012: I focused on finding a proven monetization strategy (in my case, I chose to create and sell online courses).
2013: I focused on getting MORE customers for Social Triggers by selling the same product over and over again (and my revenue almost tripled from 2012)
2014: I focused on turning my business from a one product company into a four product company (I went from just Blog that Converts in 2013, to Blog that Converts, Start Your Blog Right, Yes Engines, and Zippy Courses).
2015: I focused on hiring a strong team to help me continue to grow Social Triggers (in 2014, I had just 2 full-time employees and a handful of contractors I worked with regularly. By the end of 2015, Social Triggers had worked with about 17 full-time employees and contractors).
Notice how I didn't launch 3 products in 2015. And I didn't relaunch my podcast. I plan to do that, but last year, I tabled it for a future date.
And what happened over the last 5 years?
Well…
I don't share this to brag, because in reality, I know you don't really care about my life and success.
You care about YOUR projects and YOUR goals.
But look at my results when I pushed all in on one big new thing: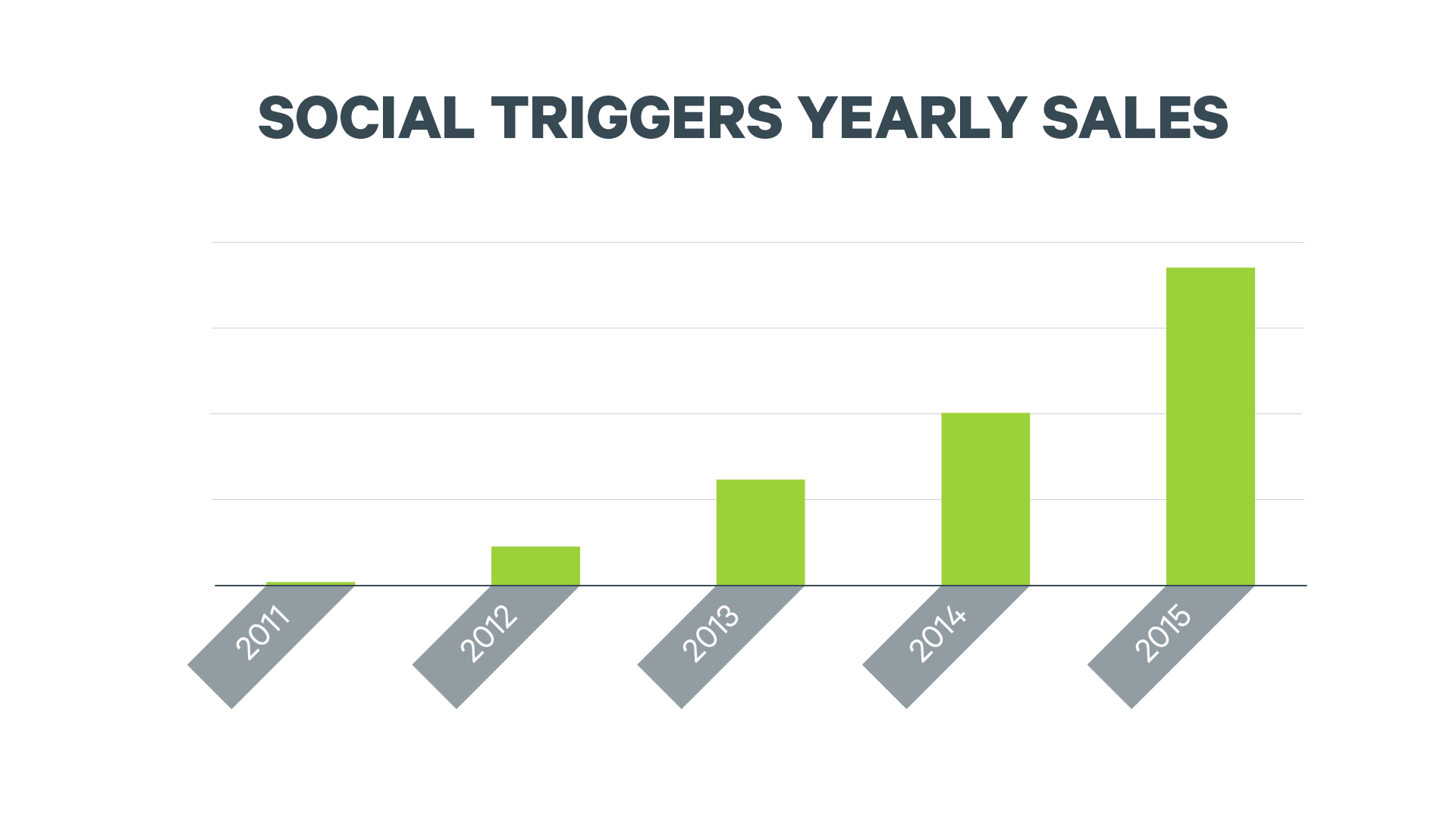 As you can see, with your own two eyes, I went all in each year on something new, and revenue took off.
It's pretty interesting, right?
Going all in can work, and it can work real well.
And that's why, this year, I'm making it THE YEAR TO GO ALL IN.
This doesn't mean you quit your job. Or ignore everything else in your life. It means maintain your life as it currently is…
Go to work.
Continue serving clients.
Do the things you've always done.
But also pick ONE NEW THING, and go all in on it.
"But Derek! I can't just GIVE UP on ALL of my projects!"
And I get it.
When I asked you to share your main thing and side thing, many of you shared 3, 4, 5, and as many as 8 things that you're working on.
But I can tell you this:
If you keep that much on your plate, you'll never get anything done. So, it's time to go all in on just one of those things.
And don't worry! I'm not asking you to give up everything else. Instead, I'm asking you to table them for now…
…And go all in on just one project.
If it's not working, don't be ashamed with adjusting course.
In poker, after you push all in, you can't get your chips back.
However, in life, after you push all in, if you don't like where things are going, you can always take your chips back and push all in somewhere else.
So, are you with me?
Do you want to go all in this year?
If the answer is yes, leave a comment and say "I'm In!"
Also, PLEASE, share what you plan on going all in on.
If you're having trouble deciding, I always like to think about what will have the most meaningful impact on my life… assuming everything goes PERFECT…
And I like to get irrational about it.
If you're thinking about starting a new business, imagine if that business managed to pull in seven figures in the first year?
Sure, it probably won't happen. But imagine if it did. Will that have the most meaningful impact on your life?
If you're thinking about getting fit this year, imagine if you one day realized all your fitness goals – you did the 4 minute mile, you have the perfect amount of body fat, or whatever your goal is.
Sure, it probably won't happen in a year, but what if it did? Will that have the most meaningful impact on your life?
The point is this…
Go through the things I had you think about the other day, and imagine what could have the most meaningful impact on your life.
Then let me know what you plan on making your #1 priority this year.