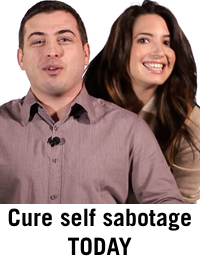 When people are looking to start a business, get ahead at work, and WIN at life, they often say to themselves:
"I don't think I'm good enough"
"I don't have the RIGHT connections"
"I can't compete. There's TOO MUCH competition."
Well, I've got news for you… Those excuses are just that. Excuses!
And if you keep it up, you'll never break from the dreaded self-sabotage spiral of defeat.
But today, my special—and FIRST—guest on Social Triggers TV will show you how to eradicate these silly little excuses for good.
How to Get Out Of Your Own Way… And Do What You Love
Clarity comes from action not thought – Click to Tweet
One More IMPORTANT thing…
Leave a comment and let me know about a time when you felt like you were beaten by self sabotage.
Also, to see what else Marie Forleo is up to, you can visit her site right here.