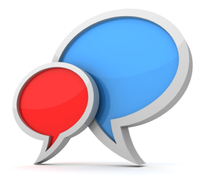 What's the SCARIEST part about an "Awkward Conversation?"
If you're the awkward one, you're flushing your chances of making lasting friendships, forming valuable business partnerships, and persuading prospects to buy what you sell, down the toilet.
And you won't even know it happened.
Why?
Awkward people are oblivious. Everyone knows it but them.
Now you might think, "I don't have to worry about this… I'm not awkward…"
But there's is a spectrum of awkwardness.
On one end, you're the guy that everyone shuns. The guy people can't help but laugh about.
Dwight Schrute.
And on the other end, you're the guy everyone wants to talk to, work with, and help. The guy that seemingly has everything drop in his lap.
Jim Halpert.
Where do you fall on the Schrute – Halpert conversation spectrum?
Probably somewhere in the middle, right?
Sometimes you bomb a conversation. Other times you ACE it.
I know the feeling…
Right now, if I were to give myself a quick self-assessment, I'd say that I'm great in social (and sales) conversations.
I wasn't always great, though.
Back when I was starting college, before moving to school, I spoke to my would-be roommate on the phone…
…And that conversation went so badly that my would-be roommate figured out a way to transfer into a different dorm room.
BURN.
Needless to say, a lot has changed for me over the past 10 years.
And it wasn't an accident.
More on that another time…
Now I'd like to do something fun…
I'd love for you to join me (and other Social Triggers community members), and share two separate stories in the blog comments.
For the first story, I want you to tell us about a time when you bombed a conversation. What happened?
(Dig deep. If you haven't bombed one recently, think about that one time you did, and share it. Kind of like I did with my college roommate story).
For the second story, I want you to tell us about a time when you ACED a conversation. What happened? How did it affect your business and life?
Leave a comment below.
P.S. As a quick reminder, the video contest I'm hosting ends tomorrow. I'm hosting a live event in NYC, and right now, the only way to gain access is by winning a ticket to the event. More information here.
If you enjoyed this post, get updates. It's FREE