…And built an amazing online business from home — all while raising 3 kids.
Her name is Laura Fuentes, and this is her story.
In 2005, Laura Fuentes walked away from her job. Before that, she had earned a Bachelor's degree in Global Economics, an MBA in International Business, and was excelling as one of the top electronic medical prescription sales people in the south. But she had to give it up. She was pregnant.
(This isn't an uncommon story for ambitious, successful young women. I'm sure you know someone – or are that someone – who put their career on hold for family).
Fast forward eight years, Laura now wakes up at 6:45am, sends her kids to school (she now has 3), and begins work on a simple website that empowers thousands of busy moms from around the world to prepare healthful lunches for their children each day.
The fact that Laura's wildly profitable business, with its small team of 10 moms, is pursued by some of the world's largest food brands doesn't even seem to phase her. But when she said "MOMables is responsible for anywhere from 15,000 to 20,000 healthy lunches each day," her eyes lit up.
How did she shift gears from schmoozing with medical receptionists, to having and raising three kids, to building a profitable business helping other busy parents prepare healthy lunches for their children?

Let's take you back to the beginning…
Like all moms, Laura wanted Sofia, her first child, to be healthy, safe and happy in her new preschool. Disgusted by the frozen pizza, chicken nuggets and other junk most parents let their children eat, she knew she would have to prepare and pack her daughter a healthy lunch each day. But she was at a loss for what she could prepare that would be delicious, nutritious and fun.
For the first few weeks of preschool, Sofia picked at her lunches of soggy leftovers and sandwiches. She wanted the prepackaged junk that the other kids brought to school. Laura couldn't send her daughter to school knowing that she was hungry and unhappy, but she couldn't give her what she wanted, either.
One day, Laura opened her refrigerator, stared into it blankly, and had no clue what to pack. The pressure was on – not only did she have to make Sofia a healthy lunch she would be excited to eat, she also had to consider her daughter's allergies to some of the ingredients in prepackaged food.
What could she do? She struggled between wanting her daughter to have a cool, fun prepackaged lunch like the rest of the kids and needing her to be healthy.
"I believe kids deserve food free of unidentifiable ingredients," Laura said.
And that's when she had the proverbial "AHA!" moment. She thought, "what if I create a prepackaged lunch, one that looks like what the other kids brought to school, with my own creations inside it?"
How a simple idea turned into an online business
Laura spent months combing through cookbooks, subscribing to Food magazines and searching high and low for inspiration before she finally got a handle on preparing a healthy lunch for her daughter. And the best part? Sofia loved it! And even better than that? Years later, when she had two more kids, they loved it, too.
What started out as a struggle for a busy mother became second nature. Laura was whipping together healthful lunches for her children, packing them up in "Easy Lunch Boxes," and sending her kids to school.
Inevitably, the other parents began to take notice. They wanted to know how the Fuentes kids were rocking the lunch tables in style, with healthy food they loved to eat? What was Laura's secret behind lunch that looked like this: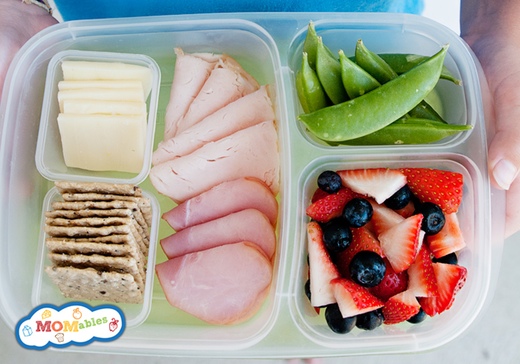 And that's when Laura decided to start a website called MOMables, a destination for parents who were looking for healthy lunch recipes that were perfect for school lunches. Moms were asking for them, and now they got them.
It was 2011, and Laura, armed with this amazing idea, was ready to take the world by storm. Her passion for healthy lunches for kids was now a blog, a business, and more important, a mission to help mothers keep their children healthy.
Here's how it all worked:
Laura started a blog, where she wrote a TON of free content to: 1) help as many people as possible, and 2) build a loyal readership of moms from around the world.
And while Laura was most excited about helping parents keep their kids healthy, she also knew that to keep this up long term, this site would have to pay the bills.
So here's what she did:
While she made most of the content on her site free, she also offered a premium option–I use premium loosely as it only cost $6 dollars per month–where busy mothers could get "Done for them" lunch recipes each month.
So, instead of sifting through tons of articles—much like what Laura did when she got started—busy parents could just get lunch recipes that are prepared to get prepared!
How genius, right? Unfortunately, Laura was about to discover that there's more to building a successful movement and business than just a good idea.
Growing an online business was hard… and unexpected problems were on the horizon
Everything was looking up. She was equipped with a solid idea and a strong desire to help other busy parents.
Plus, the reception of MOMables was already great. After just a few short months, she had a few thousand email subscribers who took advantage of her free content, but only a few hundred paying customers subscribed to her monthly lunch menu service.
But the growth of MOMables stagnated.
Laura realized that nothing she learned while working for her BA and MBA in school equipped her for building an online business.
And she was struggling. "I didn't have the money to hire a PR company that could create an organized campaign. And I really had NO money. It was January 2012, and I just had my third baby," she confided in me.
While Laura was happy with her content, her menu service, and her success, she just didn't know how to get more exposure and convert that exposure to paying subscribers.
She said, "the big problem was, I didn't have a course of direction – and I had an MBA. I also wasn't comfortable pitching my idea to other people."
This is no surprise. Laura's passion was for helping parents keep their kids healthy. She hadn't thought about the business side of her business too much.
While she had a successful run in sales prior to having children, she soon realized that pitching herself and her ideas was much more stressful than selling some electronic device. When people say no, it really IS personal.
And that's when Laura decided she needed help.
At this point, Laura was a subscriber to Social Triggers, and while she enjoyed benefiting from all the free content on this site, she decided that she wanted more…
Then, seemingly at the PERFECT time, she noticed that I recommended a premium training, a complete system for building an online business, called "B-School" by Marie Forleo.
(I shared this earlier this week. If you want to see what B-School is all about, check out these RHH B-School Bonuses).
Note: Yes, that's an affiliate link, meaning if you choose to invest in B-School like Laura, I earn a commission. But there's nothing for sale right now. There's just some free video training. Next week, when enrollment opens, I've got a special bonus for those in the Social Triggers community, so keep an eye out).
If you don't know who Marie Forleo is, she's on her way to become the next Oprah. She's built up a community of more than 160,000 subscribers, where she helps women (and some men) build profitable online businesses.
But more on Marie later…
Laura took my recommendation, signed up for the free video series (and B-School), and the rest was history.
Here's exactly what Laura said, "It gave me the direction I needed. I got comfortable with pitching my ideas to people. I got comfortable selling myself. I finally knew what I was doing was actually WORTH something."
And now, I'm writing this story about Laura, almost a year after she enrolled, and sharing it with more than 88,000 subscribers.
Before I share the results she achieved, a little disclaimer: These results are most definitely not typical because as you can see from this case study, there's a lot of OTHER things that go into building an online business.
Here's what happened: Laura went from a few hundred paid subscribers to a few thousand paid subscribers. She also went from a few thousand free subscribers to more than 10,000 free subscribers.
The best part? Laura was helping kids around the world eat healthy. As I mentioned earlier, she's responsible for anywhere from 15,000 to 20,000 lunches each day.
How did Marie Forleo's B-School help Laura… Specifically?
At this point, you're likely wondering, "This is great. I can totally see myself achieving success just like Laura, but how did B-School help?"
And that's why I asked Laura to share some of her "Big takeaways" from Marie Forleo's B-School.
Here's exactly what she learned:
#1 You Need More Than A Good Idea, A Great Product, And A Desire To Help
Laura reiterated this several times throughout my interview with her. She said, "I had a great product and website. But that wasn't enough."
This is an age-old story. In a just and fair world, those who put the work in, and truly care about what they do, should rise to the top, but that's not always the case. And Laura learned that the hardway.
(Have you ever felt like your hard work never paid off? I know I have).
You see, Laura knew she wanted to help busy parents, but when it came to "promoting an online business," she was at a loss.
Sure, she knew she had to create great free content to bring people to her site, but it wasn't until she invested in B-School that she figured out the importance of creating a real content strategy. She learned how to create content with a purpose.
What did she do with this new wisdom?

After going through Marie Forleo's B-School, she engineered a 5 week content push that included reviews of her menu service, and more. What was once a haphazard attempt at creating content that kept children healthy, was now a well-oiled machine that reached more busy parents than ever before.
Want to learn more about Marie Forleo and B-School? Watch this video right now(affiliate link). In addition to world class content, you'll also soon see what B-School is all about. Then look at my RHH B-School Review and Exclusive Bonuses
#2 It's Okay To Pitch Yourself (and Your Company) When You Truly Care About What You Do
This is something I've heard the Social Triggers community talk about time and time again. People say, "I love what I do, but I'm scared to pitch myself." And Laura had this same fear.
I said this earlier, but creating MOMables wasn't about the money for Laura. It's about helping busy parents keep their kids healthy.
(That's why she gives most of her content away for free. That's why she only charges $6 dollars per month for children lunch menus.
But that said, Laura knew that if she wanted MOMables to become something sustainable… something that could help as many moms as possible… it would have to turn into a real business.
And if she was going to turn MOMables into a real business, she'd need to pitch herself. She'd need to pitch her premium service to her free subscribers. She'd also need to pitch her company to reporters, potential business partners, and more.
It turns out that B-School helped her get comfortable with all of this. B-School also helped her figure out HOW and WHO to partner with.
If you're looking to build a business and life you love, watch this video where Marie details what B-School is all about Check it
. Then see my exclusive B-School Bonuses.
(Again, that's an affiliate link. Meaning if you invest in her program, I'll get a cut).
What Does Laura's Life Look Like Now?
While I didn't cover "everything" Laura learned in B-School, I do think you'd be interested in hearing how Laura's life has changed over the last year.
Earlier in this long writeup (congratulations for making it this far, by the way), I shared that Laura's team is now 10 moms strong (Between those 10 moms, they have 21 kids combined!).
But here's the best part:
All of those moms work remote. This part is key because one of the reasons why Laura started building the online business was because she was able to do it from the comfort of her own home. As a full-time mom with 3 kids, she NEEDS that home time. And that's why Laura lets all of her moms work from home too. They have kids, and need the flexibility to run their lives.
And while Laura continues to focus on helping as many busy parents as possible with MOMables, she still leads a busy life. When she's not traveling for conferences (huge brands often send her as a brand ambassador), she's working on new stuff to help her fast growing community.
But I was left wondering, "How do you do all of this while raising 3 kids? What's your day like?"
Here's what she said:
"I wake up at 6:45AM, and I focus on getting my older two children to school. When I get done, about 8AM, I feed the new baby and put him to sleep."
And this is when Laura made me burst out laughing…
She said, "Nap time is business time." I'm not sure why I cackled, but I imagined a superhero like image where Laura drops the bottle, and exposes an S on her chest. Or maybe in her case, a big M (for MOMables).
Then throughout the rest of the day, she continues working, watching her baby, and by about 2:45PM, it stops. Her two oldest kids come home, and she shifts from Mrs. MOMables, to Mrs. Mom. And she stays a full-time mom until her husband gets home around 8PM.
At which point, she often works until the wee hours of the night. Just last night, actually, I shot her an email at 3AM Eastern time because I had a last minute question for this article. And she responded within 30 minutes. She was up. Working.
So while she built up this wildly profitable online business, with a team of 10, she's putting in the time to keep growing. If that's not a picture of a woman who cares about her community, I don't know what is.
You can learn more about Laura at MOMables, and say "Hello" on Twitter right here.
Also, leave a comment sharing what you think about this great story!
Now Here's What Laura Thought About B-School (and these free training videos)
Now you probably saw me talk about Marie Forleo's free training videos. I linked them earlier in this article, and shared them with you earlier this week.
Well, next week Marie Forleo opens enrollment to her premium training. The one that Laura Fuentes invested in on my recommendation last year. So I asked Laura what she thought, and she said:
"B-School will give any entrepreneur a solid foundation either before or after launching his or her business. Each of the modules in the course is designed to teach but also to re-think how you plan to run your business."
"As a busy mother of 3 I loved the flexibility of B-School. I was able to watch, listen or read the transcripts of each module from my ipad or in the car while waiting for the kids at car line or between naps."
"I paid a lot more money for my MBA and spent a decade paying off my student loans. What I learned was "text book" and barely applicable to my online business today. B-School has been hands down the best knowledge-building investment for my business."
Here's the best part:
As you know, when you invest in B-School through my affiliate link, I get a cut.
So I thought, "Hrm. Why don't I Just sweeten the deal for the Social Triggers community?"
And that's what I'll do.
When you enroll in B-School through my affiliate link:
And it's a no brainer to grab it through my affiliate link (above) because I've got 3 exclusive bonuses just for you…
Advanced Training #1. Traffic strategies (How I attract quality web traffic)
B-School is an end-to-end system for building an online business from scratch.
However, the ONE thing I believe every online business owner needs to learn MORE about is getting MORE qualified traffic that converts.
And there's no better person to share these strategies than me.
As you know, I built Social Triggers from scratch to more than 88,000 subscribers in less than 2 years.
(Know anyone who built a blog faster? Probably not)
And that's why in this special training I pull back the curtain to share some of my FAVORITE methods for generating traffic.
(The one thing I know you'll love in here, aside from my traffic generation strategies that don't cost a thing, is my Facebook ads traffic strategy. I've never talked about this in public before, but I'll reveal it to you).
To get this training after you graduate, make sure you Enroll in B-School by clicking this link.
Then, after the cart closes, Marie will share a complete list of people who invested in her program with my link, and I'll show you how you can access this advanced training after you graduate from B-School.
#2. Advanced Training Group Q&A Office Hours with me
You may not know this, but I'm one of the only marketing experts Marie Forleo features in the CORE "B-School" training.
(I'm in Module 2, where I walk you through how to turn your website into a Conversion Machine)
As it stands, if you have any questions about that training, access to me is limited. I don't offer consulting. And I'm not present on Marie Forleo's Q&A calls.
So that's why I'm happy to announce that when you enroll in B-School through my affiliate link, you will get invited to a private group Q&A call where I'll personally answer any questions you may have about the content I shared (or any marketing / business-building question).
And if you can't make the call live, don't worry. You can submit your question over email, and when the call takes place, I'll answer your question. Then, I'll send a recording of the call straight to your email inbox.
To get access to this private office hours group Q&A call, enroll in B-school by clicking this link.
Then, after the cart closes, Marie will share a complete list of people who invested in her program with my link, and I'll show you how you can join this private, invite only Q&A call after you graduate from B-School.
#3. Advanced Training An invite to a private mastermind in New York City (with me and others).
Yes, you read that right.
If you invest in B-School through my affiliate link, you'll be invited to a private, invite-only mastermind in New York City.
It will go down in late May or early June 2013 (about a month after the B-school training is completed), and it will last a FULL DAY.
You'll have to cover your airfare and hotel, but once you're here, here's what you can expect:
1. A no frills "meeting of the minds," where you'll get direct access to me to ask me any questions you may have about building your online business.
2. Live hot seats where we'll take a problem someone in the group has, and try to come up with a solution on the spot as a team. (We'll do this a few times).
3. I'll reveal some of the strategies and tactics that are working in my business right now so you can adapt them and model them for your business.
4. And much more.
The day of the mastermind is not set in stone yet, but as I said, it's going to be in either late May or early June 2013.
But I truly believe this is a once in a lifetime opportunity. I don't offer consulting, and I don't host events like this.
If I were to sell access to an event like this, it would cost several thousand dollars for a single ticket.
But you're getting a ticket at no cost when you enroll in B-School through my affiliate link.
And if you can't make the mastermind live, in the flesh, we'll figure out a way to bubble up some of the best ideas from the meeting to you.
Just make sure you use my link. If you don't, you'll miss out on these exclusive Social Triggers Community bonuses.
Again, you might be wondering, why I'm offering to "sweeten the deal" so much
Well, as I mentioned above, I'm a proud affiliate for B-School, which means I get a cut when you invest in this training program.
But the real reason why I'm offering these advanced training extras is because I really want to help you make the most of your B-School investment.
Last year, Laura Fuentes took my recommendation and invested in B-School. I wrote a case study about her, and shared it with you last week.
My goal is to have more case studies JUST LIKE THAT.
Why?
Two reasons:
One: Because I like knowing that what I do truly helps people.
Two: Because having those types of success stories floating around the net makes me look better

.
And that's the truth!
So here's the link one more time.
On that note…
Here's how you can claim these exclusive Social Triggers community bonuses:
1. Enroll in B-School through my link.
2. After you graduate from her program (it's 8 weeks long), you'll get access to these bonuses.
I just want to reiterate this…
All three of these exclusive advanced trainings are for people who graduate from Marie Forleo's B-School program (that means you must complete the 8 weeks of material).
Here's how to claim these exclusives:
Enroll in B-School by clicking this link
Then, after Marie Forleo closes down registration, she'll send a list of people who enrolled through my link, and I'll get in touch with you to let you know how to claim all of these exclusive trainings "after" you graduate from "B-School."
(You won't get access to these bonuses immediately. It's only for "after" you graduate)
P.P.S. This package is for the Social Triggers Community exclusively. That said, if you know a friend (just one friend) that might be interested, feel free to forward this email to them.
P.P.P.S. I look forward to meeting you in New York City later this year!