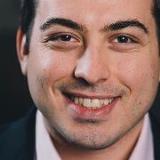 According to one source, there are more than 164 million blogs...
...Most of which get less than 1,000 visitors per month, and, for the lack of a better word, are business failures.
But I'd like to help you BEAT THE ODDS
I'm Derek Halpern, the founder of Social Triggers (a company that produces a blog with more than 70,000 subscribers, a top podcast on iTunes, and a web tv show)... ).
...And I created this free blog building email series where I reveal:
Why you MUST start building your blog TODAY
The psychology behind why blogs fail
The 3 big "time-wasters" most new bloggers squander their time on (and what to do instead)
The secret behind getting readers (not just any readers, but readers that buy what you sell)
And much more...
All you have to do to gain access to this training is enter your name and email in the form to the right, and press "GET INSTANT ACCESS."
The Secret to Growing Your Blog
Enter your name and email below and click Get Instant Access
I hate spam more than you do, and I don't do it.We'll also add you to the Social Triggers mailing list so you don't miss out on other free content