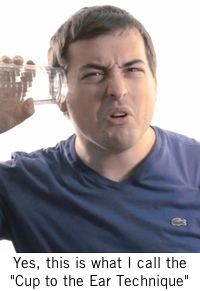 There will come a time when people tell you:
"Wow! It's like you read my mind!"
Now imagine how easy it is to convince these same people to buy whatever is is you're selling?
Real easy

Because when you know what goes on inside the mind of your ideal customers, creating products that sell and sales pages that convert is a cinch.
The question is how can you crack the code that encrypts their mind?
Here's how I do it…
Why You Must Eavesdrop On Your Customers (and How to Do It)
Before you scroll down to the action steps, if you've enjoyed the NEW Social Triggers TV episodes, let me know by saying "What's UP!" on Twitter.
(I always like to put a face to a name, plus, I often share links to interesting bit-sized insights about human behavior and marketing).
What Do You Do With This New Found Insight?
Once you begin using the strategies I shared in the video to collect data from your customers, you've got to start using it.
How?
Earlier this year I hosted a podcast with Ramit Sethi where we both pulled back the curtain of how we use research to understand our ideal customers.
In that podcast we just brushed the surface, but here's what else you can do:
1. When you start using the techniques I shared in the video to get data from your readers and customers, you need to use that data to create what's known as a customer avatar (sometimes you'll create several of them).
(A customer avatar is a description of your ideal customer… where oyu get as specific as possible. When you know who you're writing to, it becomes easier to read their mind :-D).
2. You can start collecting the words people use to describe their problems… and use those same words on your sales pages. This helps you eliminate jargon (which as you know is VITAL for communication).
(To learn more about the importance of eliminating jargon, check out the podcast I did with Michael Fishman where we walked you through how to eliminate what I call "Wallet-closing words" from your sales materials.
That said, you now know 2 specific strategies you can IMPLEMENT TODAY.
So I wanted to turn this into a game…
Do you plan on using these techniques?
Leave a comment to hold yourself accountable.
(Tell us exactly what you plan to do).
If you enjoyed this post, get updates. It's FREE